I've been keeping most of my posts private lately so if you haven't been seeing entries here too often it either means you aren't on my friends list and need to let me know you'd like to be added by either writing to me or adding me and waiting until I can get to my list and return the favor, or you're on my list but aren't seeing my posts because you aren't logged in.
I'm staying at a Holiday Inn near our house because I am incredibly sensitive to paint fumes and can't sleep in my bedroom since it's been freshly painted for this magazine shoot we're doing at my house. I just went out into the hallway to buy a bottle of water and I swear I've been here so long the price went up from a dollar to one-twenty-five. Then on my way back I went to the wrong room and was surprised when my little key card wouldn't open the door and the light flashed red. I kind of chuckled to myself over how tired I was to go to the wrong room and walked around the corner to what I thought was my room and did the same thing again. I did this twice before finally ending up at the right room. I'm that tired.
I wish I had some cherry flavored Swedish Fish, I love Swedish Fish!
I started editing these pictures of our trip this morning. I just couldn't put up a batch of pictures of the house/magazine shoot without sharing some of our New York photos first. I think I'll just put a few here and then put the rest behind the cut.
Today was long, tiring, and fun. It's a relief to be over the long hurdle of trying to get the house shaped up in time for this magazine shoot. All I know right now is that it's for a special design issue of Woman's Day magazine and one of the shots they took today will be used for the cover. It will be on the stands next December.
I did everything I could to make things look good and when I came home today Sunday had made it all look so much better. I think if I'd had the time and a fresh perspective I would have done the same kind of thing, but she is really good. On the other hand so am I, not to be grandiose but I have an eye and a flair for design, I just don't love it like I love acting, oh well, I seem to be backing in to this career without meaning to. I just didn't have the energy to polish everything, but that's what Sunday gets paid 500.00 a day to do.
Basically she'll spruce up an area, dress it for the camera while the guys would fiddle with the lighting, then they'd shoot off several Polaroids, look at them and adjust things and finally take the actual shots. In between shots, while Sunday was dressing things, the guys would read the newspapers and crack jokes. I forgot how much fun I had with them last time and how natural it feels working with them. They had me laughing out loud, flashing the big gap in my smile where I'm waiting for a tooth to be made -- my dentist is so slow.
We gossiped, talked politics in a friendly way, shared jokes -- I hadn't heard this one, Kerry goes into a bar and the bartender says, "Hey Kerry, why the long face?" It was just fun being with them -- working on something mutually creative. I hated having to have my picture taken though. I just wanted to play with props and move things around. Unfortunately, I was so worn out and late getting there that I wasn't able to buy a new memory stick for my camera and wasn't able to take any PICS today. I do have copies of all the test Polaroids and will scan those and take digital pictures tomorrow so I can share them with you.
Okay I'm tired and have to start this all over again tomorrow when we'll be shooting the garden, the porch, and my bedroom and bathroom. I don't know how they'll get all of that done in a day. I want to chat some more but I am so exhausted I can't even keep my eyes open, Scott lovingly came over and read to me from Jerry Stahl's (could have had sex with that man if I'd wanted, yep), new novel, I Fatty, and for once he read for so long I didn't mind when he stopped. I'm just going to share these pictures and get to bed, yup.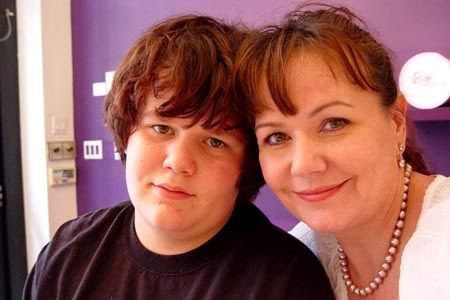 This was taken when we went to the fine chocolate store Vosges in Soho, yum, seriously!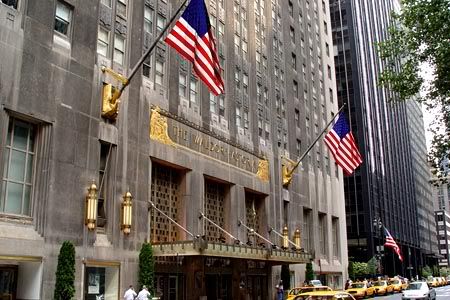 Here is a shot of the front entrance to our hotel, The Waldorf Astoria and Towers.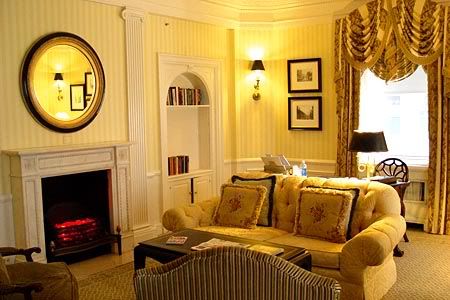 This is a shot of our living room.
(
Collapse
)