Here is my little playa ID card. It looks a little funky because I had to go back and Photoshop my home number off of it -- my chin looks a little cockeyed to me, but you can see what it looked like. I couldn't have made it without Phil's help. So many things went wrong. I wanted to make one for Kidsville and for my friend's Julia and Jay and some of our other camp mates. I thought it would be so nice for people to receive little laminated photo ID badges of themselves out there on the playa but this was all I could do and I pulled it off by a hair. At least I had something to give people so they could contact me and I collected addresses and phone numbers in my little book. Next year I'll do better -- I always say this.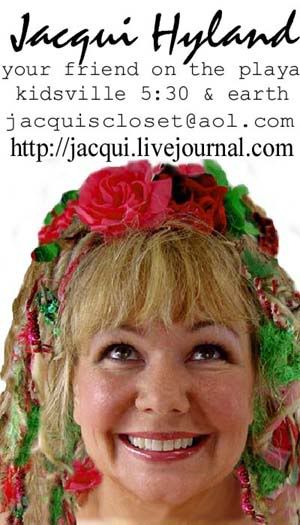 9-4-04 Just Before The Burn
This has been such a perfect day, full of love and happiness and not as much dust. Beau is happy and busy playing with his friends and sometimes that's all it takes to make me happy. We're about an hour away from the burn. Every year at about this time people start talking about how the man is packed with magnesium or some sort of major pyrotechnic materials and that this year will be the biggest, widest burn ever. I actually get sad when the man burns and have been thinking about joining the contingent of people who march around with signs shouting, "Save the man, save the man, don't burn him!"
My back has been killing me all day today. Beloved Julia gave me a massage while wonderful Jay cleaned my camera. I love them both so much and I want all the best for them and their family, truly, I just adore the whole lot of them, even their pets if I knew them. I took the girls over to meet some other wonderful gals who are camped behind me because well, I thought I should get all the gorgeous lesbians together and spread the girly love, yep, I'm crazy like that. We had a nice relaxing time hanging out under their shade structure on the trampoline watching their glorious smiling baby pass the ball back and forth with another little baby doll.
I've been distributing my extra costumes. I gave Kama my pink Burning Ma tee-shit because she liked it so much and I took a terrific pink and black crinoline over to Julian's Miss Jackie who I have always loved and never been able to spend enough time with. I love both of them, love, love, love, I'm all about love. People think I'm just another raver high on E because I'm so in love with everyone but I swear I don't need any drugs to get high out here.
I have a really great hot pink velvet and crinoline ballet tutu that I took over to Jay for her to surprise Julia with because Jay was a ballerina and of course Miss Julia thinks that's hot. I hope it'll fit her. It's small for me but she might be swimming in it.
We just got back from pot luck. There is this one super nice guy, well, there are a lot of super nice guys here, who has been bringing out these burners and frying pans and cooking up food for the kids. I always have extra of whatever it is he runs out of so I'm forever running back and forth from the potluck to the RV to get things like extra salad, cheese, hot dogs, buns, and last night I don't remember what it was he needed...hmmm, playa fry, I can't remember.
I rode around on my bike wooing people and thanking everyone -- felt really good. I took some terrific pink and black frilly sissy panties over to The Boutique camp so they could put them in their free store for someone to come and dress up in. They went so fast they couldn't even hang them up.
I've gotta go darn it. I'll be back with stories of the burn. Should be beautiful as always.
After the Burn
The burn was fun and pretty but a little more controlled and subdued than I remember it from past years, not the dangerous, wild, rollicking, heat in your face kind of burns from past years -- less intense and more controlled and Disneyesque. Phil's Mom complained that she couldn't get people to crowd in and do the traditional walk around the man this year and was disappointed about that. I've never been brave enough to move in quite that close. I always break away from our group for a bit and venture in closer than anyone I know and then come back out to be with Beau, but I've never felt safe enough to get carried away with the crows, I'm too claustrophobic and it reminds me of my old concert days when I thought I was going to die pressed up against some kind of concert stage barricade.
We all went out together as a village and that was nice. I enjoyed being with our friends and handing out thousands of glowsticks. I met a lot of friend's of friends and ran into a few people I knew. It seemed as if every art car, or mutant vehicle was out there in this one spot so it was great to be able to see some of the many cars we had missed -- same thing with the costumes. People looked so cool.
The man went off without a hitch. It started with fireworks and burned fast and hot. I met some cool people and saw lots of art cards and decorated people and bikes but the burn I am looking forward to will be tomorrow night's temple burn. I'll come back and get some man dust tomorrow to take home with us. I forgot to throw things into the fire metaphorically but I'll do that at the temple and actually I've been doing this a little bit at a time all week. We took lots of pictures.
It's three thirty AM and I'm sitting here listening to Burning Man radio. I'm tired and worrying about all of the packing we have ahead of us. The dust storms have covered every surface of our camp and gear with a thick layer of powder. The air conditioner is choked with it. There is so much dust I really don't know how I am going to clean it off our stuff and pack it back into the RV. I just want to take it all and throw it away. I'm a little worried about the RV as well, it's so thrashed, but we'll work really hard to return it to the way it was before we return it. Esther and Ana are going to die when they see it.
I'm going to leave one of my old blue...I'm so tired I can't remember what the end of this sentence was.
I lost my cell phone, someone stole my bike, my computer has crashed and won't turn on, (we got it working later, obviously), and I'm still trying to get this damned printer to work so I can print out these little address and e-mail cards and get them laminated in time to pass them out to everyone, but I would still do this all again in a heartbeat.
I want to be out there instead of stuck in here. I want to be out there where all of the lights and sounds are, looking at things and loving up on people, but Beau and his friends who were all hanging out in the RV farted up the place so badly that they set off the gas detector and it kept sounding the alarm, so Beau is worried that there is some kind of serious gas leak and can't fall asleep unless I promise to stay here and make sure everything is okay. It's really fine, there isn't anything leaking, no gas except for the kind that came out of a bunch of teenaged boys butts. I won't leave him when he's scared though, no matter what the reason. It just really sucks to be trapped in here tonight of all nights.
I keep hearing announcements on the radio about people who have had their bikes, "borrowed." They say nice things like, "It's all good, I'm glad you were able to get some use out of my bike but when you're through with it, would you please return it to Uranus and four thirty," or something like that. It helps to know that I'm not alone in this, but I'm feeling a wee bit more cynical about the situation and pissed that we aren't more organized in dealing with the bike theft, or "borrowing" situation. I wish that at the very least, with all the money they take in from entrance fees, that they could have just one place where people could return found bikes. The rangers told me that they would just gather up all of the hundred of left over bikes and donate them to someone, great, thanks. Oh well, it's just a thing, something I can replace, I just hate to think of it abandoned out there somewhere, or being hauled away by someone who just felt like helping themselves to someone else's bike. It really didn't used to be like that here, no one ever had to lock anything, but change and growth is inevitable and with the change comes good and bad. I wonder when we'll reach critical mass... I wish I had the energy t keep writing, I feel like I'm leaving so much out, but I'm just too tired to go on.
Big loving but definitely burnt out and super cold playa hugs,
Jacqui
XOXOXO