I'm starting my Christmas list again for my annual collage card thing, (Oooh Michael, I still have your card from last year, it came back to me in the mail, and I was never able to send it to you, when I find it I'll send it with this year's card,) and I'm determined to get it made and sent off well in advance of the holidays so I'm not ruining the whole season stressing out over it. So, anyone who wants one can have one by participating in my annual Christmas/Holiday/Winter Celebration card trade. Just send a card to us, personalize it in some way if you can or want to, and
be sure to include your Live Journal name,
because that way, hopefully, I'll know who you are. If you didn't get one last year for some reason, but sent me a card, let me know this and I'll find some way to make it up to you, although I think I covered everyone. So here comes my PO Box address, anyone who sends us a card gets one back : )
Jacqui Hyland and Beau Carrillo
11718 Barrington Court
Los Angeles, CA 90049
Also if there are still some people here who have added me to their journals but have not been added back, will you let me know that as well? I'm trying to keep up with this but you know me, I'm goofy and easily distracted. Chances are, if your journal seems legitimate I'll add you back.
I've had to do a Friend's List clearing to make room for more. LJ only lets you have a certain number of friends and then beyond that they won't let you add any more. I think early adopters, people with permanent status, (Thank you dear Howie), and anyone who pays for their account, should be given a little more space on their friend's list, and room for more interests. I'd tell Brad this but I haven't spoken to him in so long. He almost came and stayed with us once, now I don't know what he's up to. I should go visit his journal, I should do a lot of things.
Tommy just said hello. I've been calling him Tom Tampon because he likes to play with my OB tampons so much -- really, they make the best cat toys, but I'm sure the cat women among us know this already, and for the guys, I'm talking about new unused ones. Triple B is having a blast with her little pink octopussy that makes the funny thwacking sounds, and everyone else is making do with older toys, and my bedspread, feet, and hair.
My mattress is miserably uncomfortable and my back and hips are killing me from sleeping on this twisted network of metal springs that are barely covered by some scratchy flame retardant fabric. I worry I seem like the Princess from the Princess and the Pea but the reality is that anyone who has Fibromyalgia needs sleep more than anything, sleep, then exercise, in order to stay well and minimize the pain. I don't have the money to buy a new one right now so I'm going to have to drag my old one back up the stairs and ignore the fact that now, in addition to the stains it already had, it's wet and muddy. I'm going to toss this one because frankly who would want it? Besides it probably has evil little packets of herbs and bones stitched up inside it somewhere.
The whole Rosa drama re. this bed switch has been hard on me -- hard on all of us. Everything having to do with Rosa has been hard on me. She's calling on Jesus, weeping and acting like the desperate demon she is. She's already done everything she can to strike out at me and get me in trouble with my Mother, and all of this over a used bed when all she had to do was tell me the truth and we could have worked this out between us. I am so kind, empathic and reasonable, but she's so used to lying and sneaking around that there is just no way she would ever be honest with me.
She wanted that bed, it was only a few years old, it was really expensive, and she saw an opportunity and went for it. Then when she realized she had made a mistake and that Mom had promised it to me she scrambled to cover her tracks by finding a similar looking but much, much, much poorer quality bed and tried to pass it off as the one she had taken. I wouldn't even mind this that much, (because I know how she is), if she hadn't been so devious as to get another bed and try to fool us into thinking this was Mom's original mattress.
And to think we had just worked out an armistice between us and she was starting to be semi-nice to me again, well, as nice as a Rosa can ever be. I wish I'd never said a word to my Mother about this, but everyone who cares about my mother or me tells me Rosa has to be called on her sneaky behavior. It's just that I'm tortured by that minute possibility that she could be telling the truth and that this was indeed my Mother's bed. I'm going to make a terrible juror someday because I will forever be that one hold out who thinks there is reasonable doubt.
You should have seen her yesterday, she dragged my poor Mom over here so she, (Rosa) could run up the stairs, come see this weird wiry mattress and proclaim it to have been the mattress my mother just gave up in exchange for her brand new mechanized one that can do everything but bake bread.
The only way to settle this was to have Mom come and look at the bed, so my poor Mother had to come all the way up the stairs and she was pissed off. As soon as she saw the bed she said, "Oh no that's not my bed." Then she sat down on it, felt all of the metal and said the same thing. Rosa started sobbing and wringing her hands and saying she was tired of being picked on and accused. She said, "This is a terrible injustice, you are only doing this because you envy me," and went on about how she is a good Christian woman and that she's going to quit, so Mom surprised me by saying, "Well, then go ahead and quit because I'm sick of this." Then Mom went back downstairs with Rosa wailing all the way. This whole thing is torturing me so badly because of the slight chance that Rosa might be telling the truth and we are all mistaken about this bed.
Rosa is a better actress than I am and anyone who knows me well knows I wouldn't say something like this lightly because I've got my weary actor's ego at stake here. Rosa can break into floods of tears, turn her eyes towards heaven and say scary things like, "As sweet baby Jesus is my witness I did not do this," at a moment's notice and she can turn it off just as fast. So just because she's cries and calls out for God doesn't mean she's innocent. Rosa can be whipsnake mean when she wants to me and she has cruelly and purposefully hurt so many people who have worked for my Mom on the weekends because she doesn't want anyone edging in on her territory.
I won't bore you with the whole history but believe me when I say I know she lies and that all of the other times I have caught her doing something and called her on it she has done the same thing -- cried and called out for Jesus, and these were things she had outright done, things like telling me something to my face and then swearing to my Mother and beloved Jesus Cristo that she never said it. This woman is SCARY! The awful thing about it for me is that I am totally caught in the middle, my Mother is completely dependent on this conniving woman for her every need, and won't let her go, and since I am financially and emotionally entangled with my mother, Rosa can make things very hard for me if she wants to. FUCK!
Okay off I go to catch up on Happy Birthday wishes to my journal friends. I decided to make a new birthday image card each month for the people whose birthday's are in that particular month and then go around and post it on my pal's journals, personalizing it a bit of course. I only started doing this in a more consistent fashion at the end of September, I think I got everyone in October, but I'm feeling bad about all of the friends I missed in the months prior to this : ( Would a big Happy Birthday to everyone on my friend's list card make up for this? I'll go make another card just for you and post it.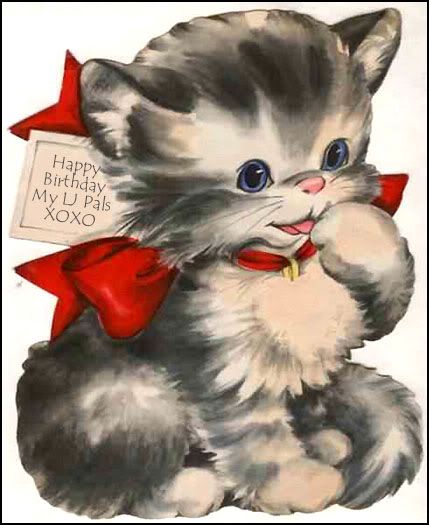 I love this song so much, I had it stuck in my head all day the other day but when I wanted to ask Scott who wrote it, I couldn't remember enough of it to sing it to him. It's called The Weight and was written by The Band but it's been covered by everyone from Aretha to Ringo. The version I've been hearing is a cover by
The Wallflowers
which of course makes perfect sense since The Band was Dylan's band and Jakob Dylan of The Wallflowers is his son. I wonder why I like it so much, I'm usually much more lyrically driven but this one pulls me along with the music even though the lyrics don't mean that much to me.
I pulled in to Nazareth, was feeling 'bout half past dead
I just need some place where I can lay my head
"Hey mister, can you tell me where a man might find a bed?''
He just grinned and shook my hand, ``No'' was all he said

Take a load off, Annie
Take a load for free
Take a load off, Annie
And you put the load right on me

I picked up my bag, I went looking for a place to hide
When I saw Carmen and the Devil walking side by side
I said "Hey Carmen, come on, let's go downtown''
She said "I gotta go but my friend can stick around''

Take a load off, Annie
Take a load for free
Take a load off, Annie
And you put the load right on me

Go down Miss Moses, there's nothing you can say
It's just old Luke, and Luke's waiting on the Judgment Day
"Well, Luke my friend, what about young Anna-Lee?''
He said "Do me a favour son, won't you stay and keep Anna-Lee
company?''

Take a load off, Annie
Take a load for free
Take a load off, Annie
And you put the load right on me

Crazy Chester followed me and he caught me in the fog
He said "I will fix your rat if you'll take Jack my dog''
I said "Wait a minute Chester, you know I'm a peaceful man''
He said "That's okay boy, won't you feed him when you can?''

Take a load off, Annie
Take a load for free
Take a load off, Annie
And you put the load right on me

Catch a cannonball now to take me down the line
My bag is sinking low and I do believe it's time
To get back to Miss Annie, you know she's the only one
Who sent me here with her regards for everyone
Take a load off, Annie
Take a load for free
Take a load off, Annie
And you put the load right on me
A lot of the lyrics pages have it as, "Take a load off Fanny," but that can't be right can it?
And this is for Karo with tabs just in case any of you feel like whipping out your guitars. I know it's really sad but I love old hyms and gospel music and this song seemed appropriate for some reason.
Will The Circle Be Unbroken
C -C7
I was standing by my window,
F C
On a cold and cloudy day.
C
When I saw that hearse come rolling,
C G7 C
For to carry my mother away.
:
C -C7
Will the circle be unbroken,
F C
By and by, Lord, by and by?
C
There's a better home a-waiting,
C G7 C
In the sky, Lord, in the sky.

C -C7
Lord, I told that undertaker,
F C
"Undertaker, please drive slow.
C
For the body you are hauling,
C G7 C
Lord, I hate to see her go."



C -C7
Lord, I followed close behind her,
F C
Tried to hold up and be brave.
C
But I could not hide my sorrow,
C G7 C
When they laid her in the grave.



C -C7
Went back home, Lord, my home was lonesome,
F C
Since my mother, she was gone.
C
All my brothers, sister cryin',
C G7 C
What a home so sad and lone.