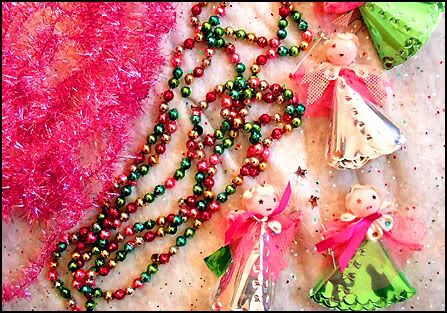 Hey Gang, I just came back from spending a few hours at my friend Atra's house. I really love hanging out with them. I love sitting around talking and laughing, they're all so close and it's just, well, sweet. We had dinner, which for me means salad and beans or cheese and bread which I enjoy and then afterwards we have tea and cookies and fruit.
Mommy, (Atra's Mom), has type two diabetes so Atra's brother Kourosh, who is such a devoted son and a good brother, bought her a new blood testing meter and we all took turns looking away and wincing while he snapped the tiny razor blade against our fingertips to get a drop of blood to put in the little machine. I was trying to be brave but for some reason when it was my turn Kourosh couldn't get the little pricking needle thing to draw enough blood and had to do it to me three times before he got enough. This set off a whole lot of worried chatter about my the quality of my blood in Farsi.
Mommy's blood sugar reading was 280 and mine was 159 which Kourosh said was high. I don't know, is that high? I know I have PCOS which also means I have insulin resistance. I've been gaining weight instead of losing and I am freaked out about this. I know I have to stop eating late at night, drink more water, get more protein, and exercise, but knowing and doing are of course, two different things, sigh.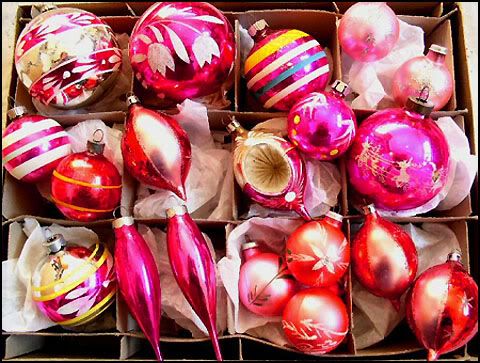 I love these old Shiny Brite ornaments. I have so much fun browsing eBay, looking for good pictures of old ornaments. We put the colored lights on the tree today. Normally I prefer white lights but because we always have little white lights Beau has been begging us for colored so we went with colored for him. Then when he came downstairs and saw them he said, "Mom, what's wrong with the tree? It isn't as bright as it normally is. Maybe we should change back to the white ones." Oh no no no no nooooo, he wanted color and we're going to stick with that. Kids, feh.
I had fun starting to unpack the Christmas boxes though. I'm a pretty avid Christmas collector and have been building up a fairly large collection of vintage ornaments and decorations for years now. I always forget what I have, (beyond my treasured favorites), and we only see our collections for one month out of the year, if that. Last year we only unpacked about half of everything we have because I waited too long to buy our tree and wound up getting a much smaller one. All of our local tree lots had sold out of the most popular type and size which is the eight to nine foot noble fir? I actually think the Douglas fir is prettier -- it has these really cool branches that look like reindeer antlers, they spread out like little knobby fingers -- but it won't support the weight of a lot of ornaments. Anyway I always enjoy opening the boxes and rediscovering our many treasures.
I finished my first Christmas scarf last night and added the fringe. Now I'm working on another one, but if I don't hurry up I'll never get them listed and sold. I have four now, the crazy, wild, orange, red and black fireman scarf, (I don't know who is going to want to pay what I need to get for this, and it kind of takes a special person to want a Halloween colored scarf at Christmas, but I guess we'll see), two fun, pink, silver and black ones, and this red, green and white one.
I'm finally getting the hang of this. I just wish the month were longer and I'd been making these all summer long. I'll put pictures up and give you guys a head start in case anyone here would like to buy one of them before I list them on eBay. Same with the Christmas and holiday corsages I'm making out of all of these bits and pieces of vintage package ties and wrapping materials I've been collecting.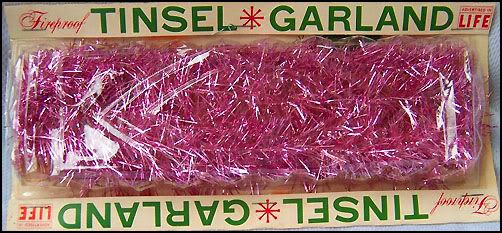 I took some pictures of our littlest dogs for you today but I won't get to put them up for a couple of days. The reason I don't ever share pictures of them is because they are incredibly hard to photograph because they bounce around so much. I don't know how
ana
does it. As soon as I think I've got a shot and click the shutter, they move and I wind up with these weird fuzzy shots. I'll show you what I mean as soon as I get a second.
Beau is doing better in school, but he has always had trouble sleeping and it makes him grumpy. He's having a hard time making the transition from preteen to full fledged adolescent. His voice is cracking and getting deeper but he thinks it's just a sore throat. He suddenly has to wear deodorant and the whole thing is perplexing and embarrassing to him. He has such super sensitive skin that pretty much anything we put on him burns and causes a rash, so finding a deodorant that will mask the smell, that will last all day while he's at school, but be gentle enough not to burn him, is proving to be a challenge. Any ideas? We'd be super grateful.
I finished watching all of the Cable On Demand episodes of Huff last night. I liked this show so much I can't wait for more, who knew? I missed seeing Oprah's interview with Barbara Walters. I love her and I can use all the weight loss tips I can get. I also missed the West Wing tonight and I really wanted to see it. I'll look around on line and see if I can figure out what happened. Just from the previews it seems pretty obvious that President Bartlett is going to have some kind of attack and become incapacitated. I'd read somewhere that the West Wing is going to revamp with a Republican president in The White House. I wonder if that's true and how that'll play. I like watching the government I wish we had, I don't think I'm going to like a Republican governed West Wing as much, but if the writing is as good as the first few seasons were, and the cast is as wonderful, I'm sure I'll love it.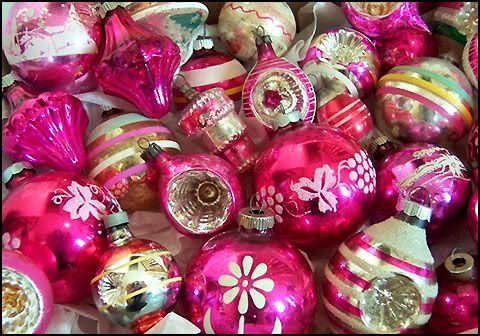 Oh it just occurred to me that I don't know what the big movie that'll open on Christmas Day this year will be. Last year Scott and I went to see Cold Mountain. It was fun. I liked being out with all of the many people who were at The Santa Monica Promenade and then watching this beautiful movie in a very crowded theatre on Christmas.
Last but never least
Scott
had a CAT scan and got the results today. He has five herniated discs, scoliosis and some other word that also means a curved spine. My poor baby. I feel so bad for him but he's feeling hopeful because at least this doctor found something that validates all of the pain he has and is referring him to other doctors for help. That and the great progress he's making on his second album are making him feel pretty good, which is a tremendous relief to me. He's singing again on Friday but I won't be able to see him because I'm going to Atra's birthday party instead. She asked if Scott would come and bring his guitar and sing. Isn't that sweet?
Okay, well, I've been rambling as usual and I need to get some rest so I'll stop here.
I heard Oprah say this in an interview with Kojo tonight;
"The way to be successful is to figure out what you have to offer and offer that, and stop worrying about imitating what everyone else is doing." -- Oprah
Big hugs,
wacqui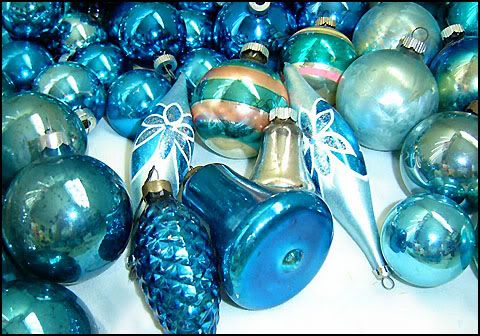 PS: I've been having fun playing The Secret Hannukah Present Giver with two of my neighbors. The first day I gave them blue sugar springled star shaped cookies from our local bakery and today I gave them blue and white Hannukah stockings for their dogs. Tomorrow they get blue and white vintage hand made corsages. I don't know what I'll do for the rest of the season -- maybe bath products. I've never given Hannukah presents before, I don't know why I didn't do this years ago, it's so much fun. Don't worry they won't guess it's me until the last day because they never read my journal, hee hee.