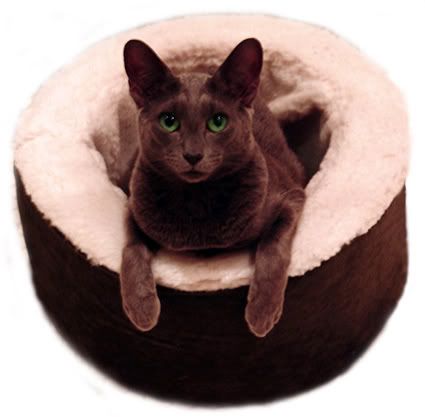 I'm trying to learn how to make backgrounds clear in Photoshop so Beau can use these images I'm making for him in his new favorite game -- Second Life. I usually use this poor man's version of Photoshop, Adobe Photo Deluxe, because it's just easier, and I was able to teach myself how to use it. It's just pathetic that I haven't made myself learn how to use the mother of all graphics programs. I have to do this, I'm so overdue. Wish me luck.
This is little Ruck, remember him -- the one grey kitty looking up at the camera surrounded by all of the black kitties? I have this picture at
the bottom of my info page.
OMG one of those little silver fish bugs just ran by me and scared me so bad I screamed and scared Leelu who is sitting on the pillow behind me chewing on the loose hairs hanging down the back of my neck.
Yesterday at the dog park I sat down on a bench between a handsome contractor with a small Rhodesian Ridgeback, and a young woman with the cutest little Shepherd puppy. We had been chatting for a while when I remembered something funny I had heard on Howard Stern and told them about it. I felt a little shy about mentioning Howard because some people really hate him and I'm so ultra sensitive I don't ever want to offend anyone, bleh, but anyway the funny thing is that they both had been listening to the same show and we were all able to laugh about it.