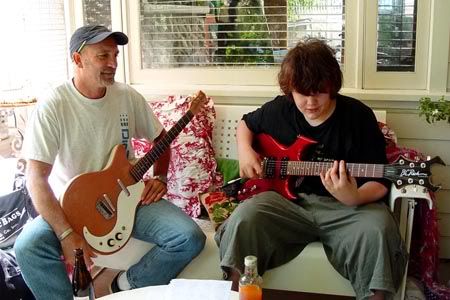 Beau and I are taking guitar lessons twice a week with this nice guy you see here, Danny. He's very cool and super talented. He put up with all the photo shoot, house dressing, drama. We were shooting the garden when I took this picture of them.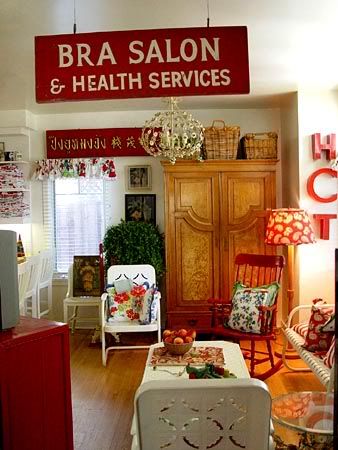 This is our family room -- the room connected to the kitchen. The letters stand for our last names, C for Beau, T for Scott, and the H for me. I don't even remember where I got the Bra Salon sign but I love it. The Asian sign came from a dealer who has a house in Thailand. I have another one in my bedroom that's black and old and a big wooden astrologer/palm reader sign as well. I like old wooden signs, I think there's something cool about them, the colors and shapes, the feel of them.

There's a wonderful, old Victoria back there under that plant. The armoire was a gift from my parents when I turned sixteen -- it was probably the last thing I wanted at the time. I think I wanted a sweet sixteen disco party or something like that -- something I could wear a sequined tube top to.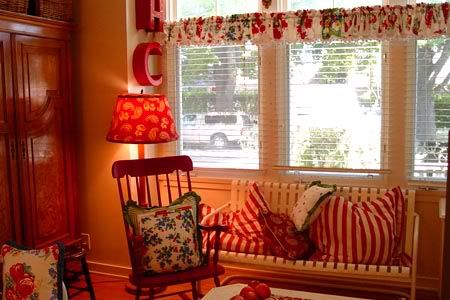 Here's another angle of the kitchen/family room. I just had that valance made. Five years we've lived here and it took this magazine shoot to get me to finish the windows. I used vintage tablecloths I collect and had this woman we've only recently met, piece it together. I bought the pom pom trim for a song and she tacked it on for me. I think it turned out really well.

I'm putting more pictures behind the cut, some see...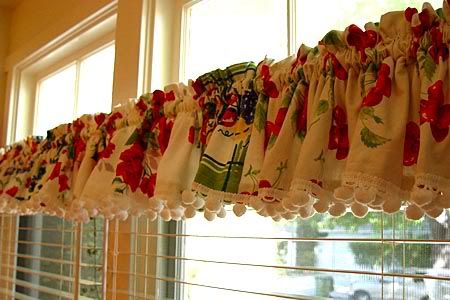 Here's a close up of the valance jest in case you didn't get enough of it in the last shot.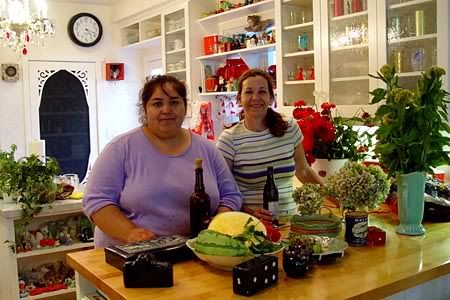 Here are Esther and Anna, my housekeeper/assistants/surrogate sisters, that I'm always writing about. This is a view of the kitchen if you were standing with your back to the windows. Esther, on the left, has been with us since Beau was about three years old so that would be eleven years. We've been through a lot together. She is so funny. She has the most absurd, dry wit and should really be a writer for KMEX or Univision -- something better than this, cleaning up after pets and people all day. She works Fridays and Saturdays and will come and help us work on whatever project we've got going, once or twice during the week, because she always needs the extra money.

That's Anna on the right. Anna has been with us for about three months. She's from Columbia, cocaine capital of the world, and has three children. She replaced Eunice who had only been with us for two weeks after Irma left. Oh God do I miss Irma. Eunice brought troubles, many, many troubles with her, and I was trying to bear with them and be supportive when "someone" called and tried to extort ten thousand dollars from me -- that was the beginning of the end for paint huffing Eunice. This just goes to show you how very, very bad I am at judging people. I thought she was the sweetest gal on earth and felt so sorry for her and wanted to help her out, big mistake, big sad mistake. Now we have Anna, I'll save any further comments about this for another post. I've got lots to say.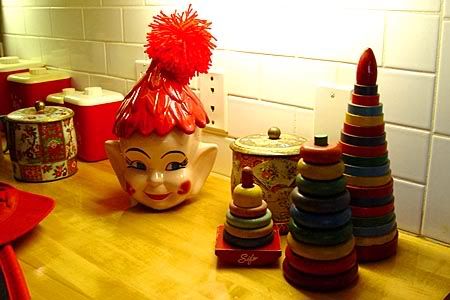 I like old painted wood stacking and pull toys. I also like Playschool toys like the farm and the school bus. I guess I just like toys. I love this Pixie cookie jar too. The cats broke off the tip of it's little hat so I bought red yarn, and asked Atra's daughter Guilan to make a pom pom for me, then I just glued it on.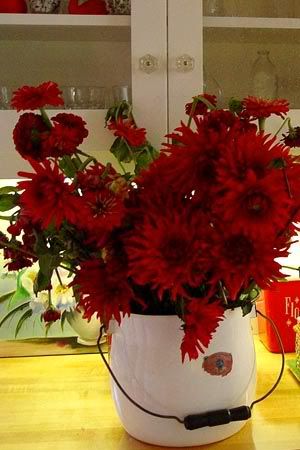 Sunday brought lots of red and purple flowers to the shoot. Last time she brought orange and I'm not a big fan of orange although I'm coming around. I used to hate red and you can certainly see I've gotten over that.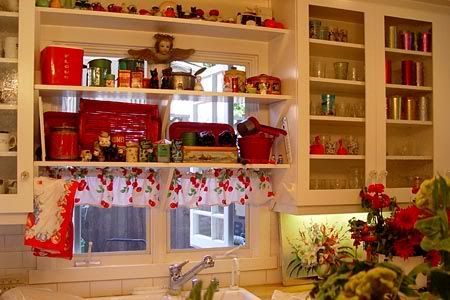 This is our sink. I just made these curtains out of a cherry fabric I had. I collect funny, quirky, realistic or Asian looking salt shakers, like miniature TVs, washing machines, blenders, cats, and fruit people. They're always breaking because the kitties think they're toys.

See those metal tumblers on the right, the colored aluminum ones? I bought those because they remind me of my childhood in Palm Springs/Rancho Mirage. Our friends The Berkeys always served us drinks in them, even milk, (Sunday said she used to drink out of them when she was little too, now they'll probably give you Cancer or Alzheimer's because of the aluminum), and I loved how everything would seem so much colder when you drank it out of one of these.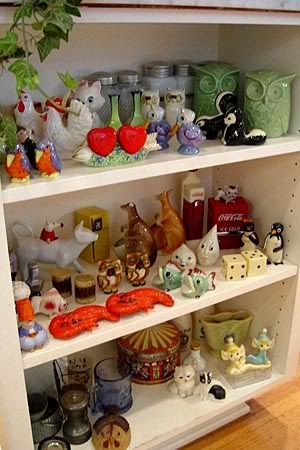 Here are some more of my salt and pepper shakers. I think that's about all the pictures I took of the kitchen. Next up; pictures of the living room, dining room, bathrooms and my bedroom, yep, much more to come, hope your browsers can handle it.

Hugs,
Wacqui