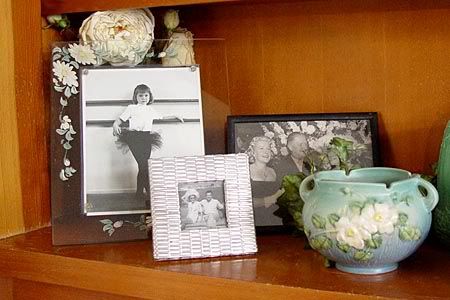 This is a close up shot of some of the things on either side of the mantelpiece in the living room. That's me when I was little taking ballet classes. The tiny picture is a shot of my Parents on a speedboat and the bigger picture in the back is of my Grandparents with my Mom. You can see one of the many pieces of Roseville that I collect. My favorite pattern is Apple Blossom but I also collect Magnolia. I collect both the blue and green shades of these as well as McCoy, Weller, Bauer, and other California Pottery pieces. It just depends on the look and feel of the piece and the glaze. In the living room it's mostly blues and greens with hints of pink and purple.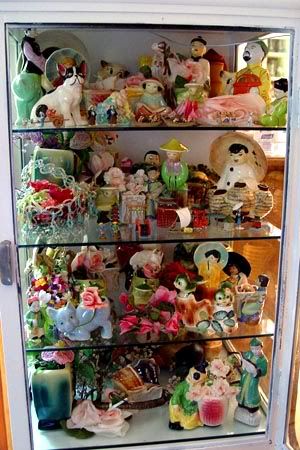 This is one of my doctor or dentist's cabinets that everyone was mad for a few years back. Everyone was stripping them down to the metal and then coating them so they wouldn't rust, mine rusted. I got tired of the look of the raw metal so I just painted them white. I'll probably get sick of the paint and strip them again in a couple of years. I keep these little Chinese planters and figurines in this one.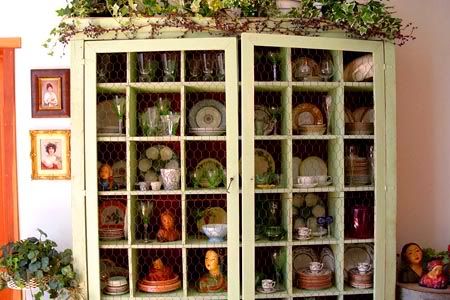 Here's the green cabinet in the dining room that got so much attention when it was in the last magazine shoot -- argh, Jake, my favorite cat, is just determined to sit on my lap, but he's too big and I can't type with him there. He's jealous because Leelu has managed to squeeze in to this little space between my body and the laptop and he wants to be where she is. I keep picking her up and moving her to the side and she just comes right back.

I don't know if you can see the little paintings to the right of the cabinet but they were my Dad's and I'd always liked them so one year Mom wrapped them up and gave them to me for Christmas, I was so touched I cried. They're old oil portraits on porcelain.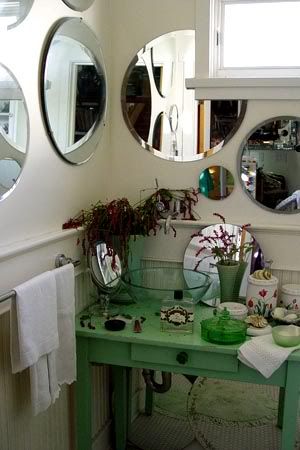 This is our powder room downstairs. This bathroom is off of the library on the ground floor, but when we folded the maid's room into Beau's room upstairs we no longer had a room for a live in, helper being, and I had to give up our library to Anna. I hate this because I'd always hoped we'd be able to use this room as a real library, a wonderful, comfortable, cozy place to read and rest but it's never really worked out that way. It always wound up being an emergency guest bedroom/catch all for all the junk we couldn't find anywhere better to store. Now Anna needs a bedroom and while this room is pretty, has really high ceilings and big French doors, it's not really good enough for her, at least not as a bedroom, she needs more privacy. I don't have a picture of it because with all the wood paneling it's kind of dark and hard to photograph.

I'm worried this is taking up too much bandwidth or stressing your browsers so I'll put the next few shots behind the cut and then come back again with my bedroom and master bathroom shots.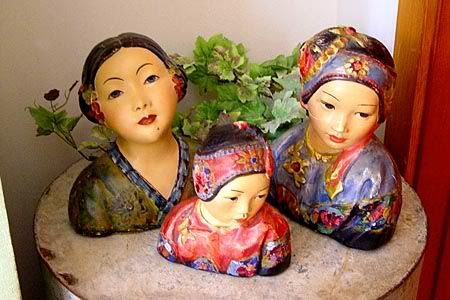 These are a few of the little Esther Hunt heads that I collect. I just love these little busts. They were little gifts that tourists could pick up in San Francisco's Chinatown in the thirties and forties I think. The best place to get Esther Hunt info is at Tom's site. There's a chance that we may be related to her. My Grandparent's were Hunts and there was supposed to be a branch of the family who went to San Francisco but I've never been able to track that down for certain. I'm still trying to prove that Esther Hunt was Gloria Vanderbuilt's lover -- someone told me that a few years ago and I haven't been able to confirm this. That would be such a fun little tidbit to add to the very little bit of information that anyone has been able to gather about her. I should send this picture to Tom because he collects shots of these heads for his website.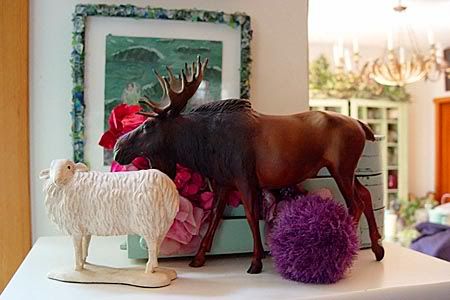 Sunday is just so naturally good at putting things together visually that even when she isn't trying she winds up creating good compositions. I thought she arranged this for a shot when really it was just a bunch of cast offs. The moose normally lives on the mantel -- I don't know why, he just kind of fits, and she removed him, and that's one of the little dog's balls, and you can just barely see one of Anne Chamberlain's paintings behind an old fashioned sewing box. I super dig Anne Chamberlain and have four of her pieces. I bought them at Bergamot Station in Santa Monica.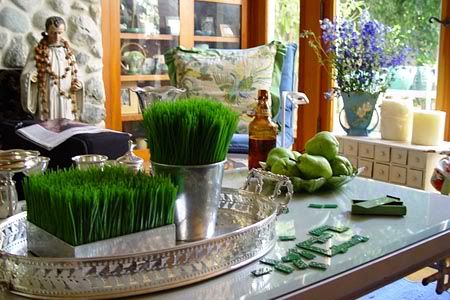 This is the only semi-decent shot I got of the living room. I should have just followed Sunday around and copied all of her shots but I was so busy and tired I never got around to it. You can see our saint statue -- the kids knocked his hand off, poor little guy. This is one of those German beers I was telling your about, and I just bought these cool green Bakelite dominoes at a swap meet and Beau and I played with them and just left them like that because they looked good. Sunday brought the pears. She always uses fruit to add color and a touch of nature to her shots.

I need to get going -- always so much to do, but I'll come back and post the bedroom shots before I leave. I hope I'm not overwhelming you with all these posts and photos. I haven't read my e-mail in more than a week and my friend Ana said that she wrote to me, I'll have to dig that out somehow. I have to type up a list of credits for the magazine and burn photos of my roses onto a DVD because they need all of this ASAP since we're just barely making their deadline for a December cover. I promised a friend I would make a Live Journal for her and was so hoping I'd get to that last night or at the latest today but obviously that isn't going to happen, sigh. I really need a shower, no need to elaborate on that, and I have got to get some exercise. I'll probably ride my bike. Then I'm having dinner with Scott at Pepones and we're going to try to make it back to his place in time for Six Feet Under, The Entourage and some good loving. Cross your fingers for me.