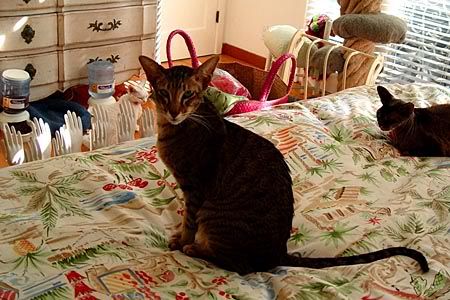 This is a picture of my beloved Sydsu right before he ate a fly. He's so funny and he's so brave now when before he was so shy he seemed almost feral. You can see the new bedspread I had made -- that was fun. I can't keep it on the bed though -- it'll have to be one of those, "just for company," kind of things 'cause the cats will shred it. At the bottom of the bed you can see the top of an old glove mold that I bought a while ago and haven't been able to figure out what to do with. It had such a great sculptural quality that I had to have it. I should really be a professional shopper, I just don't know how to go about doing it. One of the painters asked me if the glove mold was some kind of cat scratcher for the cats to walk through. They also asked if some of our cats were Chihuahuas but everyone does that. I think that's Jake back there on the right.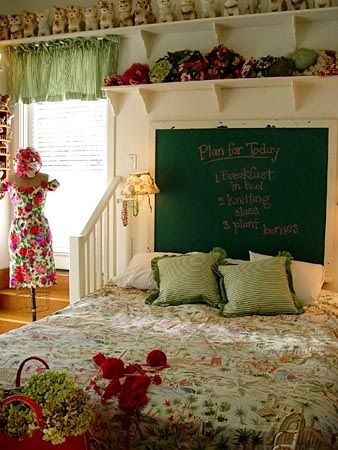 This is about as close to what the actual shot of my bedroom is going to look like because Mark took it for me. Those are my squeaky cats that I collect on the top shelf there. I had to bring them back out of the garage because we had tucked them away when I got sick of having them plopping down on top of my head at night and frightening me awake, when the cats knock them off for kicks. They also like to walk across them and it sounds so funny because they squeak.

Sunday wrote the little plan on the black or green board. We were trying to think up things to write and while I would have preferred a quote or much better yet, anything drawn by my friend Jen, theOlive here on Live Journal, we wound up having to settle for this. I really don't think I would need to remind myself to have breakfast in bed since I pretty much do this every day when I have my daily protein shake and catch up on all things computer.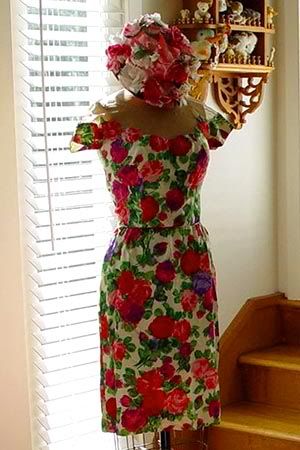 I've beaten this to death here on my journal but for anyone new, my Mother and Grandmother were dress designers and I collect their dresses when I can afford to buy them. This is one of Granny's, (Peggy Hunt), dresses. It's so pretty. It's silk, I just love this rose print and of course it has her trademark illusion lace neckline.




This is my bathroom but I forgot to turn on the light under the sink and I didn't get shots of the Chinese lanterns over the tub. Oh well, some other time. You can see them if you follow the link from my journal to the ME magazine photos. Funny thing though, I am so tired of this cutesy flowery style now that I am ready to move on to something else. I'd love to do a modern house, or a mid-century modern, even though that's been done to death. Oooh how about Japanese Luxe? Something kind of Hollywood meets Japanish?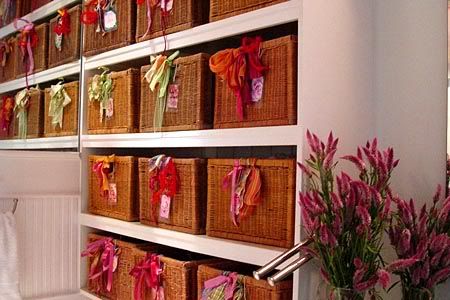 These baskets have been such an organizational life saver for me. I didn't get a shot of the tags -- I keep changing them -- but basically I have things sorted into these baskets by categories like, hair products, body creams, soap, (I have a lot of soap), candles, face and hand towels, and a naughty basket that just says toys. Although I've been thinking maybe that's not the best way to hide my adult play things considering the fact that if I were a kid looking at a stack of baskets with tags, the first one I'd go for would be the one that said toys on it, and that you had to climb way up high to peek into.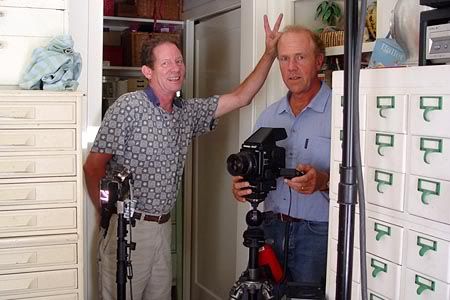 Here are the guys squeezed into a corner. We took so long setting up this shot that they were pretty sick of us and shooing us out by this point. They so didn't want to pose for this shot, heh. But like I said, mix well with good beer and all is forgiven.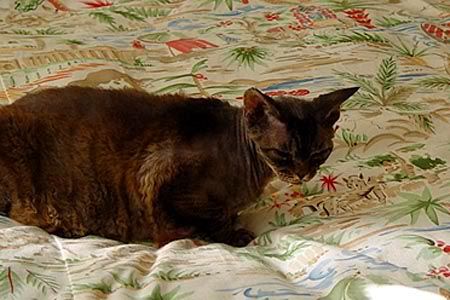 I feel obliged to post this last picture of my Jakey-Cat even though he is much better looking. He looks like a wedgey cardboard box or something here, but I wouldn't want him to find out I'd shared a photo of Sydsu and not included one of him -- he'd be very jealous and liable to pee on something ; )

Oh man, I am so late -- gotta scale it all back as always. I'll be lucky if I manage to squeeze in a shower before Scott gets here and I'd better at least go for the full body wash if I have any hope of getting busy with the boyfriend after our Sunday night shows.

Thanks for looking at these and posting your sweet comments, I've been reading them as I go. You guys are the best!

Many Huggings,
Your Pal -- Wacqui