I picked up Mom at her house early this morning and then took her to The LA Country Club to pick up her friend who used to be her sister-in-law when she was married to her first husband Denny. I took both of them to The Beach Club where they were going to meet their friends to play bridge.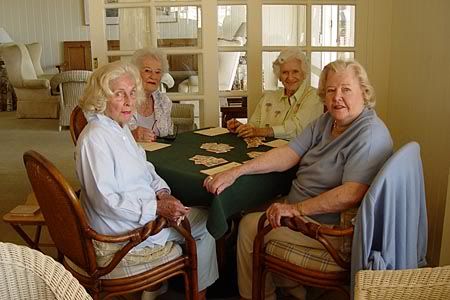 That's Mom on the right and her ex-sister-in-law is on the right just above her.

Mom's friend was Julia Child's next door neighbor in their retirement complex in Santa Barbara, and was naturally upset that she had passed away yesterday. She said that they ate together all the time and that even though she wasn't well she still had that terrific sense of humour and was a wonderful friend and neighbor. She recounted the time when Julia entertained her neighbors by making a mock recipe at the twenty-fifth, (bisto-panj if you're looking for that number in Farsi -- it's one of the few new words I've managed to retain and is naturally my new favorite, bisto-panj, bisto-panj, bisto-panj -- I love the sound of it for some reason), anniversary of their retirement complex by mixing all kinds of wacky ingredients into a big laundry basket. She added all kinds of things that wouldn't go together and certainly wouldn't make a good stew like old shoes and fruit and various funny ingredients.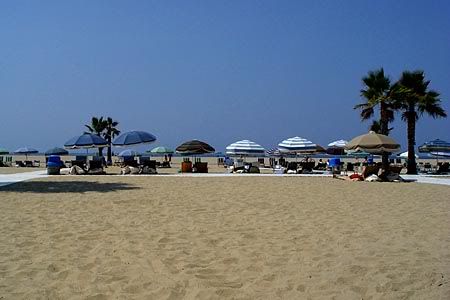 This is the beach with some of the members equipment or beach chairs and umbrellas set up along the little board walks. This was a pretty uncrowded day. On holidays every spot of sand is covered with these old fashioned umbrellas and beach chairs. We pay monthly rental fees to store them and the "beach boys" take them out and set them up for us when we ask them to.

Once Mom was settled with her friends I took some pictures of the club to share with you and then had lunch in the grill. The manager of the more casual of the two restaurants at the club, Caesar, has been there for thirty years and has always been pretty flirty with me through the years. I thought he was just being friendly until he came over to my table today, pulled up a chair, and confessed that he's always had a crush on me and would like to take me out for a drink, yikes, and he's married, double yikes.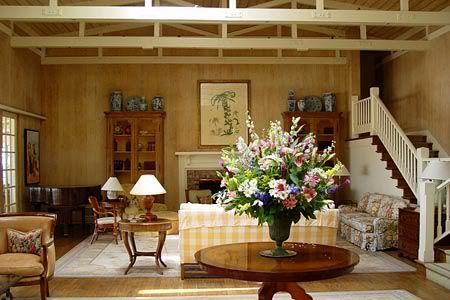 This is the living room. It has three large seating areas. There is also a large porch with fabulous views of the ocean from all sides, game rooms, a bar area, formal dining room, informal grill, large dance party area, gym, nursery, volleyball courts, paddle tennis courts, men's and women's locker rooms, kid's arts and crafts and summer beach camp areas, screening room, a couple of TV rooms with plasma screens, two play yards for kids with swings, an outdoor private party room, an outdoor pit bar, an adults only roof bar, and of course the private beach that ends at the bike path.

Mom didn't need me to come back for her for a couple of hours to take her to a hair appointment, and even though I was tired I didn't think I could really get anything done at home in that short of a period of time, so I just kind of puttered around and shopped. I went to a pet store and played with the bunnies and puppies. Then I went to Fred Segal's and poked around in the West store while talking on my cell phone to Scott about whether he should just buy the one house he's seen and has qualified for, or whether he should push himself that much further and see a few more properties. He pushed himself and were going to go see some of these other houses tomorrow night.

I enjoyed looking at the clothes and sort of picking up on the latest trends, lots of very deconstructed and reconstructed mini skirts and tee-shirts, rhinestones, chiffon, Paul Frank monkey things, a kind of eighties retro, rock and roll, vintage girly, lacey feel. Of course everything comes in sizes small through extra small there so there isn't anything that would fit me so I moved on to the East store where the accessories, makeup, perfume and shoes are.

On my way up the path I noticed this lonely, anxious, little, white Maltese doggy tied to a tree on this small patch of lawn. He looked so lonely and stressed I had to go over and keep him company. I always feel sorry for dogs when they are waiting for their people companions. At first he wasn't sure if I was good people or not but finally he just gave up and snuggled next to me. Hanging out with this dog and waiting for his owner to show up was one of the big highlights of my day.

Later I bought some cute bug shaped gardening tools for myself and Atra and these cool inexpensive flip flop sandals that are going to be a little hard to describe. They have clear jelly material for the thong part of the sandal and the rubber sole looks like a Japanese newspaper. Then they come set into this matching rubber rectangular background like a puzzle piece. I wish I had the time or energy to photograph them for you. Maybe I'll get around to it tomorrow but I still have to send of the credits to Sunday for the magazine shoot and burn my rose close up shots onto a DVD.

I had a snack at the Italian cafe there with the weird, ugly, tacky, life mask art, yuck, on the walls, and then headed back to the club to pick up Mom and her pal. They chatted amiably on the ride back about their ex-husbands and how much they both had disliked their Mother-in-law. I dropped off Mom at her hair salon, took her friend to the apartment she's renting at LACC, then doubled back to meet up with Mom.

I brought Mom some of the romance novels I'd recently bought for her so she could choose one to read while she sat under the hair dryer. She recently started reading again after years of being too anxious to read and in a very short period of time practically gobbled up every single one of Danielle Steele's sixty plus novels. I'm amazed and baffled by this, but I'm happy for her that she's found such a good new hobby. Of course she isn't likely to read anything too challenging but at least she's reading, yeay!

Mom's super charming and uber cool hair stylist Ashley added some more streaks to my hair and we had fun chatting about how much he likes to work out and how well he takes care of himself. I really like him. I like all of the people at this kind of downscale old fashioned hair salon that caters to the elderly -- lots of white haired gals with walkers, wheel chairs and helper people.

After that we went to get the Boba which is where I logged in earlier and even though I tired one more time to get Mom to like them I laughed so hard when she just suddenly and passionately burst out with a, "I hate these little things Jacqui! I just really hate them!" She also had trouble remembering what they're called referring to them as Vulvas, now come on, you've got to see the humour in that. When I corrected her and explained that vulvas are found below the waist on women she refused to believe me and argued that "There's a car called a Vulva. Now I know they try to make advertising all sexed up but they certainly wouldn't name a whole car after a vagina." God, Mom had me in stitches all day.

On the way back to her house we passed The W. Hotel in Westwood. There were some wildly dressed, or wildly underdressed, people standing around out front and Mom who is ever curious about anything unusual, especially if it is in any way sexual, was so curious she made me hang a right at the end of the block and come back around again so she could get a second look. These people looked like they were dressed for some kind of porn convention. There was one super buff, extremely tan guy wearing a teeny white bikini with nothing else on except for a big fluffy white feather boa, and a bunch of women in G-strings, push up bras and heels, (Scott would hate that, not), and another gal who was pretty much topless but for the thin, completely see-through, baby-doll dress she had on with her super high sex-kitteny heels. You should have seen my Mom craning her neck to get a better look at these guys.

When we got home I noticed one of the little brown lizards, that have been living forever in this patch of deeply overgrown jasmine that we have in the front yard, as it skittered out of our way. I said, "Mom, do you ever wonder if these lizards are the great, great, great, great grandchildren of the lizards that were here when we first moved in?" She said she had been wondering the same thing. I asked her if she didn't think they'd be really messed up from being so inbred and she said, "Well, what makes you think they aren't? They might be really crazy lizards." I don't know why but that struck me as so funny, thinking about these crazy inbred lizards that have been living in our front yard for so many years.

After I dropped Mom off and made sure she was safely tucked in I came back to my home and passed out Boba drinks. Hugo, Esther's husband, was letting their eleven year old daughter drive their car back and forth in front of the house and then Beau took a turn. I let Esther's son Eduardo, who turned eighteen today, go stay at our vacation house in the desert for the weekend. Esther and her sister Concha, who had been working in the back yard for me going through some of the stuff we took out of the garage when we remodeled it, told me that they had found eight dead rats in the garden. I have got to sneak into my neighbor's back yard and try to lay my hands on whatever poison they have been putting out and get rid of it. I'm guessing it's my neighbors who turned me in for having too many pets, the ones who have left for their house in Washington for four months. I can't imagine who else would be doing this since everyone else around here has pets and wouldn't do something like this. I feel so sorry for these rats. It's breaking my heart seeing them dead all over the garden every day.

Atra is having a party for her two adult kids tonight and Beau wants me to take him over there. I don't have any energy left but I'll go over for a really short visit to be polite and make Beau happy. I was over there earlier helping make appetizers and cleaning up. They had crackers and cream cheese but wanted to put something else on them so I ran back home for peppers and olives and grabbed some cilantro from my garden, but as I was breaking off the cilantro and decorating the cream cheese with bits of it, I noticed the tiniest green caterpillar with a black stripe running down the length of it's body. I might have eaten that or given it to someone else to eat. When it lifted up the piece of cilantro it was crawling along on, it kind of stood up and sniffed me, cute little thing, so I took it back outside and laid it down in the garden with some of the cilantro just in case that's all it can eat. There was no end to the yucks everyone had over my doing this. "Our crazy, silly, American friend Jacqui, she even loves the bugs."

Okay, well, off I go. Just wanted to share my day.

Love you,
Jac
XOXOXO

PS: I just got back from Atra and Arta's party. They party hard, these guys. They cook for days, put out a big food spread, clear out their enormous two and a half story living room for dancing, and hire a super loud DJ who plays a mix of Middle Eastern music and pop. After drinks, dinner, desert, and tea they heat these charcoals on the stove and smoke all kinds of different fruity flavored tobaccos in water pipes or hookahs. Beau and I had a good time, I love our neighbor/friends, but the music, darn it, is just too loud. My ears are still ringing, that can't be good.





This is a new icon I'll just add to the pile and probably never use. I really need to update them along with the info on my info page, it's getting really outdated. I found this through a Live Journal friend's, friend's, friend's journal. I think. It's so much fun -- a little doll building program by Elouai and Candybar. Check it out, it's fun : )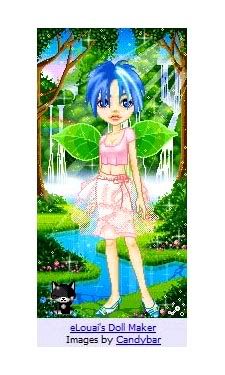 This is my full length dolly/avatar grrl. It's so much cuter with the animation though -- the waterfalls, the twinkling stars, her sweet blinking eyes, and her little moving kitty pet.