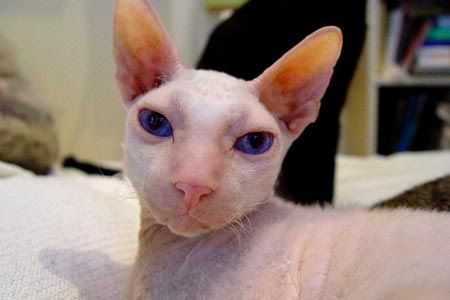 This is Niki, my favorite cat, but please don't tell Jake or any of my other favorite cats that I said this. Nikilananda, or Niki for short, is a Cornish Rex -- curly cats who originated in Cornwall, England. Oh England My Lion Heart, pardon me while I go off on a little Kate Bush tangent for a moment here, I just happen to love all things British darn it...

Hi Gang, I've been putting my more internal, rambling, personal posts behind the Friend's List cut just to protect myself from unwanted criticism and judgment. I use my journal as an outlet for my thoughts and feelings and I need it to be a safe place to do that. I swear I do not understand what goes through people's heads when they read these journals and think they can just pop in and leave harsh condemning comments as if the people who write these journals are characters in some novel, as if we are some kind of abstract concept, a person at a great distance from their perfectly ordered worlds that they can judge and pick on and order about like some grade school science fair project.

Look people, (I'm not talking to you, so don't worry, this is for them), I'm real, I spit, I bleed, I hurt just like anyone else, maybe more so because I'm so exquisitely sensitive. I'm also super bright with an enormous IQ, (if that really means anything), and believe me, if you think of it, there's a good chance I thought of it long before you did and it's just that given the complicated circumstances of my life, I haven't been able to translate these thoughts into action and changed the same things about myself that you would choose to change were you in my place. Or it might be as simple as my having had to pick and choose my battles and make peace with some things just as they are for a while. Or it might just be that my rate of change is as slow as the movement of the panes of glass on an old house. I'm moving, you just don't see it because it isn't fast enough, for you.

Please remember that IMHO we are all here to learn, no one of us is really any better at any of this than any other, our children pick the parents they choose to live with long before they ever pass through our bodies into their own, and these are their learning journeys as well. If I parent my child, if I treat my friends and family, if I care for my many pets, differently than you would, well, that's just my path and it just happens to be different from yours. Lets skip forward twenty years and see what you've made of your life before you receive my permission to come in here and stir things up in mine. Nuff said. Sorry to have gone off on that when all I really wanted to do was share a couple of cute cat pictures. None of this applies to the people who remain on my Friends List, your advice and comments are welcome as long as they are given with love and consideration of my highly attuned, way too Godamned sensitive, feelings.

With all that said, please let me know if you've asked me to add you and I haven't done that yet. If you're kind, loving and safe I'll be glad to welcome you in to my, Let's Meet the Parent's, Robert Deniro's Circle of Trust ; )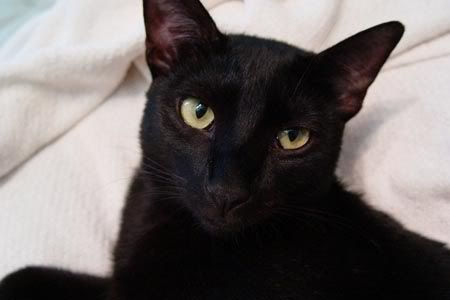 This is Sammy. I looove black cats and think that, contrary to popular belief, they are very lucky indeed. Sammy, like most of my cat friends, is a naughty cat. He is forever looking for things to get into and people and pets to pester. Can you tell that from this sweet picture?