Okay this one is enormous, with dozens of pictures, so I'm definitely going to put a big chunk of it behind the cut, but please come see the pictures of our house and the trick or treaters.

11-1-04

Hey Gang, Still super tired and worn out. I promised my wee, inner-kidling self that I would take today off to just lay around in bed and catch up on all of the missed sleep and resting that my flu-fighting-body so badly needs, so here I am but I can't seem to get myself to just lay down and let go. I'm trying but I want to be busy...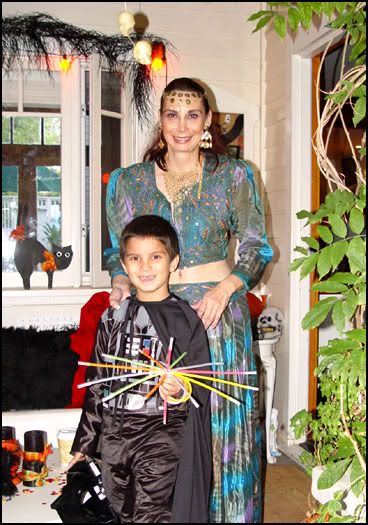 My oldest friend Karen -- we've been friends since Marymount Junior School -- and her son Rico.

Our very first trick or treater turned out to be my oldest pal Karen's son Rico. He was dressed as a little Darth Vader so I didn't know who he was until he took off his mask, then I got so excited I yelped and I think that scared him. Karen was dressed as a sexy belly dancing gal. She just had a lot of super-serious, reconstructive surgery, following her stomach stapling, weight loss and she looked fabulous. It was great to see them.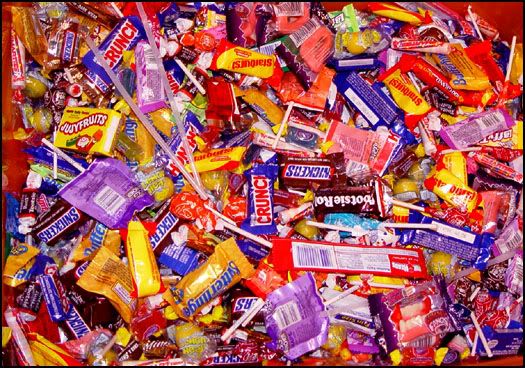 Woohoo! Candy!!

It all worked out so well, despite our not feeling well and my disappointment at not having been able to make everything just so, perfect as usual. People came for brief visits and left before you would feel rude if you moved on and had to visit with someone else, or help some little child with something. Just manning the door when there are so many trick or treaters is hard work. We had lines going down the front walkway, out the gate and down the block and people were pushing and telling the kids to, "Move it along." Even though I had bought a mountain of candy and glow sticks I never know if it'll run out and some of the kids will just tip the buckets into their bags if you aren't looking so you really have to be there to monitor the whole thing, plus it's just so much fun to greet everyone and see the costumes they wear. I love persuading the little ones that it's safe to come up to the front door.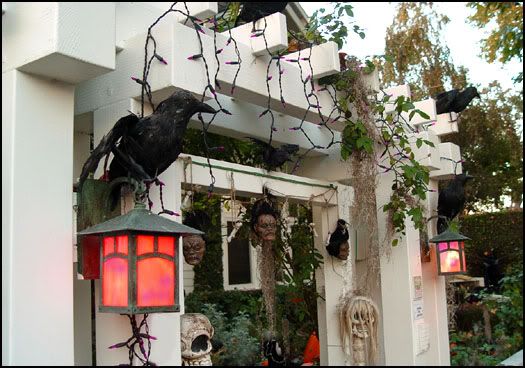 Here's what the poor wee little ones see when they approach our walkway. It's not anywhere near as scary as it used to be.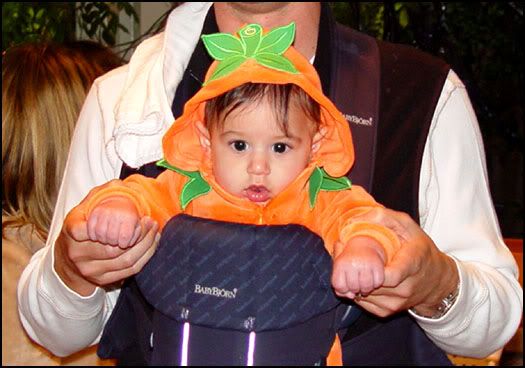 Our littlest trick or treater.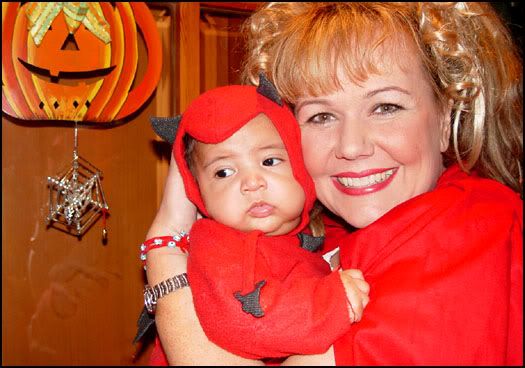 Nope, I lied, this was our littlest trick or treater -- this is Joshua, Esther's little nephew. He was just squish wonderful, babies, yum.

There seems to be a pattern to the way the trick or treating happens. First the littlest kids and their parents come -- when it's still light out. These will be the kids in strollers and push carts or strapped to their parents in pouches. They don't have a clue and don't even know how to hold the candy so I never really understand why their parents dress them up and bring them out, poor little babies.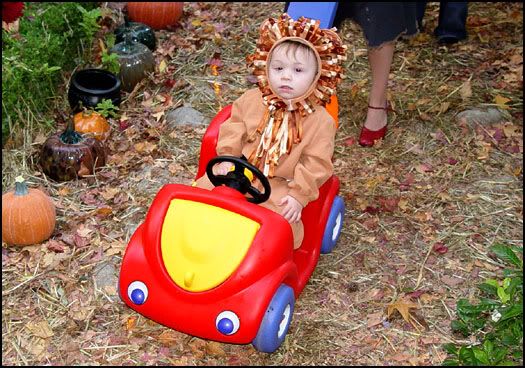 This was our first official trick or treater and I am telling you this kid didn't have a clue what was going on. His Mom was so cute and I loved that they got into the whole spirit of the day but this poor little guy had this sleepy fixed expression on his face that never changed.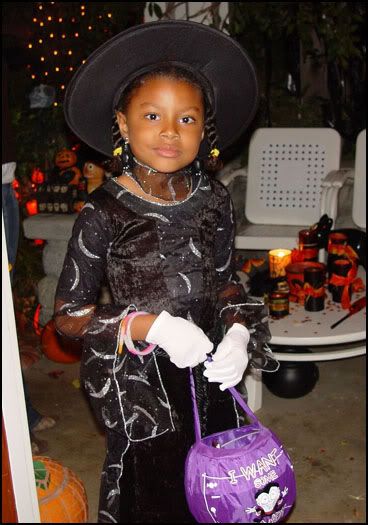 This little girl was so adorable. I had to go to the street to get her to persuade her to walk up to the front door, she was that scared. Isn't she the cutest? I kept knocking on things and telling her everything was fake and not to worry. Oh what a dolly she was.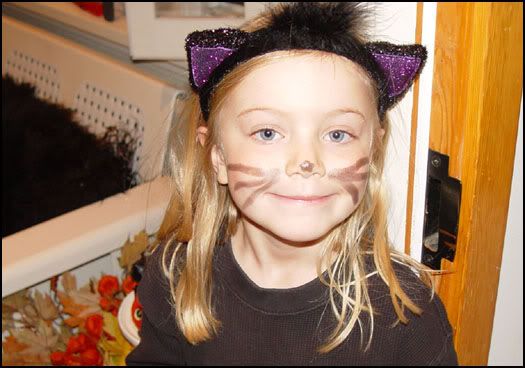 Look at this sweet little pussycat, what a face!

I can't remember if I did the same thing, but I know that when Beau was big enough to toddle around I definitely dressed him up as a pumpkin and took him to the houses where there were people he knew. Oh God he was so cute. Anyway after the babies come the toddlers and kindergartners who are a little better able to understand what's going on. They need to be met at the gate and walked up the walkway because they really do think our house is haunted and something will pop out and hurt them. I usually wind up telling them that everything is fake and they are so incredibly relieved when they finally reach the door and see all of the candy and bracelets.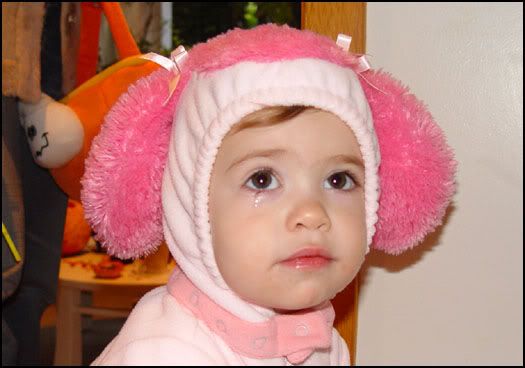 This is a perfect illustration of what I was just writing about -- see that little tear?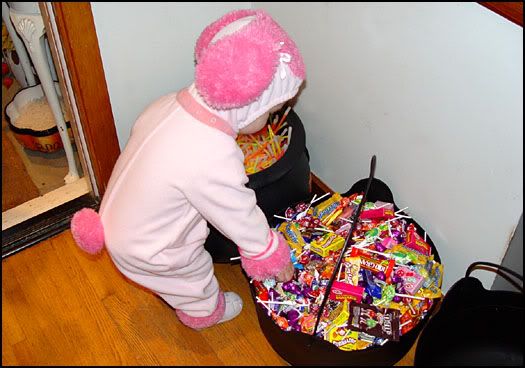 But then the little pink poodle saw the candy and cheered up. Hmmm, cheering kids up with candy, maybe this isn't such a good thing.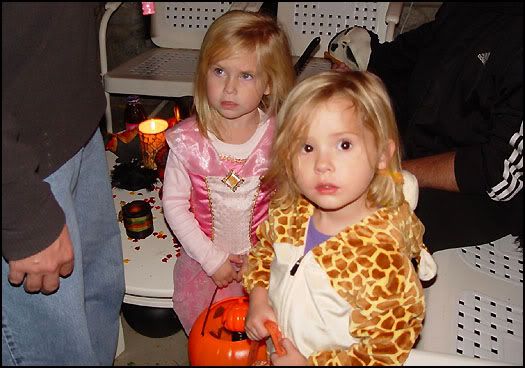 A little giraffe and a princess, awww.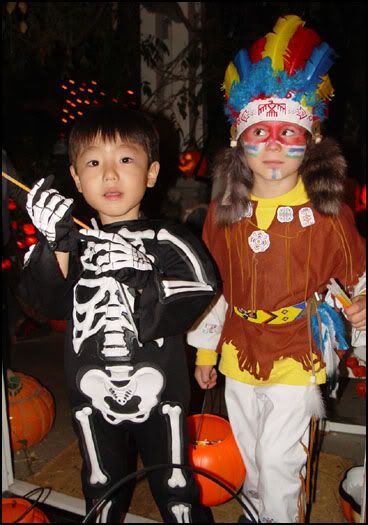 I don't see a lot of kids dressed up as Native Americans any more, even though we do see plenty of afros, most people are pretty sensitive to this and don't do it any more. But how cute is this little skeleton boy?

Then as it gets darker the older kids come and as the night wears on the age of the trick or treaters increases and the parents tend to hang back and watch from the street. These are the kids who will either be fun and sweet or greedy and pushy. It's a trick or treat crap shoot.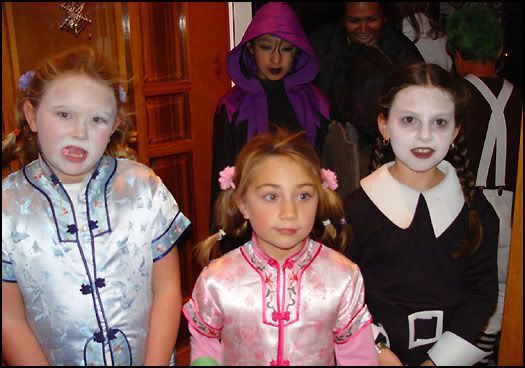 Cutie-pie geishas and Wendy.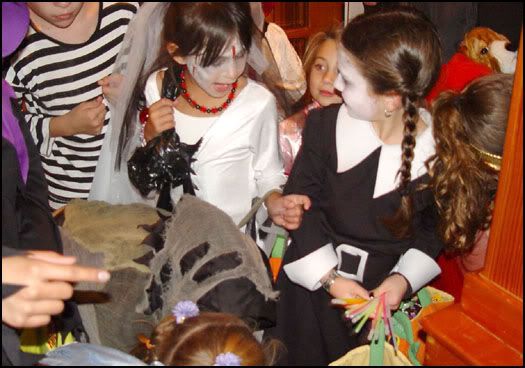 I wish I had taken more pictures because there were so many cool costumes and soooo many people but this kind of gives you a glimpse of the madness. These kids were at the head of a long line of people who were shouting at them to hurry on up.

I wish there had been four or five of me so I could have taken the entire experience in multi dimensionally. I wanted to be handing out candy and taking photographs, visiting with friends, cleaning up after people, making sure all of the props and electronics were working, hanging out outside listening to things people were saying, playing with Josh and Melissa, and trick or treating myself -- at least on my own block -- but instead I kind of had to man the door, trying to make sure that our generous portions of candy and glow sticks would last the night.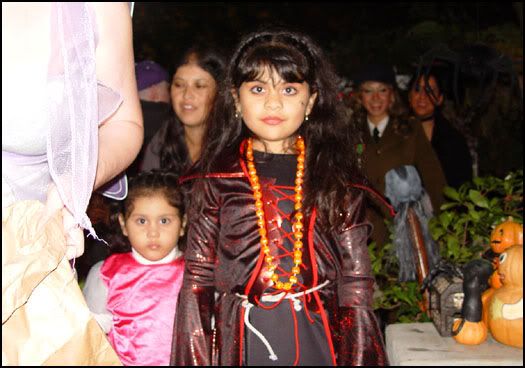 Isn't she pretty? You can just see my friend Amita peeking out from behind her.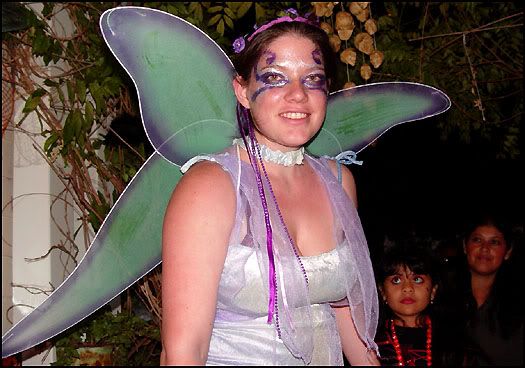 This was one of the mommies -- they get into it too. I wish I knew where all of these people lived so I could give them copies of all of these pictures I always take.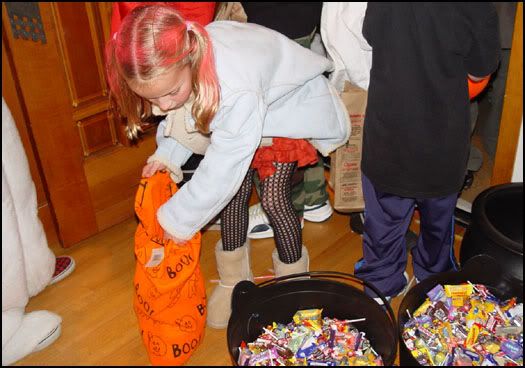 Here is a little someone helping herself to some candy, or keena as Beau used to call it when he was a baby.

We gave out big handfuls to each child and at least 3-5 glow sticks, sometimes more, but like I said you have to monitor things because the worst thing you can have happen when your entire home and garden is blazing orange on Halloween is to run out of treats. We had our share of naughty kids who switched their costumes around or didn't even bother to do that much and came back three and four times. I didn't mind really as long as they were friendly, but the sneaky ones who wouldn't make eye contact with us and just bent over the buckets and took six and seven handfuls, they kind of seemed a bit gobbly and wicked. The irony here is that two of these kids are neighbors who I know well and have always been nice to. In fact I had bought extra special Halloween treats for them, like I always do, but they were in such a rush to get away with their hoard so they wouldn't get in trouble that I couldn't even get their attention to give them to them. Ahh it's good to see karma in action, seriously, this was a perfect example of how greed blinds you to the real gifts that can come your way if your hands aren't clenched around the things you can see.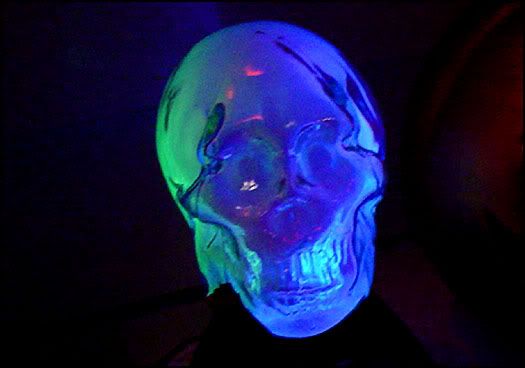 One of the cool glowing skulls we found this year at Target. I do love Target, yep!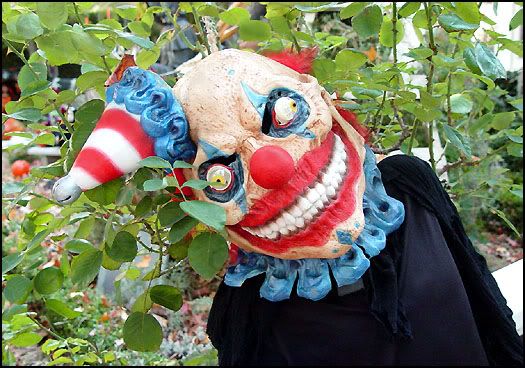 Beau and I aren't big clown fans -- long story -- so we buy scary clown masks whenever we can find them and then put them on some of our mannequins. I bought these light up eyes and put them in the mask last year, but I was so busy this year I forgot to turn them on : (



Here is our spooky wannabe Disney Haunted Mansion spooky man. Eduardo hung him up for us and we pointed a black light at him and a fan so he glowed brightly and his dress fluttered in the breeze -- very scary.

My friend Susan came by. I was so hoping she would but I had felt too guilty to invite her because I've been so absent and hadn't called in a while and didn't want to pressure her to come. I was so happy to see her and she persuaded me to come and sit out in front of our house on one of the hay bales that we had set up there for parents to sit on, so that I could sort of spy on people and hear what they were saying about us. What fun!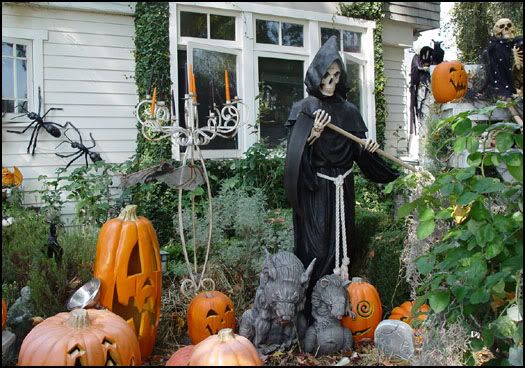 This is the view I was looking at with Susan, I just wish I had a shot of it at night -- all lit up and glowing with all of the kids, the fog, and the flickering candles.

I don't know if I've ever done that before but it was such a treat. Most of the people didn't know who I was or that this was my house so it was a blast sitting there listening to all of the compliments, what a weird feeling, kind of like being in a play but being able to be in the audience at the same time. There were so many people complimenting us and oohing and awing, it felt a little overwhelming and like I said, weird. Plus Josh and Melissa were there filming and they'd set up a typical, "This is a film location...," warning sign, and were getting people to sign releases. One little girl walked by saying so sweetly, "I'm going to be in a movie Mommy!" That just thrilled my heart no end.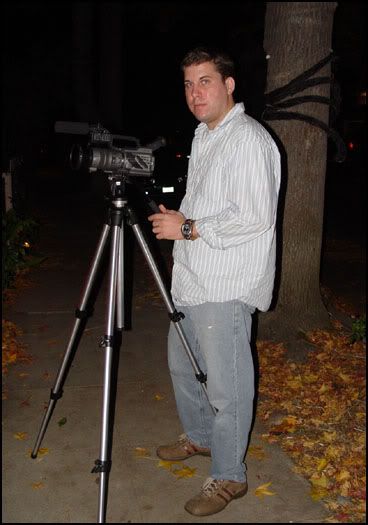 This is Josh in front of our house.

My neighbors who bought my dear old friend Eva's, (the WW2 resistance fighter war hero -- God what a woman), house came with their kids, granddaughter and pals. They're pretty wonderful too. They do non profit PR and are handsome, charming, and kind. I dig them.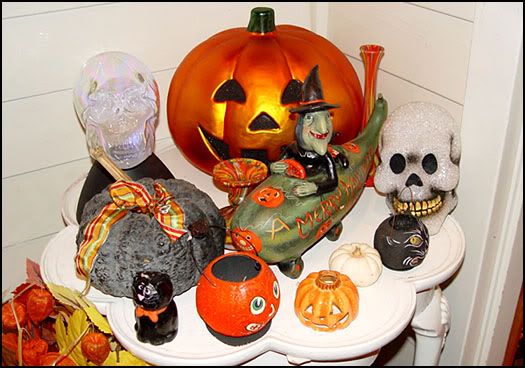 Here are some of our decorations by the front door.

You know I just realized something, the only neighbors on our block who don't seem to like me -- and now because of this, I don't like them -- are never around for Halloween. They never bother to stop by like everyone else does. This way they get to keep their precious feelings about how I'm not a good enough block captain intact. You'd have to be a serious idiot to think I don't contribute enough to our neighborhood spirit if you're standing anywhere within shouting distance of our house on October 31.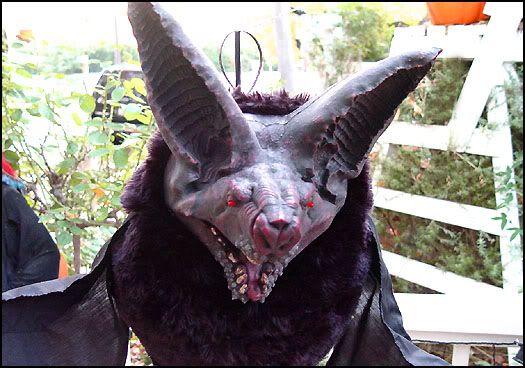 The bat we hung over the driveway graveyard. My poor friend the neighbor doggy Nikita, she really hates this bat, I think it scares her.

It sucks having to deal with people who don't like you, or who you don't like, when you live so close and were formerly friends. It reminds me of how I used to feel about my ex mother-in-law. I was always so ready to love her, so supportive and considerate, but there was always something there between us, something dark and discouraging. In the end it turned out that she had just never like me and I hadn't understood that. She just plain didn't like me and here I had been trying desperately to win her over all those years, thinking I had done something wrong and that it was my fault in some way. People, yuck, is it any wonder I often prefer the company of cats?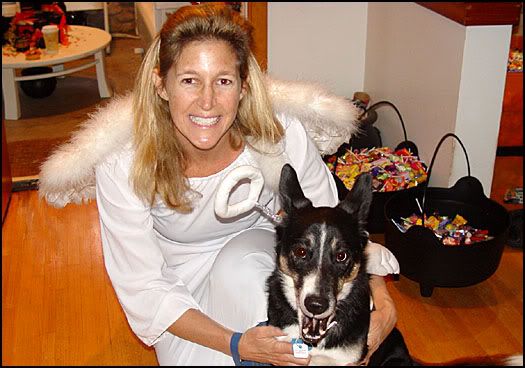 Sweet fun Karyn and Nikita.

Karyn, my nearest neighbor, (Well, excluding the monsters on the other side who mercifully are in their away-period, they leave 4-6 months out of the year and everyone and everything about our neighborhood is better for it, we all dread their coming home, sigh), came over with her dog Niki and they were both dressed as angels with wings and halos. I got so excited when Niki came in because we can't normally have her, (or anyone really), over because of the cats.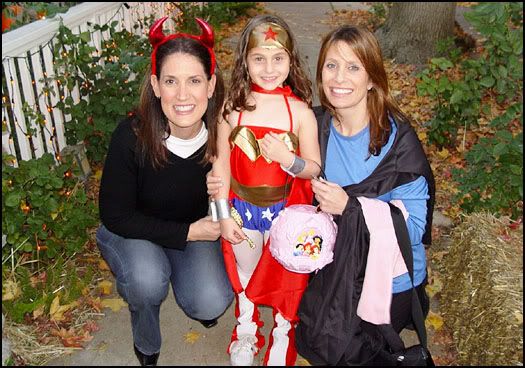 Here are Betsy and her friends.

Another neighbor pal Betsy came by and looked great, I didn't get who came with her, a friend, but she was cute and they had a little girl dressed as Wonder Woman. Betsy is a kick, she's a therapist and she is soooo raunchy. I love this about her. I always think I'm the wildest gal in the room and I swear Betsy makes me look like a timid little saint girl.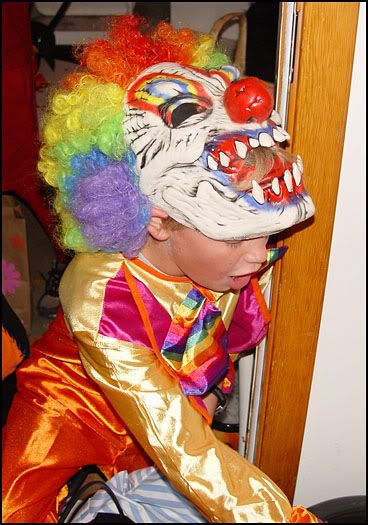 I am an evil clown boy, pass me the candy.

Scott came a bit late but that was fine because he gets so bored here when I don't get to pay much attention to him and I don't always know if he understands that this is just how it is when you host a party. I hope that we'll get to co-host a party sometime soon, with mostly his friends, or a mix of friends of family -- maybe when we have his housewarming party, so he'll be equally responsible and stressed as the host. If it's at his house then the focus will be on him and he'll get it a bit more. Maybe he'll develop a little more empathy when he experiences this more for himself. He's so fucking smart, I know he gets it logically, but the lonely, tired, little boy part of him doesn't, and I feel so bad seeing him sitting there looking weary and bored.

He's so much better than he used to be though. We used to fight before because he would get indignant, pouty and morose, and put pressure on me to connect with him more, then we'd fight and it would get out of control and ruin everything. We've both grown and have found our way to a healthier middle ground. I don't over worry or fuss too much over him, which bothers him, I don't take his discomfort personally, and he lets me have my space and knows that just by being here he is being supportive.

Atra and Arta and their family came by. Amita brought all of her friends and there were tons of them. I was so happy to see them but I was a little uncomfortable because Atra is such a supreme hostess, and the house was trashed by the time they finally showed up. If you have any Persian friends or saw The House of Sand and Fog you'll know what I mean here, just think tea on silver trays served on your knees any time anyone walks through the front door and you'll get the picture. I'm actually invited to go over for tea in fifteen minutes but I'm not dressed...



One of our display cabinets. They're old doctor or dentist cabinets that used to be stripped to their base color but I felt like changing things up a bit this year so I painted them creamy white. This one usually has vintage china in it but come Halloween I tuck that all away and put all of our vintage seasonal collectibles in it. Next up will be Thanksgiving cornucopias, gourds, squash, and vintage postcards.

I was a little nervous about Mommy/Ghodsi seeing my house because she's never been here before. She is seriously phobic about being around cats and didn't entirely trust that I would tuck them all away. I didn't have any tea started because they came two hours later than they had said they would and I was just exhausted and overwhelmed at that point. The kids just dug in to the pizzas and salad so that was great, and we had plenty of deserts. I'm amazed at how well I planned it, we ran out of pizza at the very last minute, after everyone had left and I had even been able to give a whole pizza to Beau's sweet tutor and her husband, who had kindly come by for a visit.



This is Angela. She was sucking on a little light up lolli, we gave these out to special friends.

Monique and Bruce and their darling little daughter Angela came by towards the end of the night and I was so happy to see them. Monique is one of the funniest and smartest people I have ever known and she is never less than completely fun to be with, even at her worst she must be fun to be with because she's just so GD funny. Bruce is a brain man as well, and little Angela, well, she wasn't named after an angel for nothing. I ADORE her!!!! There is very little that feels as good as getting a sudden, exuberant, love-filled hug from Angela.

She did the funniest thing at one point. I don't know if this will translate well in writing here on my journal but "someone" had left the front door open late last night after all of the trick or treaters had gone home. We had let some of the cats and dogs come back in so we had closed it so they wouldn't run out. But it had been open all day and night. Monique noticed it and saw our little Papillon doggy Alley scooting out so she ran after her, and then I ran after Monique, and Angela, who had left the door open, (but none of us would have known this,) got up and ran after us saying, "Yes, yes, yes, I have to tell you something, I was the one what did this and left open the door. I am sorry guys."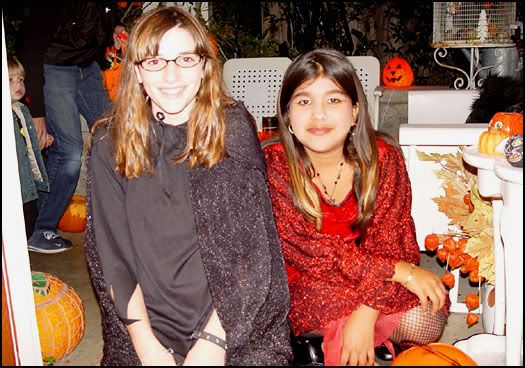 Sara and Andrea -- I've known both of these girls since the day they were conceived. The rate at which time zips by really freaks me out.

Oh she was just so earnest and fearless and cute. It was just the sweetest thing. It's just what you'd want to hear an adult say in pretty much any situation where someone inadvertently makes a mistake. Imagine if adults acted like this all the time, "Oh, my bad. I'm the one who did that. Here, let me help make this better." Instead I live in a world peopled with uh, people, who constantly say, "I only did that because you, bla, bla, bla, excuse, blame, shame," and then we get argument acceleration.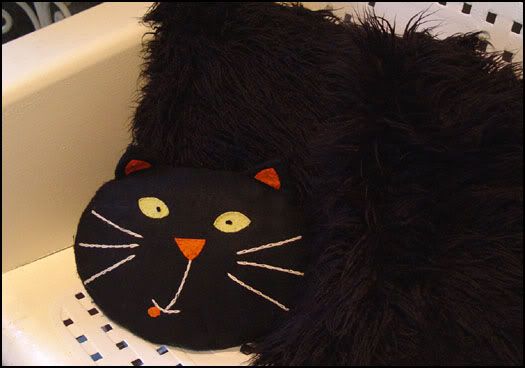 We switch out our usually flowery porch pillows for these fake furry black ones. They're comfy.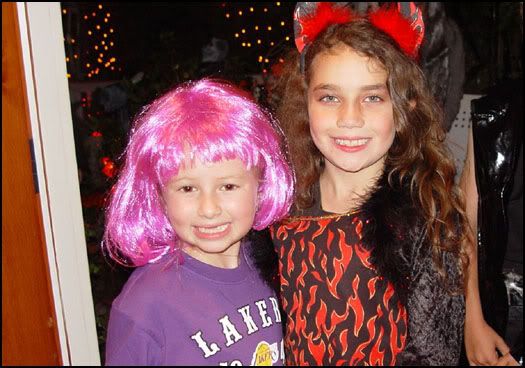 Jack Nicholson's future girlfriend?

I just wrote this to Melena and thought maybe I should put it up here just in case. I've written this before but who knows if anyone will remember when the time comes so maybe if I post this once in a while I'll get the kind of funeral and be set free in the way I'd like to be. I'm not any more depressed or upset than I ordinarily am I was just thinking about this and I just don't want to wind up being buried at Holy Cross with a miserable funeral in that big mausoleum church with all the controls and regulations that go along with it. I want colors, love, stories, laughter, music, nature, flowers, water, sea creatures, fun -- that kind of thing, yeah.

Doesn't being in Hawaii make you want to change your entire life around, live differently, closer to nature, and move there? When I die I want to be cremated, put in a hollowed out coconut or seed pod bowl of some kind, floated for a while on the water, and then scattered in the waters of Kapalua or Napili Bay in a traditional Hawaiian type ceremony, with my pals up to their waist's in the water in a circle around me singing songs and scattering flowers. Then everybody gets to body surf, snorkel and have a picnic -- even better if they could swim naked -- but that would be asking for too much, and I don't want to be left at Big Little Beach because even though everyone could be nude the waves are too rough and the vibe isn't as sweet. Ya think I suffer from depression, planning my funeral...shit.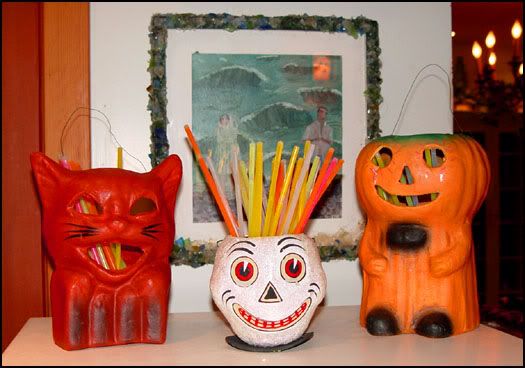 Some of the little children's trick or treat lanterns I collect.



Our last trick or treaters of the night. We sent them packing with so much candy they couldn't hold it all.

Hey, here's a fun little something to keep the spookiness, mystery, and fun going for a little while longer, it's called Dionaea House -- a not entirely perfect, but fun piece of track-it-down fiction, involving a Live Journal.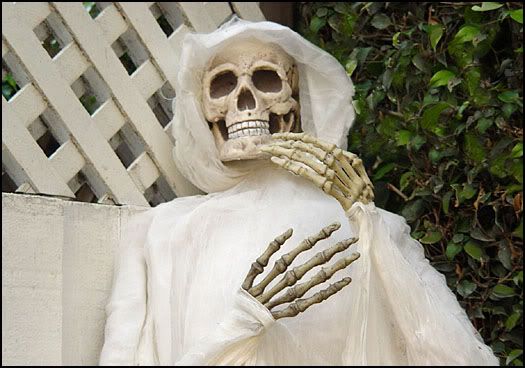 Doesn't my little skeleton pal look like she just caught herself saying something naughty and is doing one of those little tee hee mouth cover up gestures?

Okay, thanks for reading all of this, and looking at all of our pictures. I'll catch up with you in a couple of days, probably after the election.

Big Happy Halloween hugs until next year,
Jacqui