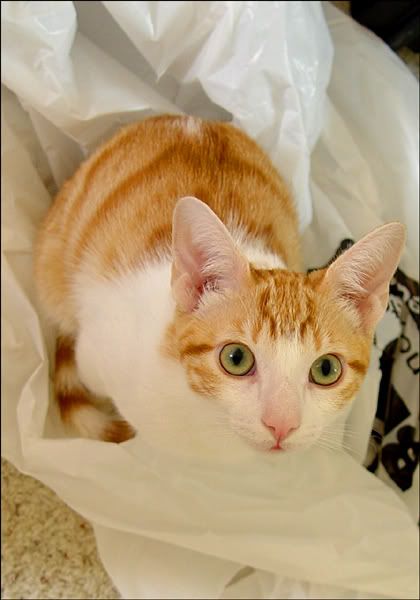 Yeay, I'm back on. Thanks for your advice everyone. Turns out it was the weird hotel modem thing I was using because I'm home now with the wireless DSL and everything is fine, phew.

I edited some pictures for you. Here's Tommy at our house in the desert. He was playing in a plastic bag from Bed Bath and Beyond. Can you believe how big he's gotten? He's not my baby any more, sniff, sniff. Tommy is a wonderful pal to cuddle with. He's getting more used to me and will let me snuggle him. He's such a sweet boy but he is turning out to be a major yarn ball thief.




Here's Malibu on my bed in my bedroom in Palm Desert. You can see a couple of knitting projects I was working on. He's getting more used to us now too. At first he was shy and standoffish and now he just walks up to me and flops over. He's still a little jumpy around sudden noises though. One of my favorite Malibu behaviors is the way he'll walk right up to my face and demand kisses. He'll just rub and rub my face until he gets some kisses and then he'll leap away and play with whichever cat is handy.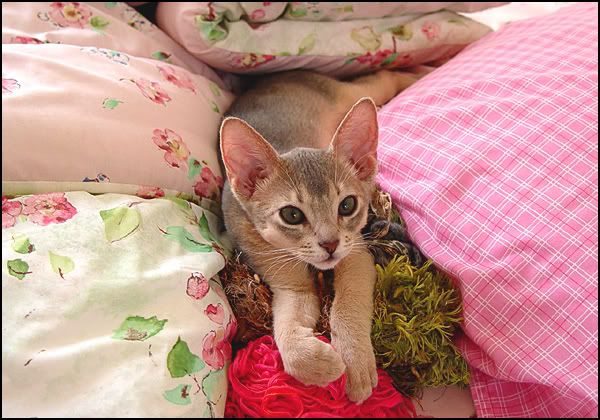 Speaking of Malibu, I just saw an article in some tabloid rag I know I shouldn't be leafing through, but it was so funny. There was this huge photo spread with a long article about Britney Spears getting treated by a psychic healer in Malibu. It was the same guy who Susan and I met the night we got Malibu. It was so weird to see her sitting there the same way I was -- hoping this guy really had it -- that magic, that power to work miracles and heal you. I wonder if she felt the same way that I did afterwards, kind of let down and cheated, confused, and wondering if I just wasn't getting it, or if the guy was a totally self deluded nut. Boy, I'm telling you, if you have any kind of woo woo service to offer the wealthy, empty, lonely and desperate, Malibu is the place to do it.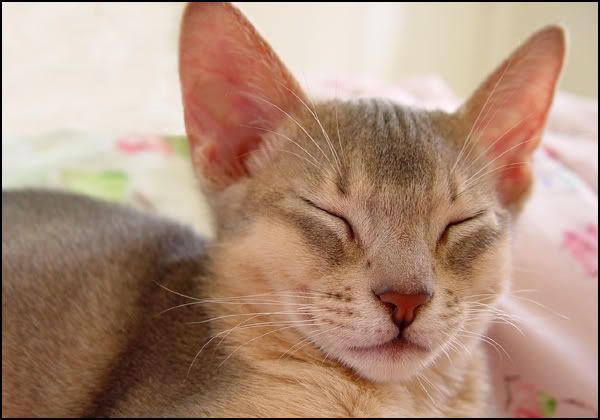 Don't you just want to smush this little guy?

I'll put up some more pictures of lemons and the garden tomorrow. I don't want to overwhelm you.

Big loving hugs,
Jacqui