Hi Everyone, I just wanted to put a prayer/reiki/energy-work/meditation/candle lighting, request out there for our friend, Scott's secretary/receptionist's new boyfriend Doug. Did you follow that? It was a pretty complicated sentence, kind of along the lines of my friend's, brother's, neighbor's, wife's, cousin's best friend. Anyway Natalie is this sweet, talented, gorgeous, red-headed (You should know I'm mad for masses of Pre-Raphaelite red hair, I'm a natural red hair magnet), woman who I talk to every day for a few minutes when I call Scott at the office. She's been working through this new relationship she has, with me and I've been rooting for her and trying to help her out. Now, just when things are starting to look good for them, her guy went to the doctor for this pain he's been having in his arm, they did an MRI, and it turns out that he has bone cancer. Bone cancer, and he's only forty-four. So I just thought I'd put it out there for them.

Moving on to lighter things, I was thinking that some of the guys who read my journal might like some help in purchasing some last minute, on-line Valentine gifts for their moms, girlfriends, boyfriends, wives, husbands, secretaries, mistresses, misters and just whoever they might be stalking or lusting after ; )

Here are my favorite chocolates along with links to their web sites;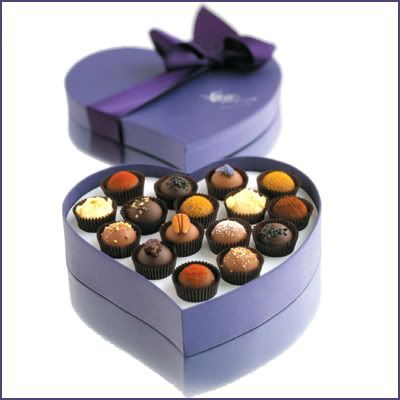 My current favorite chocolate company is Vosges. I've written about it before, but for anyone who's new, it's this wildly creative, super fine, haute chocolate designed by Katrina Markoff. She's studied at Le Cordon Bleu in Paris, apprenticed with famous pastry chefs and chocolate makers all over Europe and has managed to combine all of her experience with a fresh, fun, and decidedly complex female approach to chocolate with her purple boutique stores, with their unique Eastern influences and yoga classes and retreats. The chocolates are very complicated, challenging, unique and delicious, and well worth trying, but you need to eat them while they're fresh or forget it.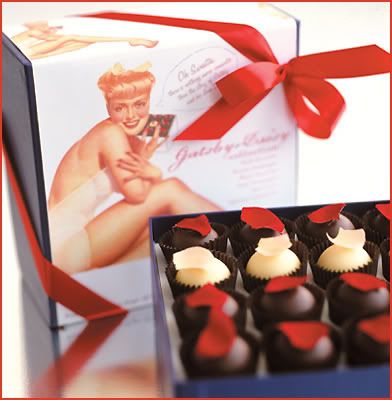 This collection of Vosges chocolates is called gatsby + daisy and is made with dark chocolate, French champagne, white chocolate, rose champagne, rose water, and topped with julienne rose petals.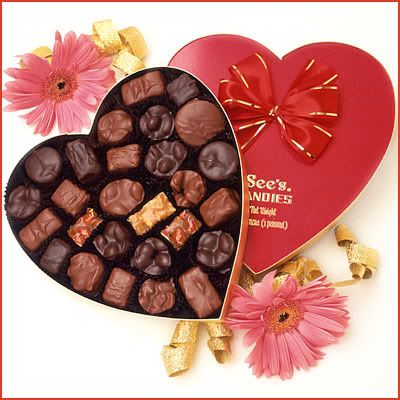 The Old Standby, Sees Candies
Now this one may seem a bit down market but I still love their candies and they're affordable, easy to get, and will deliver romantic bang for your buck -- if you splurge and get the biggest, baddest, goopiest red--heart-shaped-box, filled with their candies, that you can find.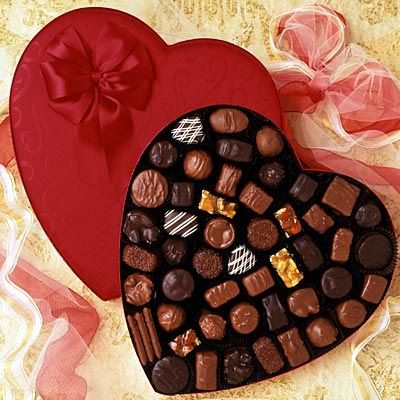 This is See's biggest baddest red box this year.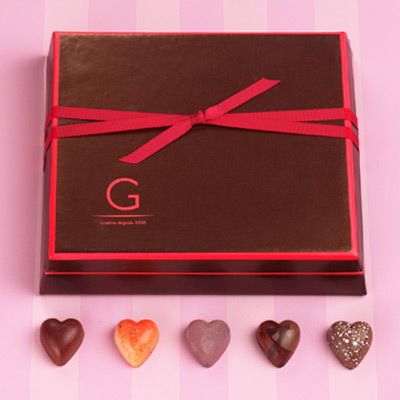 These are from Godiva's New Luxury G Collection.

Then there's Godiva. I have to be honest and say that I don't really like Godiva chocolates but I sure like giving and getting them because the packaging is so pretty and I know they're expensive so when I'm lucky enough to receive some, (unlike my Mother's housekeeper Rosa who actually complained when I gave her a big expensive box of them), I think, "Wow, this person really cared enough about me to buy good chocolate." I think I've saved every Godiva box I've ever received because they're so pretty and they're fun to store things in. In their effort to compete with some of the newer, more upscale chocolates, like Vosges, they've created this new and even more pricey, G Collection. I'd like to try it just to see if it lives up to the hype, but I wouldn't want to pay $350.00 just for the fun of owning the rare East African wenge wood box.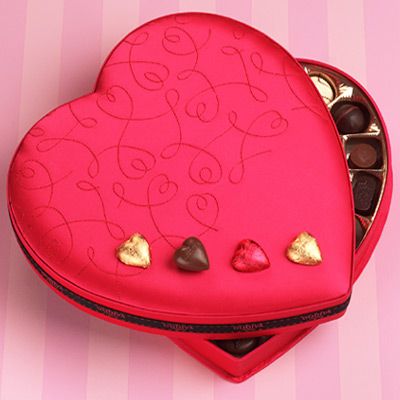 Have you noticed how hard they're pushing the Pajama Gram thing, (I'm actually sending one to my Mom, I'm a sucker for advertising), and the Vermont Teddy Bears on the radio this year? It seems like every radio program I listen to has hosts who are pushing these things. I wonder what they did to get the hosts to rave on so much about these bears and pajamas? They can't possibly like them this much. I mean I know they paid them for their plugs but I've been wondering if they threw in a case of bears and pajamas for everyone as well. They're even showing up on AOL now. Man, what a full court holiday advertising press these guys are going for.