Pope John Paul II, Questions About Prayer, Birthday Thanks and Details, More Peggy Hunt Dresses, Another Magazine Article, Phil and Beau, Hollywood and Compton, Joy and Birdsong, Scott's CD, and an Ana Voog Hat

"These bloody people. I can't bear that man. I mean, he's so awful, he really is. . . . I hate these people.'' -- HRH The Prince of Wales

Here is the latest AP Wire story about Pope John Paul II's failing health. However I did run into a couple of easy to close pop ups there but I have Pop Up Stopper so they're never really a problem for me. I just thought I should forewarn you in case they drive you mad. I remember when the last Pope died, we were in Spain, staying at a convent, and it felt like the world had come to an end, everyone was crying and praying, and then the new pope died so quickly and Pope John Paul II was elected by God and the cardinals and he took the names of the last two popes, I think. I always liked this Pope, despite my ambivalence towards some of the rules of what I still consider to be my church. I'm much more of a Buddhist/Jew/Pagan, heh, heh, when it comes to religion, but once a Catholic always a Catholic, and when things go really wrong I'm the first one to grab a rosary and run back to my original religion, granted I do this in my own way, but I do do it. Like right now I've been feeling like I should go to mass and pray for the Pope. I don't even know why since praying, while it's something I have always done, is something I don't completely understand.

If God knows what is best for us, if almost everything is predetermined but for that pesky issue of free will, then what are we praying for? I mean doesn't it seem a little weird to pray to God in order to ask him (or her) to do whatever he's planning on doing anyway? Doesn't that sort of imply a lack of faith? Do you know what I mean? If God does the right thing by everyone, if whatever happens to us, no matter how painful or challenging, is meant to be, then wouldn't praying for a specific outcome imply that we don't trust God or have faith in him? I just usually say something along the lines of, "Hey there God, I love you, and I know you'll do whatever's right, and that's about it. Give my love to Mary and Jesus and the Holy Spirit." How can I ask him for things when I truly believe he knows what's best way beyond what I can see from my limited human perspective. Then again, at the same time, I believe that we can affect outcomes with prayer. I do think that if we all get together and pray or meditate in large groups that we can change the course of things. It's all so confusing...

I have to say there sure seems to be some amazing synchronicity going on here with poor Terri Schiavo being starved and dehydrated to death, at the same time that the Holy Father, (one of whose last public statements condemned these actions), needs to have a feeding tube installed. I don't want to write any more about any of this, it brings up too much debate and acrimony, and it's been a long, hard, and super sad few weeks.

Thank you so much for all of your kind wishes for my Birthday. I really appreciated them! Thank you too for your cards, I will treasure them, and come thank you in person as soon as I get a break, heh, if I ever get a break.

My birthday was both wonderful and weird. I felt sick all day and didn't feel well enough to do any of the many fantasy fun things I'd planned. Really all I had wanted to do was go to one of my favorite little bistros for lunch and go to a movie, but as usual I had stayed up too late the night before, and not feeling well, I spent most of the day in bed. Then just as I was getting dressed to go out to my dinner party, I had the worst stomach attack I've had in a couple of years. It was unbelievable -- so painful I was crying and praying -- the kind of stomach-sick-cramp-pain thing that makes you want to curl up on the floor and die.

When Scotty got here after work, I begged him to make some last minute party calls for me because I just couldn't move from the bathroom (TMI?) and I was actually thinking I would have to skip my own party and have him go host it for us. I took three Imodium and this great pill that Atra turned me on to called Hyozine, ummm, I don't think that's the right name, but it's this pill she brought from Tehran that relaxes smooth muscle tissue, if that makes sense, and it helps so much. Basically it's great for anything hurting from the waist on down, and when I showed it to my gynecologist, who sub-specializes in diseases of the bladder, (she's published a few books), she said that it just happens to be the perfect pill for my bladder. I took one of those and then three Imodium and after about an hour of pain, that actually felt close to labour pains, seriously I would call it an eight on the one to ten pain scale, I was finally able to get up, but still had to run back to the bathroom every ten minutes. Finally, through sheer force of will, and a sense of social obligation that wouldn't allow me to leave 24 of my closest friends (who had been forced into coming to an overpriced Italian restaurant to celebrate my birthday) sitting there wondering why the hell they had bothered to come, I managed to get dressed and dragged myself out to the car. I managed to smile, laugh and make small talk, but I spent most of the night rubbing my tender hurting belly and counting the hours until I could come home and lay down.

I think it must have been a flu bug of some kind because my neighbor Caryn came down with the same thing, and so did another friend and my old friend Jen, who I adore and was really looking forward to seeing, wasn't able to come because she came down with the same thing. I have to go see how she's doing, I've been worried about her.

Of course it's never easy mixing up divergent social groups and keeping all of them happy. It takes a lot of thought -- something I wasn't too terrific at while having to fend off some kind of bacterial enteritis attack. Thank God for my dear friends Monique, Karen and Susan who were all just wonderful, patient, smart, funny and kind. Monique had me laughing my ass off all night. I love her for this. I haven't even called everyone to thank them for their lovely gifts and for being so kind. Despite the good company, the focus on me which made me feel shy and undeserving, the toasts and singing, the pretty room, and the gorgeous balloons and cake, oh man do I love cake, the experience was a bit of an ordeal.

The restaurant was packed, and I mean packed, and they were understaffed which left us with just one very pokey waiter and his super confused busperson. This was at Divino's which you might remember from that one press photo of Harrison Ford on a date with Minnie Driver, pre-Calista. Despite the seriously haughty and somewhat aloof attitude of the owner and wait staff, I like the atmosphere and the delicious Italian food, and they have this cool rustic party room upstairs so I thought it would be a fun place to throw a party.

Every year I've fantasized about having a party there and have never been able to gather enough pals at one time to really pull it off so this year, with a dozen Persian friends in tow, I thought we just might have enough folks to take over the room. But I hadn't counted on things being so slow and disorganized, and Mom who has experienced a lifetime of fabulous service doesn't suffer fools gladly, if you know what I mean. Plus she just happens to have this nasty little personality quirk that makes her unable to keep any of her thoughts to herself and she is an anxious ball of flaming nerves. I just happen to be her codependant straight man and we were sitting next to each other so I got to listen to her bitch about every little thing all night...and then she got into it with the waiter and eventually the owner, which made me have to make little, "Oh please forgive her she's almost NINETY-YEARS-OLD faces at them behind her back." It affected everyone's mood so much that my friend Monique had to shout across the table, "Mrs. Hyland please don't worry. We're all having a really nice time." To which Mom replied with a hearty,"Why?" and then later she said, "I have to get out of here. Get up. Get up! This place is a fire trap." Then finally, after she left, we were all able to relax and try to salvage what we could of the night, and we had a good time singing.

The dinner was sooo expensive, $1,400.00 including the tip, plus another $100.00 for the valet who parked the cars for my guests, and the service sucked, the food was cold, and my Mom got into mini-fights with the waiters and the owner.

I had some realllllly wonderful birthday balloon bouquets and we've been having a lot of fun sucking down the helium and speaking in little people voices. Esther had never heard of doing this before and even though we tried to show her how, it wouldn't work for her. She really needs to have her tonsils removed, poor thing. I have to help her get this operation somehow.

Little Black Peggy Hunt Dress
Vintage 1940's Taffeta and Lace Peggy Hunt Dress
Gorgeous Rose Print Illusion Peggy Hunt Dress -- Way Overpriced : (

Here are the latest dresses of my Grandmother's, (Peggy Hunt), that I found and won on eBay, although I want to strangle the person who bid this last dress up from fifty to three-hundred-and-fifty-five. As pretty as it is with the rose print, it isn't worth this much to anyone but me really, and it even has damage. I seriously cannot afford these prices but can't bear to let these dresses get away. I think I told you that the when-the-hell-is-this-ever-going-to-happen fashion show has been moved again, this time to the fall, hopefully October.

Our house is going to be in another magazine, but not until August, and I still haven't scanned the shots from the last one, the Woman's Day piece that ran in a supplemental issue called Budget Decorating, that came out in January. I'm still waiting for my ten promised copies, don't worry I won't hold my breath.

I bought some good, freshly ground coffee for our pally Phil yesterday and he's happily brewing away in the kitchen right now. He uses caffeine the way an adult does -- very European/Continental I guess. Poor guy's been upset since yesterday when his Mom called crying. His parents had a super acrimonious divorce, nothing against any of my male friends here, but his Dad pulled one of those midlife, abandon-your-family-for-another-woman-without-kids-who-adores-me-just-the-way-I-am, kind of things, and his Mom has been suffering from major anxiety and broken-hearted depression ever since. The Dad even fought her in court for custody of Phil. I would have died if my ex tried to do that -- that's the main reason I didn't try to get any child support -- so I could keep Beau safe from any incredibly stupid decisions he might make, like, oh, let's say drinking and driving a truck with concealed weapons that the cops bust him for, specifically a handgun, a rifle, and some kind of illegally modified, sawed off, shotgun thing that he stole from my dear dead Dad.

I took the boys to do boring, typical, tourist things yesterday. Phil wanted to see "Hollywood" so we went to the Walk of Fame, Grauman's Chinese Theatre and the truly awful Hollywood Wax museum. Man, those people need to import some help from Madame Tussauds, seriously, their wax figures are so bad they're insulting. If I were Angelina Jolie or Brad Pitt, I'd arrange a heist of my wax figure, melt the damned thing down, and make some nice candles out of it.

Honestly the best thing about our visit yesterday was a visit to a store that sells super comfortable, enormous, bean bag chairs filled with memory foam that cost a whoppingly ridiculous seven-hundred-dollars. I want one so badly but even if I could afford it, we don't have anywhere to put it, and it would quickly become an overpriced cat and dog bed.

We also had fun at a Kelly's Coffee store where we had some snacks and watched a fun episode of Punkd where one of the Williams sisters is asked to watch a woman's bratty young child sitting in a car, who then hops into the drivers seat of the car and takes off with an infant in the back. She was so great about it, so kind, helpful and concerned, in this totally bizarre circumstance where the "Mom" and Serena or Venus (sorry) were car chasing this "kid" around town while he spoke to them on his cell phone. if you like Punkd try to catch it.

Another fun thing I begged the kids to do was to make mini Grauman's Chinese hand prints with the same cement they use for the celebrity prints. They come in these really cute Asian themed frames, Beau and Phil picked out a dragon plaque. Neither one of them wanted to do it, because they were so sleep deprived, but I think in the end they had fun, and Phil's Mom will love having her son's hand print preserved and of course I'm going to love having Beau's.

It always seems so weird to me that when people come to LA one of the first things they want to do is go to Hollywood, this place that really doesn't exist, as if there actually were any celebrities who would spend even half of a second walking along Hollywood Boulevard on any day other than the Oscars when they all converge on the Kodak theatre. Maybe I should give some thought to creating a really good tour for tourists that I could take people on when they come to visit. We could start the morning off by having breakfast with Paul Mazursky who regularly holds court at The Farmer's Market with his coterie of pals, then we could spend the day looking for celebrities in places where they really go like insanely overpriced exclusive hair salons and stores. We could hit Sally Herschberger or John Frieda for a cut and color, then head over to Anastasia Soare for an eyebrow trim, and then on our way to Barney's Greengrass or the Ivy for lunch we could cruise by Kitson and Fred Segals. We might get lucky with a trip to the Kaballah Center, and there are always the celebrity dog parks, the various yoga and Pilates classes, a hike up Runyan Canyon, a run up and down the stairs in Santa Monica, or a walk around the Hollywood Reservoir, maybe Bristol Farms for some marketing, and for fun we could sneak onto any of the studio lots by pretending to be dropping off some headshots. Around three on any weekday we could line up with all of the other parents to see some celebrities or their nannies picking up their kids, and there are several popular knitting stores. At night you might spot someone at any of the latest "in" clubs and restaurants and there's usually some pretty good celebrity spotting to be had at The Bel Air Hotel, Chateau Marmont, The Mondrian, The Standard and W.

Phil's most fervent wish is for us to take him to "the ghetto." I honestly don't know what he's thinking when he says this. I'm guessing he's developed some kind of weird cartoonish stereotype fantasy of East Los Angeles from playing video games like Grand Theft Auto. What does he expect me to do, drive him to Compton and point out blighted parts of the neighborhood? Does he think someone is going to try to jack our car or we'll be caught in the middle of some rival gang crossfire? Does he want to go to a Korean market? Should I take him on a tour of the hilights of the post-Rodney-King-trial riot sites, maybe cruise through the intersection of fifth and Normandie? When I told Atra this she said, "Tell Phil he can do this with his Mother on the next time he comes here." I'm thinking she has a point.

You know what I should do is tell the boys I'll take them on a danger hunt but actually take them on a little social conscience building mission instead. We could visit a free clinic, spend some time listening to people's concerns at a community center, visit some folks who've been imprisoned for growing that evil loco weed, then catch a service at the First A&E Church, and wrap things up with some volunteer service at a homeless shelter. If only, sigh.

The cats favourite new TV show is definitely Boobah, but it has to be Boobah in high definition, then they go mad trying to find ways to climb into the television.

One of the absolute highlights of the last few days of my life have been the little birds who have moved into the ficus trees in our garden. They sing all day and night and it makes me so happy. They're singing right now and it's after one in the morning. Their little chirps and trills never fail to thrill me.

Buki's skin is improving and I'm so grateful for this.

I spilled tea on to the keyboard of my laptop.

I met our phone pal Fonda over at my Mom's house today and we finally got Mom's phones working and installed the DSL. Now I'll be able to spend some time over there at night and use my laptop while she reads her romance novels.

Phil and Beau found Rosa's cell phone -- while they were taking a tour of Mom's house -- and they had the presence of mind to open it up and copy the serial number down so I can prove that she stole it from me. Not that this will do me any good at all, because even if she did steal it from me, Mom wouldn't care -- she's that dependant on her.

I set Phil up with a great job working with Fonda, our telephone pal. She has the wealthiest Malibu, Brentwood, and Bel Air clientele and really needs someone like Phil who has his own web hosting business and can throw a website together in as little as a half hour.

The thing I can't stand about shows like Survivor and Fear Factor is the killing of any kind of living creature. I was just watching this episode of Survivor where they kill this shark and it's body is twitching and there's blood and oh my God it just makes me feel so sad and sick.

I took the boys to see Sin City tonight, while Scott and I went to see Woody Allen's latest movie which I hate to say sucked big time.

My eyes are getting weaker by the day. It won't be long before I'll have to wear glasses just to read this screen. I know that this is such a small personal loss in the grand scheme of things but I have always been one of those people who treasures their 20/20 vision and as an artist, being able to see everything in all it's beautiful detail, without having a barrier between my eyes and the world is just so important to me.

One of Beau's best friends is not only drinking, getting D's and F's in school, swearing at his Mother pretty regularly, and has been caught spray painting graffitti, but is now smoking pot. I want to ban him but luckily his Mother, desperate to lay the blame on someone else, has done this for us by banning him from seeing Beau. If only I could count on her to keep her promise, but I know he'll be back as soon as she runs out of babysitting options. In all the years that we have known them, she has never really been accountable for any of the many destructive things he has done here. I am praying Beau will find and spend time with better pals.

Phil only has two more days here with us before he leaves. I'll miss him but I won't miss the fights, the constant interruptions, and all the annoying boy-banter like, "Sucks ass," and "Your Mother," as in, "That sucks ass." "Your Mother sucks ass." "Oh!" You can pretty much add the words ass, and your Mother, to any phrase and that's what I've been listening to for a week. Well, that and much worse.

Scott brought over a master of his CD for me to listen to and I've been taking it around with me and listening to it in my car. I really love it! And the best news, for now, is that after a whole lot of angst he finally fired his last designer and hired this artist who is so good she managed to get Mark Ryden to do the illustration for one of the CD's she designed for Jack Off Jill.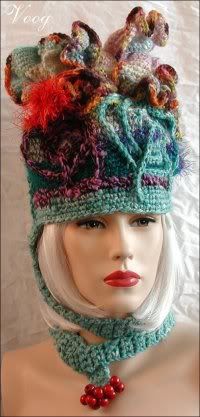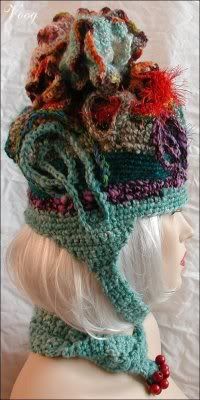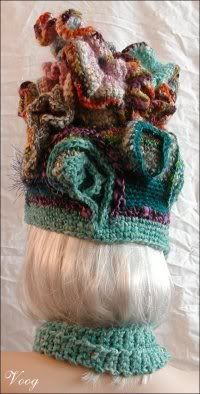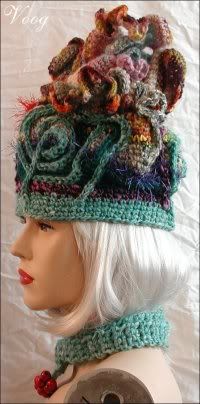 I finally bought this hat from my friend Ana. I had to wait until the first so I could pay for it. Isn't it cool?

And that's about it...for now...

Big hugs,
Jacqui
XOXOX