Beau's Graduation, New Roads, Agape, Scott's New Album & Site, My Summer TV Favorites, and Sally Jesse Freaky Rafael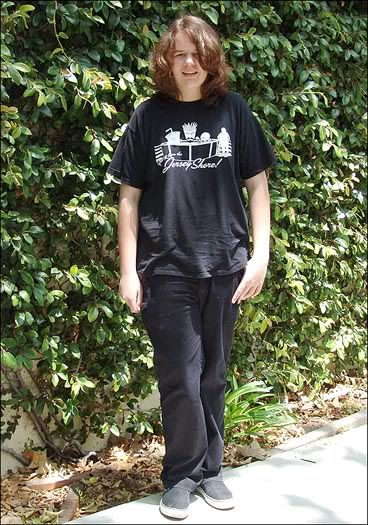 Here's Beau's super dressy graduation portrait ; ) Hey, at least he took a shower and washed all of the writing off of his arms.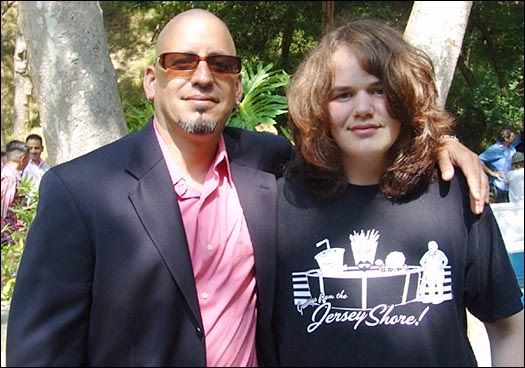 Here's Beau with the man I don't remember ever being married to.

Hello Everyone! I've missed you. We've been busy. Beau graduated from eighth grade the week before last in a really meaningful and inspiring ceremony, in a lovely, natural setting in Temescal Canyon. His father, my ex, Robby, actually showed up and sat next to Scott and me during the ceremony. It was a little weird and uncomfortable sitting in between my ex-husband, Robby, and my current partner, Scott, when they've only seen each other twice in the many years since we split up. It was surprisingly amicable, although disconcerting, but most importantly, it was good for Beau.

Despite the fact that Robby couldn't be bothered to let us know whether or not he would be attending his only child's graduation, until just an hour or two before, (causing Beau a lot of pain and worry -- every day he would ask me if his Dad was going to come, and I would have to say, "I don't know honey, but I'm sure he wants to"), at least he showed up and made it easy for all of us to be together in an uncomfortable situation. I appreciated this, even though it was challenging, and Beau was really happy to have his Father, (who has never once visited this school Beau has been attending for three years), there. He said, "Now my friends will believe that I do have a Dad and they'll see how cool he is." During the ceremony I teared up a lot, Rob cracked jokes, and Scott tried to stay awake.

I have a lot to say about his graduation. So many people to quote -- pictures to post, things to write about -- but it's late and I think I'll just try to move on here to some of the other things I've been meaning to share. I can always come back to it. But I will say how very impressed I am with Beau's school, and how good it felt to be there, and to be a part of this good community of people -- to be a part of this fair, hopeful dream. I admire the many people who work so hard to make this vision of a diverse, multicultural, but private school possible. There were thirty-five young people standing together on that stage and they were everything that we are; male, female, Christian, Jewish, Buddhist, African American, Native American, Caucasian, Asian, Latino, and more. Looking at these beautiful, young people, who are our hope for the future, I was struck by how much they look like America, and how rare it is to see something like this in a private school setting.

As a parent I often find myself questioning the many decisions I have had to make on Beau's behalf, and some of them seem so important and weighty. As a single parent I haven't had a lot of help. Choosing the right school to send him to -- the school that would be a good fit for us as a family, and for him as an individual, a place that would nurture the best in him, that would continue to support this loving, liberal, fair, equal minded, community oriented, creative, knowledge seeking, parenting path that I have chosen -- was challenging to say the least. I wasn't always certain I'd made the right choice.

I don't know if you have any idea how hard getting your child into a private school in Los Angeles can be. There are just too few spaces for far too many kids, and parents will do whatever it takes in a very competitive race to get their child placed in the "best" school -- the school that will ultimately give their child the biggest leg up in getting into the college of their choice. Parents are compelled to hire special tutors to help their kids prepare for the admittance tests to middle schools to ensure placement in the best high schools. They pay people to guide them through the complicated admittance procedures and are not above pulling strings, dropping names, and resorting to bribery. It's a nightmare, really it is.

Since New Roads is such an alternative school, and a little outside the cliquish, competitive, admittance loop, (but that's changing), and because whenever I mention that Beau goes there, people will either give me a blank look, or if they've heard of it, will make that kind of furrowed worried face, I have been occasionally wondering if I did the right thing in sending him there. But I have never been as sure of this decision, as I was at his graduation. Looking at those kids, their teachers, the administrators, and parents, being there at that ceremony, in this beautiful setting, listening to these heartfelt, inspiring words, made it all too clear that everything happens as it's meant to. Things just come together, they unfold as beautifully and perfectly as the petals of a rose; everything happens as it is meant to. Worrying and second guessing are such an enormous waste of time. Beau knew that this was where he was meant to be from the moment he walked in the front door. He took one quick look around and said, "Mom, I like this place. I feel comfortable here." And that was it. I am going to redouble my commitment to the dream of this good place. I just want to say this here; count me in, again.

Another nice thing that happened on the day of Beau's graduation was the interaction we had with people we passed along the path from the parking lot to the building where the ceremony was being held. As we hiked up the little road, both of us feeling a little apprehensive and nervous about the ceremony, about whether Beau's dad would show up, and if Scott would be able to get away from work and find this place, and the usual things you're concerned about before a graduation, we couldn't help but notice how unusually friendly the people were who we passed along the way. They didn't seem to be parents of kids who were going to the graduation, (since we didn't recognize any of them, and they all had these name tags that we weren't given), but the one thing they all had in common was this kind, open, friendly energy, and the fact that they all took the time to look us in the eye, smile, and greet us.

Now, this is Los Angeles, where we used to be known for our kind of dopey, sunbaked, overly friendly approach, so you'd think this would be the norm, but times have changed; as we've become a more congested, polluted, crime-ridden, culturally divided, earthquake, fire, flood and riot wounded city, that could conservatively be called a somewhat stressful place to live, people have begun to retreat a bit, and welcoming smiles seem to have faded away along with roller disco derbies, drive in theatres, and guaranteed pizza delivery times. So what was up with all of these smiling people? I wondered about this on the walk to and from the graduation, and it wasn't until we got to the car and I was able to call one of them over and ask who they were that I learned they were all members of this wonderful spiritual group called Agape. As soon as I heard this it made perfect sense. I really like Agape. I have been feeling a pull towards them for years now. I'd like to join their choir.

I'm listening to Art Bell right now and his caller is going wild yelling about the evils of pornography and homosexuality. He sounds like a weird, fake cartoon. Oh God poor Art and Ramona, their favorite cat, Abby, died today. That sucks. I feel so sorry for them : (

Scott's new website is finally up and running. After all of your help and kindness, we'd love to know what you think. We made significant changes based on your advice. Thank you all so very much.

I finally got off my frightened art-anorexic ass and had new headshots taken by David LaPorte this past week. As frightened and uncomfortable as I was, I actually had a good time and am so grateful and relieved that I forced myself to do this. David is not only a good photographer, but he's a good person, and he knows how to put you at ease and draw out your best, truest self. I knew this years ago when he took one of my favorite headshots of all time. I loved that headshot so much that I continued using it even after I got new ones. David's pal and long time business partner Laura did my makeup and hair, and was super helpful and kind. She did a great job. My makeup looked natural and perfect and I enjoyed her company and appreciated her support so much. I can't wait to see the pictures when they come back in a few days. Actually I'm a little afraid because I've always been camera shy, (I know that seems weird for an actor, but that's the way it is),

The date for my Mom and Granny's fashion show is set. It will be at the El Rey theatre in late November -- the 23rd I think. I'm so excited that after all of this time it's really going to happen. We're going to do a little mini-preview of the show using six models and a few dresses at The Egyptian theater on July 29 after a Los Angeles Film Society screening of Breakfast at Tiffany's. Fun.

Beau is going to go away for a couple of weeks to a band camp this summer, only this isn't a traditional "band camp." At this one they pair off and form rock bands based on common musical taste and experience. They compose music, shoot videos, and hopefully come away with a little more understanding of how to go out there and give up following more traditionally rewarding career paths that would guarantee a good income, in pursuit of fame. Oh me oh my. And I had so hoped he wouldn't be anything like me in that he would rebel in some way by wanting to be an accountant or something safe. I didn't want to see him spending his life dreaming like I have. No matter, unlike my parents, I can at least try to give him this; my unconditional support of his dreams, no matter how ridiculous or unlikely they may seem to my blind eyes.

AP: When have you been the most happy?

Jerry Hall: Shortly after my divorce, I got really happy.

AP: Because of your gigantic divorce settlement?

Jerry Hall: Money helps. Also, not being married to a womanizer is a lot of fun.

I've found a few new TV shows to help get me through the summer. There's Kept, Jerry Hall's reality show where she tries to find a male escort among some poorly chosen candidates. I don't understand this show at all. I mean Jerry Hall is smart, successful, beautiful, sexy, well-known, and wealthy, why would she do this? I don't get it, but it's fun to watch. Atra's husband Arta thinks it's a big FU to Mick, you know the whole good for the goose good for the gander thing.

I am really loving Green Wing, which is a hysterically funny, modern, British sex farce set in a hospital. It's kind of a cross between Scrubs and The Office with something undefinably wacky English tossed in. I LOVE British comedy, love, love, love it, not Benny Hill boing go the tits comedy, but more like Faulty Towers funny, so I've been having a blast watching this.

I've loved Meet The Barkers, but I think the season ended when Shanna learned she was pregnant. I'll have to go see. It's another reality show, and there are so many of them now, but I tend to be drawn to the one's populated with people I would love to befriend in real life. Travis and Shanna are so earnest and cute in their little orange and black tattooed rock and roll world, that it just makes me want to hug them and help them decorate for all of the holidays, or do their shopping, or something. I dig Travis' tattooed arms and his mohawk, and he seems like such a sweetheart. He's so devoted to his wife and kids, which is funny considering he's the drummer of this pretty hard core band, Blink 182, or was. As you probably know, I really love it when people rebel against societal norms, especially in terms of appearance, and succeed despite this, so it's kind of fantasy/exciting to see this young punky/wild couple rolling around in all that money and success. Even their garage is amazing.

Then there's the sweet, family centered reality show, I Married a Princess. I hate the title, but love the show. It's about Catherine Oxenberg, (remember her?), Casper Van Dien, and their blended family of children. My favorite person on the show is Maya, this cute, determined, little three-year-old girl. She is so naughty and charismatic, I just can't get enough of her. Oh this is too funny; I just went to look for links to all of these shows to share with you and on the one for IMAP, on the first page I clicked, they're thanking Reverend Michael Beckwith, the founder of Agape. If that isn't a sign I don't know what is...But then again I still find Kabbalah, or Kablablabla, as April Winchell likes to call it, compelling. Hey, weird as it is, I'd even be up for a little Scientology auditing if the whole alien thing didn't scare me so much. I just worry they'd catalogue all my secrets, (yes, I actually have secrets), store them up, and use them against me, if I didn't give them all my money, or they'd lock me up in some detox gulag in Hemet.

Well, it seems we've reached the end of another long entry and I haven't even mentioned that Scott's new album arrived and is available for sale (oh wait, it isn't for sale yet, he has to send it to CD Baby first) to anyone who wants to help him recoup some of the enormous production costs so he can pay his mortgage. And there's also the matter of the jerk who's been renting one of the units in a building I own in Indio who trashed the place when we evicted him after he refused to pay rent for eight months and sued us for something that wasn't in any way our fault. He tore out the brand new toilets and sinks we installed just for him, ripped out all of the new electrical, smashed the meter with a hammer, and then drove by and threw a brick through the plate glass window today. Great hunh? It never ends...

I hope you all had a nice Father's Day. Beau went and hung out with his Dad and Grandfather in Hemet, (that's how I know about the gulag), and Scott and I made the best of our sense of being orphans on Father's Day. We went for a bike ride, took my crazy little dogs for a walk, ordered Thai food, and watched TV.

Big loving hugs,
Jacqui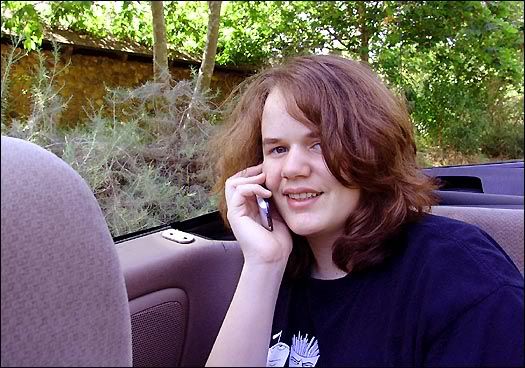 Beau with the familiar teenage cellphone appendage.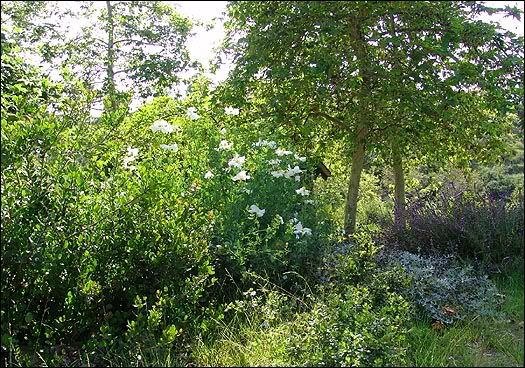 Pretty Temescal Canyon.

PS: Ana-we I so wish you were watching Sally Jesse right now, she has so jumped the shark, honey, she's jumped it backwards wearing a jet pack and purple, glitter-covered water-skis. This is so bad it's beyond Jerry Springer bad. She has these animals on and is pretending to set them up on dates with Anipal puppets. There's a fake gecko on the couch with a bad New jersey tough guy accent, and they've somehow managed to train a real gecko to slowly creep across the stage and climb up onto the couch. Okay, and now there's a fake goose, a rooster, and a cat getting into a fight with the gecko puppet -- they're piling on him and throwing chairs around the set. Does anyone remember SJR used to have a certain amount of compassion and credibility? Or at least it appeared that way, before she had my friend on her show and set her up.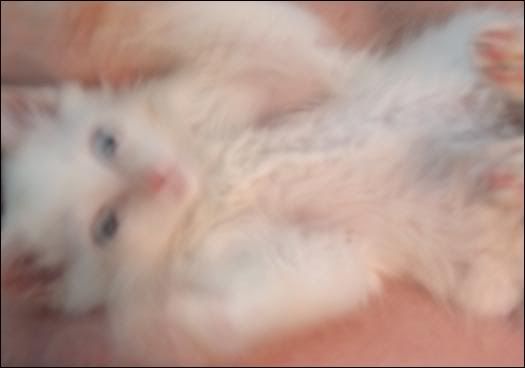 Little white kitty goes WILD!