Hi Everybody,

I can't believe how far I've fallen behind in my journal writing. I've been writing entries but as usual I haven't been posting them. I've just been really busy. I took Beau to his rock and roll band camp in San Diego, stayed there a couple of days, came back, "helped" a friend do an enormous homework assignment, (we got an A+ woohoo), and a take home final, (yeah, I'm a cheater, shoot me), rushed around getting things done, went to the dentist, ouch, ouch, ouch, then before I knew it I was heading back down there to pick him up.

I went to see his final concert and he was soooo cute. His band was called The Undecided and the song they wrote for the concert was called Music, Music by The Undecided. Their drummer was this little eleven year old kid, and he was great, but Beau was the star, or at least that's how it seemed to me -- his doting mother.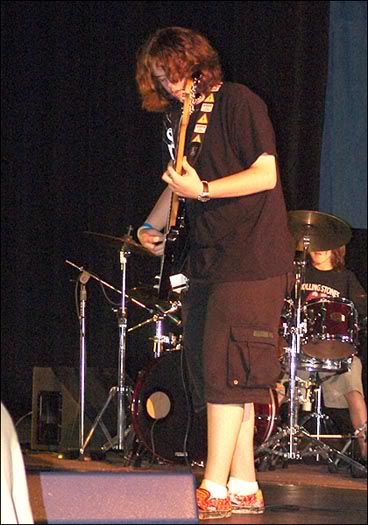 He was really good, a total star. He even did one of those little guitar-playing rocker jump moves. BLEW ME AWAY! He is so painfully shy, not at all like me, the begging-for-more-time-on-any-stage-gotta-get-me-off-with-a-hook girl, so it was really surprising to see what great stage presence he has. Charisma to spare. Yep, it's in the genes. Although, since I'm adopted, I don't really know all that much about our genes -- this doesn't come from his Father's side of the family, and I hardly know mine...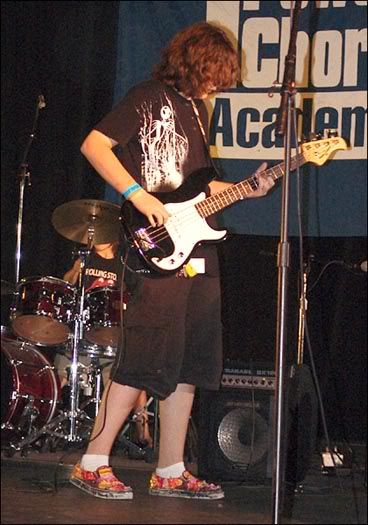 Check out Beau's shoes. He decoupaged them with Starburst candy wrappers -- he loves those shoes.

Some of the other bands were really good too. One of them wrote a song called Party Sub and it had the funniest lyrics. Something like, "Bring some beer, and lots of air, cause we'll be having, lots of fun down there. If we raise the roof, then we'll all die, but we won't care, cause we'll all be high...in the Party Sub. Woo woo. Yeah, it's a Party Sub, woo woo..." They even had a kid who did a dead on impersonation of Sean Connery saying funny things about a periscope. There was an all gal band from Hawaii, and a band from Switzerland that rapped in German. I am so glad that Beau got to experience this. He had the best time!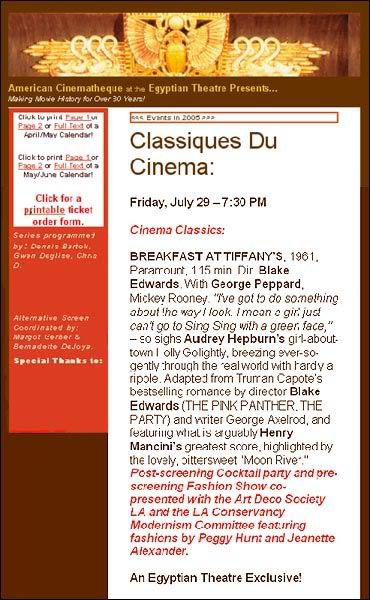 I have so much more to tell you but I have to get some sleep. Tomorrow is the pre-fashion-show promotional teaser thing that we're doing at the Egyptian Theatre in Hollywood, before the screening of Breakfast at Tiffany's, and I have to polish up my wee speech. Margot and Annamarie, who are coordinating all of this for the Los Angeles Conservancy, The Art Deco Society LA, and American Cinematheque, picked out six of my dresses that are appropriate for the period, found the models, and two escorts, and all I have to do is stand up in front of about a thousand people, say something about my Mother and Grandmother, and try to persuade these people to come to our fashion show in November. Pass the Valium, or should I say Xanax, nah, Valium's better. Weeee...

I'm watching Kathy Griffin: The D List, and she is killing me she's so funny. Thank God for humour because without it, life would just plain suck, or well, that's how it seems to me today. The whole Boy Scout Jamboree thing just really got me down. I'm serious; I signed on this morning, read the little blurb about it, hopped on over to the article and before I knew it I was crying. Trust me this wouldn't have happened a few weeks ago, it took giant Asian tsunamis to make me tear up before, now I'm crying over TV-Guide in the check out lines. Basically, less medication = more crying over tragic scouting events. I don't know how useful this is, and I swear if I don't lose some weight, or have more sex, I'm going to start taking more medication again. I mean, life hurts, why not go for all the chemical buffers we can put our hands on? Oh, right, right, right, that whole sensitive-artist's-gotta-feel-to-create thing, shoot, I forgot about that, never mind.