Hello, Hello, Hello My Darling Little Ice Skating Penguin Pals,

How can I write anything here without first saying something about Six Feet Under? WTF? I love this show so much, so when they make a major plot decision and suddenly kill off one of their most important characters, you've gotta figure I'm going to be pretty upset, but on the other hand, I am still devoted enough to this show that I am completely willing to go wherever they take me. The writing is that good. But damnit, I thought things were going to work out between Nate and Brenda. I sure didn't see this coming...I'm trying to be a little bit vague here for my pals who haven't seen it yet. It's so wonderful, ground breaking, upsetting, challenging, compelling and completely different from anything else on television -- I guess that's why so many of us are so devoted to this show.

I am completely wiped out; I went to bed sooo late last night and slept in as late as possible this morning, a bad plan that always leaves me feeling worn out and crappy all day. This was a long weekend; with the Breakfast at Tiffany's fashion show preview screening on Friday, Scott's CD release party on Saturday, Beau's friend Steven's birthday party on Sunday, and finally my Mom's mumble-mumble-eighty-ninth-mumple-mmph birthday party, and dinner Sunday evening. I'm just not much of a social bee, as much as I like to think I am. I do well, but it costs me, and in the end I am so much happier here at home with my familiar comforts that I find it hard to understand how anyone would want to lead an intensely busy social life.

Everything went well, with the screening taking the top honors for best event of the weekend, Scott's CD release party coming in a close second, only because we didn't manage to get enough people to come hear him. He is so Fucking gifted and I love his voice and his music so much, I just don't get why it has been such a struggle for him to get the recognition that I feel he deserves. He's doing pretty well on garageband.com though, lots of good reviews and a few of his songs have been the featured song of the day, or maybe it's the week, I can't remember.

Anyway he was so good Saturday night -- the band were amazing -- too damned good for the room. I was so impressed, I always am when I hear Scott perform, and it just makes me want him all the more. Afterwards we went out for a late dinner at one of my favorite Italian restaurants on Colorado Boulevard in the happening old part of town. We had to wait in the bar for a table so I had a martini. I rarely drink because I hate the taste of it, and because it ravages my poor sensitive bladder, but I was in a mood. One drink, or more like just a few sips of a drink and I'm all over Scott, kissing him, wanting him to take me to bed, and then a half hour later I'm exhausted and hurting. I must be allergic.

Atra and Arta taught me a funny Persian expression Saturday night, but I don't remember how to say it in Farsi -- it definitely sounds funnier in Farsi -- but basically it translates roughly to, "Hey, what's your problem buddy? It's not like I Fucked your Mother." You'd have to know how conservative they are to get how funny this is, and of course how wildly protective of and devoted to their Mother's they are. I never let myself swear in front of them. They pray several times a day. They're just not the kind of people you'd hear say something like this.

We were trying to get a parking space in this crowded structure near the bar where Scott and his band were performing and I blocked someone for about ten seconds before I quickly backed up waving and apologizing. You know me, I'm so kiss-ass-friendly-nice to everyone, I was practically blowing them kisses, but they were making the meanest faces at me, seriously scowling, which is why Atra and her friends, (who I had brought with me to hear Scott), said "Lulululuhecholuolulullululu hhhehlululu lululu Mommy lululu!" I don't know if it sounds as funny now as it did to me then, but I was just doubled over laughing. Now I find myself wanting to say this to anyone who gets LA freaked out and impatient over something stupid like a parking space, "Hey what's your problem? I didn't FUCK your Mother!"



made by
__iiicons

Friday Night

Hey Gang,

I just wanted to check in and let you know how the mini fashion show went. It went so well, we all had a terrific time, and I am one of the happiest and most super relieved gals on the planet tonight! Mission accomplished. Phew, yeay, woohoo, it's over. I don't know when I turned from a diva into such a shy mouse, but somewhere along the line I got unused to performing in front of large groups of people, and I've gotta say it is such a relief to have this over and done with.

Everyone was so kind and generous and I mean everyone. I was so impressed! All of these people coming together for the love of movies, to keep them happening in single screen theatres, to stave off the inevitable march towards small screen multiplexes and home theatre viewing, for just that little bit longer. I love Margot, the publicist for American Cinematheque, who put everything together for us and made the whole thing so much easier than I thought it would be. I just adore her and I am so sold on her and on her mission that I am joining up and going to do whatever I can to help them out. She is the most interesting woman, kind of like Clark Kent by day and Superman by night. She normally dresses pretty simply, no makeup, hair pulled back, super casual, almost school-girlish, and I like that. I admire her for it. I hate that women are pressured to turn up their looks with makeup and push up bras -- I like it as an option but not as a requirement. So Margot by day looks a tad bookish, and I mean bookish in a kind of sexy, insouciant, educated, hotty behind your glasses sort of way, and then tonight she did this speedy image transformation thing that floored me.

She started out in this simple skirt and girly blouse with a Hawaiian lei, and then while I wasn't looking, she stepped into some phone booth in the lobby, and came out looking like a screen goddess, wearing a gorgeous emerald green gown of my Granny's, in full makeup, with her hair piled up on her head, with a sparkly tiara. I did the same thing -- with the hair and the tiara. I think we were all on the same page there, working the ratted up bee hive sixties Audrey thing. Then she greeted the producer, casting director, and choreographer of the film, spoke eloquently and passionately about the work of American Cinematheque, introduced me, hosted the little fashion show, and then MC'd this fun Q&A with the guest filmmakers just before the film began. They are very lucky to have her, and I feel so lucky to have met her, and Annamarie as well, and as I've said before, all of this is because of my friend Mary. Thank you, and thank you again Miss Mary, from the bottom of my heart, thank you for helping me to realize this dream!

The models were adorable, all women who were kindly donating their time -- super tiny, as you would expect, and very period appropriate. Plus, great big super appreciative props to whoever selected such a fair mix of people -- diversity makes my guilty white girl's heart skip with joy -- there were two black women, (I don't know if you know how rare that is, but for two women out of the six to be black, well, just, thank you Lord), one looked like a ballerina, she was that graceful and beautiful, and the other was solid and centered and proud in some undefinable way that would make you want to follow her places. There was an adorable petite Asian woman -- adorable because she had this kicky perky personality and showed up in this gorgeous black vintage cocktail dress with a wilted pink silk flower pinned to the bodice. There was one model who looked like she dresses period for a living, her hair is cut and styled for it, and still another who had a similar thing going on with her personal style -- vintage jewelry and clothes, and another woman who wasn't a total knock out model and I loved that she didn't have to be, and of course she just happened to be the one who modeled the best. The two boys who came along to be the escorts were also charming and did a great job as well.

I spoke for a while about why I've been collecting these dresses, about my Mom and my Granny, and what all of this means to me. I remember making the audience laugh a few times and that's all I remember. It went by so fast. Then we had the mini-fashion show, which was cute, the models swanned in to Moon River, everyone applauded for the dresses that frankly I didn't think were that exciting, I mean compared with some of the gowns I have. Then the film makers spoke, and they ran the film.

Beau was an angel. He never complained. He came along willingly, even made an effort to dress up. He helped out. He took pictures. He loved the movie, which really blew my mind, and then afterwards, all on his own, he grabbed the stack of fliers that Margot had made for our fashion show, and went around passing them out to people in the lobby. It couldn't have gone better, or well, it would have been better if my Mom had been there, but sadly there wasn't anything I could do about that. She went to a lobster dinner at The Beach Club instead : ( but hopefully she'll be there at the fashion show at the El Rey theatre on November 6.

Here are a few pictures from the night;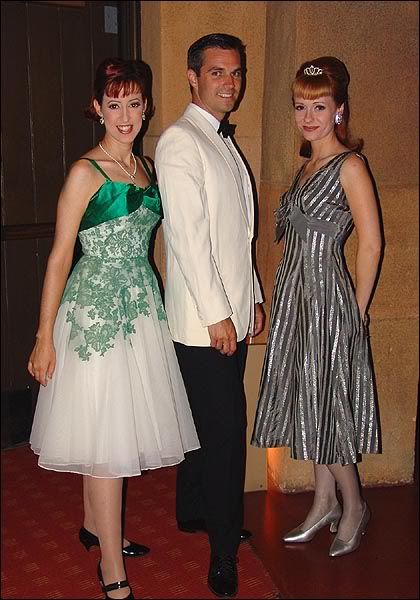 Here are two of the models with their escort. I took so many pictures but only a few came out. I wanted to get a close up of the model wearing the beige dress with the rhinestones because her dress is my favorite.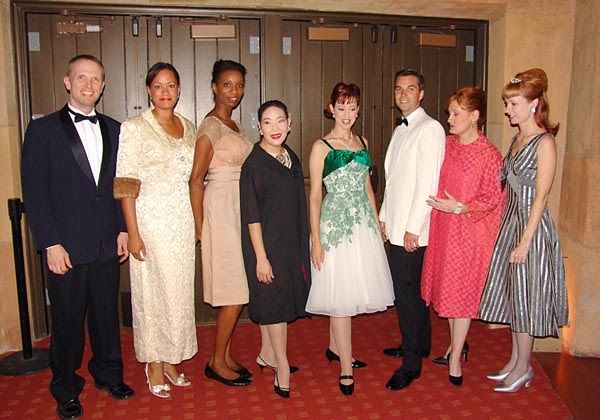 These are the models. Three of the dresses are my Grandmother's and three are my Mom's.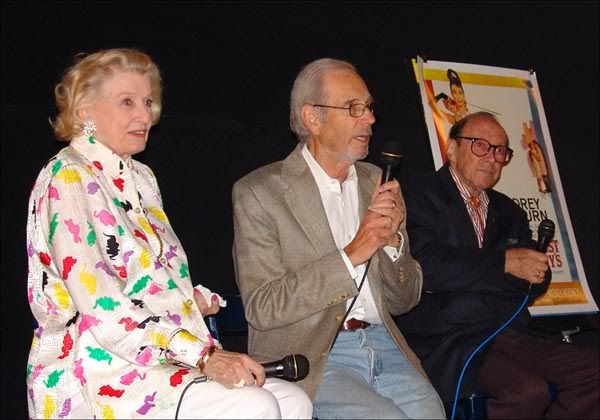 Here are the choreographer, who was the woman in the gold dress in the party scene, the producer, and the casting director of Breakfast at Tiffany's.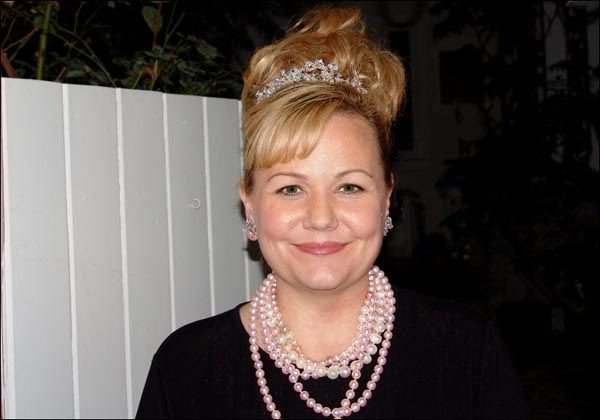 Here I am at the end of the night looking kind of worn out and pasty but I wanted to show you my hair.