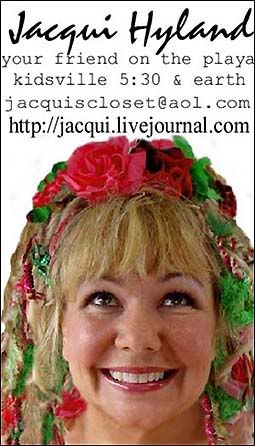 This is my trading card for Burning Man from last year. It's amazing how much a person can change in just a year. I don't think I look or feel anything like this now. This year I feel like my vibe is less sweet and floral and more weary and jaded -- which doesn't have to be a bad thing.

Hi Everyone,

I'm counting the days until we leave for Burning Man. I'm so excited! I'm also nervous because no matter how much I promise myself that we'll be uber prepared for the next year's burn, time always manages to slip away from us, and it suddenly rolls around again with my not having done any of the many super creative dreamy things I'd hoped to do. I'm wondering if any of you have any ideas for us. I still need to decorate my bike, rip up and reassemble my slip dresses, (last year I wore tutus and frilly ballerina costumes with lots of flowers in my blond dreads, but I am so not feeling frilly girlie this year, I'm feeling darker and more punk retro Lolita or something along those lines), buy all of our food supplies, and all of the many things we're going to need to take with us. I need to find a great shade structure that's affordable, and easy to assemble, something other than the typical blue Johnny Up thing that we always use. I want something more solid and shade giving, maybe something like those car cover things I see a lot of in people's driveways in the Valley. I'd like to buy and take a tent that is easy to assemble and that would work as a kind of costume changing room. Even in a big 30' RV there just isn't enough space to lay out all of my stuff and get changed comfortably, it's just too much stuff and makes life in the RV too cramped and uncomfortable. I just don't know where to find one that will be big enough to stand up in, and easy enough for someone like me to assemble. I don't want to do what I've done before, and end up buying an expensive tent that we just can't figure out how to put up. I wish there were some amazing thing that came in a box and popped out assembled.

Clothing wise, I'm wondering if you guys/gals know of any good sites I could browse for ideas. I can't even remember the search terms for the kind of thing I'm looking for on eBay. I'm thinking of things that are ripped up and reassembled, deconstructed and reconstructed, slip dresses, mini skirts, tulle. I also thought I would have been thinner and had my reconstructive surgeries by this summer, oh well. Now, I just want to be healthy, strong, and able to get around, share, contribute, play with friends, and take it all in. I want to take masses of photographs and edit and put them up for once. I need to make things to give away -- ID badges for Kidsville, laminated trading cards for Beau and me, pendants, jewelry, something. Anyway, I just thought I'd throw it out to you to see if any of you had any ideas.

Thank you so much for the ideas you gave me a few posts ago when I asked about costuming, but I could always use a few more. The them this year is Psyche, and I don't understand it. Anyone want to simplify this for me and explain it to me in terms of costuming and art contribution? Here's the website just in case you're interested. Burning Man is everything you've heard that it is, and everything you've never thought it could be. It's heaven on earth in survivalist conditions, the risky ephemeral nature of it is precisely what makes it so beautiful and dear to those of us who make this annual pilgrimage.

Oh and a weirdish thing happened to me at the movies yesterday. The boys went to see one movie and I went to another and then afterwards when I went to their theatre to find them it had already let out and was empty. I had seen a handsome man in a wheelchair in the hallway and gave him a friendly smile. The next thing I new he had wheeled into the theatre and was blocking the entrance. He said, "Hello, do you have a boyfriend or a husband?" It was so direct and kind of strange, so I said, "Yes, I do, why?" And he said, "Oh, I like big women," and then made this fat woman gesture with his hands, sigh. I didn't know whether to feel hurt or flattered. He was a good twenty years younger than me. I told him that there were websites and clubs he could go to if bigger gals were his thing and said, "Yes, I know, but anyway I thought I would just take a chance and ask you." I asked him if he was Persian and he said, "Yes." Then he asked me if I would at least give him a hug, so I did, but it was all so weird. I was torn between feeling compassion for him because he's in a wheelchair, feeling flattered that he'd be interested, and feeling creeped out and offended because he was putting me into some fetishy fatty kind of category.

The day before the incident with the Persian guy in the wheelchair I got hit on by two other men. I have so little experience with this. I'm like a baby without skin in this area because I'm so shy when it comes to men or women flirting with me, and I've been overweight for so much of my life and always thought I wasn't attractive enough to warrant this kind of attention. I don't know what to do when people come on to me. I just shut down completely.