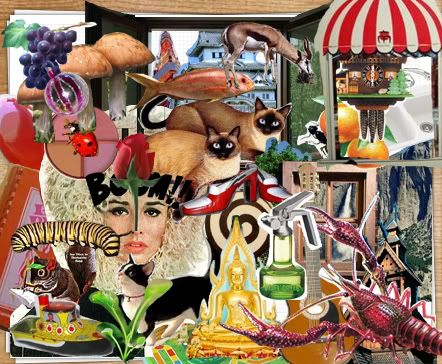 I found a link to this fun collage program on comfits journal who got it from sugarloop who I found through slughuntersf because slughuntersf's icon was an animated nudibranch and I'm nuts about nudibranchs. I found slughuntersf through sewdarncute who I found through my old, old, friend Jen, theolive here on Live Journal.

I'm at Scott's. He helped me go to Costco to get a few items in bulk for, what else, but Burning Man. I'm sorry everyone, it's always all Burning Man all the time, every August and early September on this journal. We also went to Home Depot where I finally put my shade structure anxieties to rest by purchasing a large car cover canopy thing. It's made out of steel and it's about 10 x 20 feet. We bought forty pound umbrella base stands to set it on and hopefully it won't lift off and blow away. I also got another tarp to cover the playa with, and a carpet to put on top of that, so we'll have some semi-dust free ground to walk on. Phew, big relief.

Yesterday I took my bike in to be tuned up. We needed to buy locks because I can't afford the disappointment and hurt of having our bikes stolen like mine was last year. That was too painful to risk having having to go through again in a place as generous and loving as Burning Man. I don't want to believe that there are more and more people out there who are looking to take advantage, or who just get really wasted and ride home on other people's bikes because they don't care. We also needed new headlights because as usual our old ones mysteriously disappeared. I had to buy a rack to put over the back tire so I can get a milk crate and bungie cord it to that for carrying ice and gifts for people in.

I went to the fabric store and bought the brightest green fake fur I could find to cover my bike with. I also got lace, tulle, silk flowers, some thread, and a cool laminated vintage looking tablecloth fabric that I'll use for our picnic table.

At the camping store I bought hydration packs for Beau and me. I've resisted buying these before because they remind me too much of the suits that the characters in Dune wore and I thought the water would be kind of creepy, lukewarm and recycled or something. But I need to be super careful about keeping us both hydrated and thought we should give it a try this year. I'll let you know how it goes.

I finally bought our village mailbox because I had to give in and admit to myself that I just wasn't going to find the one we'd brought back with us last year. We're going to paint it fluorescent green and glue bugs and toys to it. I bought a post for it today but some handy, post-digging person is going to have to help me set the thing because otherwise I don't know how we'll stand it up out there.

I picked fresh juicy figs from a neighbor's tree to take to Atra's today. They never pick their figs, they just let them ripen, rot, and fall to the ground so I thought it would be okay, but just in case I thought I should ask. I rang the bell and waited and waited, hoping someone would answer so that I could offer to buy them or trade something for them, but I really think it's okay. I did the same thing with the masses of sweet peas another neighbor had growing all over her fence and garden. I picked some of hers late at night one night and then bought her some flowers and took them to her the next day. She couldn't have been nicer and told me to help myself any time I want. That's pretty much how most of us are. I'm lucky if I get a third of all of the gorgeous roses that bloom in my garden, and there are gardenias everywhere. Oh God I love gardenias.
I finally got copies of the garden magazine but I don't know when I'm going to have the time to scan them for you.

Tomorrow we pick up our thirty foot rental RV. We'll take a couple of days to buy the rest of our supplies and by Wednesday we should be heading North to visit our friend's Phil and Mara where we'll stay for a couple of days before caravanning through the High Sierras, through Reno and the on to Black Rock City, Nevada. Did you know you could actually send mail to us out there? I guess I should know this since I'm bringing the mailbox it would come to.

This is our address;
Jacqui Hyland and Beau Carillo
Kidsville @ 5:30 and Ego
c/o BRCPO
Burning Man
Gerlach, NV 89412

If you send something to us, and we get it, we'll send a postcard back. It will need to be postmarked within the US by 8/26 or 8/27 at the latest though.

I need to get some sleep. I will update as often as I can.

Love you guys,
Jacqui

PS: I am so sad that Six Feet Under has come to an end. I truly loved this show!