Hi Everybody -- Here's the info about my Mother's and Grandmother's upcoming vintage fashion show. This is the info that's on the Art Deco Society and Los Angeles Conservancy websites, just in case you're interested.

If any of you do decide to come, please come up and say hello. I'll probably be a bit shy and distracted, and won't have a lot of time to visit, but I'd still love to see you. I'm going to be the MC for the event, and we've got over a hundred of their dresses that models be wearing on the runway, while a slideshow of press clippings and photos plays behind them -- at least that's how I hope it'll go. We'll also have a nice tea -- should be wonderful, and Mom's coming too : )

I've been working towards this for fifteen years now, I think. I'm so happy to be able to do something for my Grandmother and my Mom. It was so upsetting how forgotten their contributions to the history of fashion were, but now, through my continuing efforts, people know who they are again, and this feels really good : )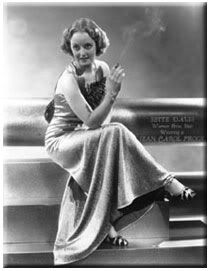 This is a vintage one of a kind photo of Bette Davis that I have. She's wearing one of my Granny's dresses. I have some great pictures like this that we're going to put out on a memorabilia table.

Moderne to Modern:  The Fashions of Peggy Hunt and Jeanette Alexander
Sunday, November 6, 2005
Presented by the ADSLA and Los Angeles Conservancy Modern Committee.
At the El Rey Theatre, 5515 Wilshire Boulevard in the fabulous Miracle Mile

Doors open at 1 PM for Tea Service. There is limited seating for the Tea Service, first come, first served.
2:30 PM Fashion Show begins.

Table seating for tea is $35 general admission and $30 for members of ADSLA or LAC. Tickets will cost $15 for show only (no tea). We will also sell light refreshments. 

The clothes that will be shown are the collection of the daughter and grand-daughter of Los Angeles based women's clothing designers Peggy Hunt and Jeanette Alexander. Peggy Hunt began designing clothes for her daughter in the 1930s and went on to become a successful fashion designer. Movie stars wore her gowns, but she also sold in the exclusive department stores. She is known for creating the illusion neckline. Her daughter, Jeanette Alexander, was active in the 1950s and 1960s and designed daywear so as not to compete with her mother. Special appearance by Jeanette Alexander (subject to availability).

You may purchase tickets online via Paypal, by mail or by telephone:

To purchase tickets by mail, send a check made payable to the Art Deco Society of Los Angeles, PO Box 972, Hollywood,  CA 90078.  Orders must be received by October 29, 2005.

To purchase tickets by telephone, call 310-659-DECO (3326).  You may leave credit card information on the voicemail, it is a secure line.  Please make sure you leave a return telephone number so we can contact you.