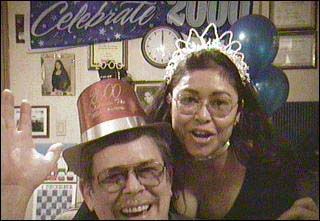 "Art Bell's beloved wife of fifteen years, Ramona, died unexpectedly last night after an asthma attack. At present, the exact cause of Mrs. Bell's death has not been determined. It apparently took place during her sleep. Until her death, Art and Ramona Bell had not been apart a day since they were married. Mrs. Bell had suffered from asthma for years, and took her normal steps to control the attack, which occurred sometime last night in Laughlin, Nevada where the Bells were taking a brief vacation. Ramona Bell was 47 years old."

This is direct from Whitley Strieber's website. I just heard and am stunned and so sad for Art Bell and his family. As any regular listener knows, Art and his wife are/were very close. They're never apart and pretty much do everything together. The way they love and support each other has always been inspiring to me and made me feel kind of hopeful. I want to be loved like that. I smiled when she came on the air on New Year's Eve with champagne and good wishes at midnight. Art is so private in some ways that it's always nice when she comes on and says a little something. I've come to care very much about her.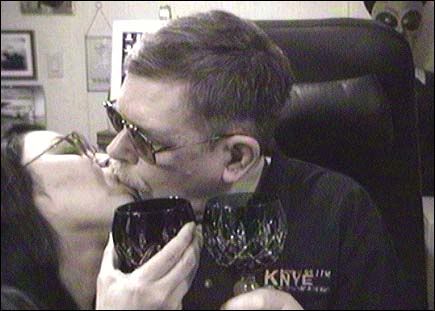 I'm just floored. Like a lot of people who regularly listen to anyone on the radio, or watch them on television, after years of following his show, and paying attention to his life's ups and downs, his retirements and returns to the radio, I can't help but care about and feel close to him. I love the guy. I look forward to his weekly broadcasts and was so happy when he and George worked out this schedule. He keeps me company at night and I wish him so much happiness, but now this, I can't even comprehend what this loss will be like for him.

I lost a childhood friend to Asthma and one of my very best girlfriend's has it. Asthma is serious and people tend to forget this. I won't ever schedule any appointment for any kind of repair here at our house without making the person on the phone write down that we have cats so that anyone coming here will be forewarned.

My heart really and truly goes out to Art. I wish I could hug him or bake him a cake or a casserole or something. And even though this may seem stupid and cruel, or naive, I always believe that even the worst of things, the most bitterly painful losses, have their reasons. It must have been her time, and there must be some reason for her leaving that will be utterly beyond his ability to comprehend it now. I'm just really, really sorry. I will miss her sweet face and voice. She seemed wise, soulful and deep to me : (

I've been working on all of my backlogged entries, trying to get them up to share with you. It was my goal for today and then, as usual, I got bogged down with things I had to do, the usual home and animal care and maintenance, and then Beau needed help with his complicated Biology homework.

I've been wanting to share my holiday stories and am just now finishing up my annual collage card to send out to all of you who were so kind to send cards to me. However, when I say finishing up, what I mean is that I am almost done cutting out things like a crazy obsessed collage-aholic and am ready to assemble them, color Xerox, collate, string yarns through them, then finally address and send them out. So it will still be... a few days. I really had hoped to get them out before Christmas and Hanukkah because it seems kind of silly to be sending out cards covered with candy canes, Christmas trees and dreidels in the middle of January, but...oh well.

I went to the market late tonight and on my way home I was listening to Talk Radio and was kind of surprised to hear all of these callers calling in to report a UFO sighting on the West side of the 405 freeway, north of the 10, traveling towards Westwood. That would put it almost directly above my house. I couldn't believe it! I certainly didn't see it, but maybe that's because I was in the market when it happened.

When I got home, my housekeeper, Anna, was bouncing up and down about it. "I saw it, I saw it! It was like a plane, but full of color, and too low in the sky to be a plane, and definitely too big." I still don't know what it was, but I did see three jet vapor trails in the sky traveling from north to south, really big ones that hung in the air forever.

So, wanting to know what was going on, I tuned in to my trusty favorite late night radio program, (Because where else are you going to get an up to the minute UFO reporting?) and heard the truly terrible news about Ramona. I'm just so sorry...