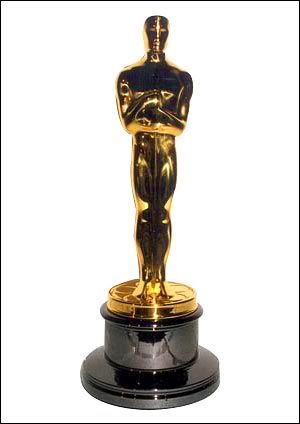 Okay, this will be a sort of rehash, or a side of hash with rehash, because I've written a bit about my Oscar predictions and their outcome, and then I wrote about some of this again while describing our evening at Mary and Steve's, so please feel free to skim : )

Well, I'm sure glad I didn't bet any money on these. If you divvy up the categories into major and minor, I got a pretty respectable 10/13, but when you start adding in things like the documentary shorts, I'm done, going down in a deep plunging death spiral. Although to be fair, there were so many films I didn't get to see this year. I really did try, made a valiant effort, but with my seriously nutty housekeeper/assistant suddenly going mad, (Yes, she really did -- thought I was secretly videotaping her having sex, long story, will tell), leaving me with a mini-zoo to run, a stubborn bass-thumping teenage monkey to ferry to and fro, dwindling finances being run by my capricious mother and her mostly absent but strong-willed secretary, bills that won't just go away, add this herniated disc in my back that has a habit of going out at the most inopportune times - like when I am under extreme stress -- to my already overloaded daily cargo of pain I am constantly trying to pretend I don't have to contend with, and you can see that I should be a wee bit kinder to myself. I mean I'm not exactly Roger Ebert, but I think I should be. Excuses, excuses.

I just wish I'd made the time sooner rather than later, and paid more attention, voted more carefully, because for some bizarre reason this means a lot to me. There are people around the world who don't have clean water to drink and I'm wrapped up in this, go figure. Oh well, I didn't ask to be born in LA, or did I? And we all should have seen that Crash upset coming.

Here they are, my Crash and burn, literally, Oscar results.

Best Picture: Whoops, 0/1 Big Whoops!
Winner: Crash
My Prediction: Brokeback Mountain

Wow! This was an exciting upset. I think I kind of knew this was going to happen because I wrote this;
"Anyway, flawed though they may be, and vulnerable to any kind of upset, (Crash anyone?) here they are. Don't bet any money on these ; )"
However, no points for me because I picked Brokeback.

Best Director: 1/2 Ding!
Winner: Ang Lee; Broke Back Mountain
My Prediction: Ang Lee; Broke Back Mountain

Ang Lee, Ang Lee, Ang Lee! Woot! Woot! Woot!

Funniest red carpet exchange;
Ebert: Is there anyone else you're rooting for?
George Clooney: "I don't like anybody. That Ang Lee guy, I think he's a commie!"

Best Actor: 2/3 Ding!
Winner: Philip Seymour Hoffman; Capote
My Prediction: Philip Seymour Hoffman; Capote

How wonderful was he, loving his Mom like that? Anyone who has kids has got to know how much this would mean to a parent to hear something like this. What a guy! I almost brought Beau in, (I watched the awards once at my friend's Mary and Steve's house, but with all of the distraction I couldn't really concentrate, so I taped it and watched it alone here at home later), to say, "Look at this. See, see, this is how I want you to be," but in a moment of maternal lucidity I thought better of this and chose not to. Phew.

Apparently he made a pact with a couple of his friends when they were seventeen that whoever won an Oscar first would bark their entire acceptance speech. I think he could have given us at least one bark, you know, kept his word, but there was that creepy music to contend with, and how could anyone have done anything more than just blurt out a few thanks and run from the stage with that being played underneath them?

I think it was all part of some weird plan specifically designed to force award winners to cut down on their speeches. I think in a desperate attempt to control the length of the show by cutting down on the speeches, some entertainment psychiatrist consultant was brought in who must have scratched his salt and pepper beard and said, "Zese are creative people, zey all have ze ADD, vich is vy zey cannot focus on making zeir acceptance speeches shortah. I haf an idea! Ve play ze elevator music throughout zee speech, und zey run avay! Ya, dis is goot idea!" Oh, turns out that we're the only ones who heard this annoying music, which pretty much had the same affect, given that it made it almost impossible for me to concentrate on what the winners were saying. Why, oh why did they do this, and whose bad decision was this?

Best Actress: 3/4 Ding!
Winner: Reese Witherspoon; Walk the Line
My Prediction: Reese Witherspoon; Walk the Line

How sweet was that speech? I loved her dress too, that gorgeous vintage 50's Christian Dior -- best dress of the night -- and she thanked her parents, her husband, her Granny, mentioned Joaquin, she was perfect, but I'm telling you, I liked the wackier earlier version of Reese better. She seemed less predictable, less of a good girl, but I guess everyone's gotta grow up sometime, darn it.

Best Supporting Actor: 4/5 Ding!
Winner: George Clooney; Syriana
My Prediction: George Clooney; Syriana

"All right so I'm not winning best director." I thought he was so funny, all night long, pre and post show, absolutely the funniest guy there, (well, maybe just after Jack, no one's funnier, or more droll, than Jack), and classy too. When Isaac asked him, "Is there anything you won't do for a role," he snapped back with, "I won't DO a commentator on the red carpet." He just always seems to know the subtext and says that one thing that cuts through all the bullshit, but in a kind of Cary Grant debonair way. Oprah said, "He has genuine charisma. He defines the It Factor," and I agree.

Best Supporting Actress: 5/6 Ding!
Winner: Rachel Weisz
My Prediction: Rachel Weisz

Okay, I thought Rachel Weisz was fabulous; she played a pregnant woman in the film, and looked so hot in that bathtub scene, and then ended up being pregnant at the Oscars saying cute things like, "It must have been all of the adrenaline because the baby was really moving all around before... Poor Baby!" and "I've been told babies bring blessings." Come on, you've gotta give me an, "Awww," for that one. Pregnant women are the sexiest women on earth! What a cruel irony it is that they don't know this about themselves and are often unable to own just how very beautiful they are. Of course if more men would embrace their beauty it might help. And this is why I am so protective of Demi Moore and her groundbreaking choice to appear nude on the cover of Vanity Fair when she was so beautifully pregnant. It really was one of those moments that change things for us as women. No more confinement bullshit, and pregnant women are out there now, wearing mini skirts, and belly hugging dresses, yeay.

Best Original Screenplay: 6/7 Ding!
Winner: Paul Haggis and Bobby Moresco; Crash
My Prediction: Paul Haggis and Bobby Moresco; Crash

Best Adapted Screenplay: 7/8 Ding!
Winner: Diana Ossana and Larry Mcmurtry; Brokeback Mountain
My Prediction: Diana Ossana and Larry Mcmurtry; Brokeback Mountain

Okay, I hope I never end up working for Diana Ossana, or any of her friends or children, and wind up having to eat this, but was it me, or did she seem kind of grouchy and mean-ish? Am I the only one who saw this? And is it any business of mine anyway? Who knows, her phone might have rung just prior to her nomination with news that her cat died, or could it be that there was some peevishness on certain people's parts that Crash took the big win? Her partner looked like he'd been beaten over the head with a stick for forgetting to heap praised on her at the Golden Globes. "Well, first off I'd better say all of the positive things about my writing partner that I forgot to say before. I love and adore Diana! She is a Golden Goddess!!! Diana. Diana. Diana. I bow to her..."

Best Editing: 8/9 Ding!
Winner: Hughes Winborne; Crash
My Prediction: Crash

Best Cinematography: 8/10 Whoops!
Winner: Memoirs of a Geisha
My Prediction: Brokeback Mountain

Best Animated Feature Film: 9/11 Ding!
Winner: Wallace and Gromit: The Curse Of The Were-Rabbit
My Prediction: Wallace and Gromit: The Curse Of The Were-Rabbit

There were these two really funny guys last night, funny and friendly, which is always a nice combo, who brought all kinds of rabbit related foods; chocolate Easter bunnies, giant carrots, (I gave one to Mary and Steve's bunny and she was soooo happy to get it), and these marshmallow Peep Bunnies that they had piped tiny little fangs onto. So funny.

Best Art Direction: 10/12 Ding! Hmmm, one of the engine lights has come on.
Winner: Memoirs Of A Geisha
My Prediction: Memoirs Of A Geisha

Best Original Song: 10/13 Whoops! Oh no, one of the engine lights has come on and there's a funny rattling sound coming from the wing.
Winner: "It's Hard Out Here for a Pimp" From Hustle and Flow
My Prediction: "In The Deep" From Crash

Oh shoot, I should have gone with my gut on this one. I preferred, "In the Deep," because, come on, how am I going to go for a song about life being hard for a PIMP, a song that has woman hating words like bitches and ho's in it, but I've actually been singing, "Hard Out Here For a Pimp" for DAYS. I hate having to admit that it was vital to the movie in the way that would garner this song an award. I just didn't think The Academy was going to go for a song like this, I really didn't.

However, by way of consolation, there was this exuberant acceptance speech, and the clear joy these guys were feeling at suddenly finding themselves members of this exclusive club, that and the fact that this is the first rap song to ever be nominated for an Oscar, let alone to win one.

"Oh, my. Hey, we want to thank Keith Young our choreographer. And the whole Sony Records, Lisa Ellis, our moms, our whole families. Thank you, Jesus. And for giving us a chance, the Academy. We love the Academy. You know what I'm saying? Gil Cates. Everybody. I got plenty of time. Ain't nobody else. I want to thank everybody. Yeah. Donnie Ienner. Once again our families. Ludacris. What's up? Going down. George Clooney, my favorite man, he showed me love when I first met him. We bringing the house. We out of here. Memphis, Tennessee!"

Best Costume Design: 11/14 Ding!
Winner: Memoirs of a Geisha
My Prediction: Memoirs of a Geisha

Woot, woot, woot, I was excited about this one!

Best Documentary Feature: 11/15 Another Whoops, Damn! Better check that engine.
Winner: March of the Penguins
My Prediction: Murderball

I wish I'd gone with March of Los Penguinos, because at least I saw it, and frankly I should have been pulling for this one, it was a nature film for God's sake, and those poor people were freezing their asses off for months out there. Well, at least I said this;
"This is hard because March of the Penguins was such a big hit...

Best Documentary Short: 11/16 Oh no, the engine's on fire!
Winner: A Note of Triumph: The Golden Age of Norman Corwin
My Prediction: The Mushroom Club

This was a weird one because despite the fact that I am a huge radio fan, this would have been my last guess. Of course with most of these shorts I just had to go on what everyone was saying because I didn't get a chance to see them, but I heard so much more talk about The Mushroom Club, God Sleeps in Rwanda, and The Death of Kevin Carter. I actually thought I was making a mistake by not choosing Kevin Carter, so I would have been wrong either way. If only I weren't such a damned softy for things like oh say Holocausts, nuclear devastation, starvation, ethical considerations, and suicide.

Best Foreign Language Film: 11/17 Whoops! Oh no..
Winner: Tsotsi
My Prediction: Sophie Scholl-The Final Days

Okay, I blew it on this one, darn it, but one of Mary's friends brought a dish that should
have tipped me off; Tater Tsotsi's, they were good too, I ate a couple of them.

Best Makeup: 11/18 Another Whoops! This is starting to look bad.
Winner: The Chronicles of Narnia: The Lion, The Witch and The Wardrobe
My Prediction: Star Wars Episode 3: Revenge Of The Sith

Best Original Score: 11/19 Whoops! Oh no, there goes the other engine.
Winner: Brokeback Mountain; Gustavo Santaolalla
My Prediction: Memoirs Of A Geisha; John Williams

Poor John Williams, he's lost a whopping FORTY times, but he's also won five times. He's been on a losing streak since 1993, with a nomination, sometimes three, almost every single year since 1967. I guess he must be pretty blase about the whole thing by this point. I was so sure he was going to win this, but if I'd listened to the score for Brokeback Mountain again before making my prediction, I would have remembered how good it was.

Best Animated Short Film: 11/20 Whoops! Help, I'm going down...
Winner: The Moon and the Son: An Imagined Conversation
My Prediction: One Man Band

I wonder if I would have done better at guessing these if I'd been able to see them. There was one screening I could have attended, but only one, and it didn't work out, time wise. At least I wasn't the only one at the party who was pulling for One Man Band.

Best Live Action Short: 11/21 Whoops! And the death spiral continues : (
Winner: Six Shooter
My Prediction: Cashback

Best Sound Editing: 12/22 Ding! Wait, there may be hope yet.
Winner: King Kong
My Prediction: King Kong

You've gotta give me points for getting these two right.

Best Sound Mixing: 13/23 Ding! I'm pulling back up on the throttle.
Winner: King Kong
My Prediction: King Kong

Best Visual Effects: 13/24 Whoops! Cover your eyes, don't look. Flames!
Winner: King Kong
My Prediction: War Of The Worlds

Damn, they didn't go for the tripods, and there was such a good War of the Worlds brownie dish at Mary's house, with a funny reference to FEMA, and how poor their response to a full scale alien invasion would be, if this was how they responded to Katrina.

There were lots of references to the hurricane disaster last night, a couple of people were wearing NOLA shirts, and we all cheered when the first reference of the evening to Katrina was made, that there are several films currently in production in or around New Orleans, films that are hopefully employing locals.

Mary and Steve own a home in New Orleans, they lost their roof, a beautiful old oak tree, and I think their basement and the ground floor was seriously water damaged, but they're so lucky to have been able to save their home, and to be alive and have another home. Apparently it was built on a slight rise and that one small foot made all the difference.

I'm catching up on all of the many pre and post Oscar shows I recorded with my DVR last night. I've got the pre pre show running now. It's fun getting to see some of the ridiculously extravagant things that the nominees and presenters get to do, or are given -- the swag they get -- FOR FREE. I mean how lucky, or blessed, can a person be to be able to make a living, or in some cases a fortune, doing the thing you love best, something you'd probably do for free just for the privilege of doing it, then end up being lauded for your work, invited to party after exclusive party, and have a bunch of free luxury goods thrown your way, on the off chance that you might just mention their name, or be photographed with one of them? Here's a list of what the loser's got. I can't imagine what the winners got if this is what was put together for the losers, black diamond flips flops? At least they didn't forget to include some K-Y. Lord knows we can never have enough of that. WTF? Couldn't they have at least covered the bottles in diamonds or something?

I am so envious. Well, envious in a kind of jolly, good-for-them, kind of way, because I honestly don't know if I'm envious enough to trade my freedom, and my anonymity, for the harsh glare of the super intrusive and hyper critical media spotlight. Although I sure would love to be working and wearing diamonds, chatting up Isaac Mizrahi on the red carpet, while some publicist carries my purse and cell phone for me.

In the days leading up to the Oscars you can't book an appointment for a massage, manicure, pedicure, cut or color, anywhere in this town. All of the top stylists and product manufacturers put on special spas or gift suites for the nominees to come visit, places where they can get so many of the latest, wonderful, wacky, out-of-this-world-expensive things for free. I'm watching the E channel describing some of this loot; free massages, pedicures, manicures, facials by Sonya Dakar, lymphatic drainage, workouts with Gunnar Peterson, couture makeup made with real gemstones and gold, alligator handbags by Lana Marks that cost 100,000.00 dollars, (Not that I'd want an alligator handbag -- poor alligators), a diamond SCARF, diamonds to be worn woven through your hair, a diamond bracelet that only costs 500,000.00 from Hearts on Fire, and here I am trying to figure out how to pay my bills, keep the cats eating and pay the pet store and vet bills, sigh.

Scott and I went to Mary and Steve's Oscar party last night. It was fun, but not anywhere near as intense as this one Hollywoody Oscar party I went to once, which was a complete relief. I mean that was on a whole other level, in terms of professional stake and competition. Mary and Steve's was much more low key, but with a kind of undercurrent of connection and success. Everyone seemed to know someone who was nominated. I kind of wished there were SIMS identity bubbles that would hover in the air over everyone's heads so that I could make out names, careers, and connections to Mary and Steve. It can help to know these things, help prevent you from making a major faux pas like saying you hate a particular show when you're speaking to one of the writers of said show.

Their house is in Silverlake and I think Mary said it was built in 1915. I haven't been east of La Cienega in years. I guess I am a Westside Wilma, as someone so kindly referred to me recently, after all. It's cool, split level, old Hollywood Spanish, set into a hillside so you come in to the top floor and the bedrooms are downstairs. There is a breathtaking view of the lake, (that I stupidly called a river, for some inexplicable reason that might have had something to do with the pain I was in, or the many medications I take), and their tiered garden that you can see from the floor to ceiling window in the living room.

Of course they have wonderful art, a Peter Beard piece, photographs of nude women from the turn of the century, Storyville, in New Orleans -- think Pretty Baby. The best art was made by a friend of Mary's, and I wish I had pictures to share with you. I had a link around here somewhere, and wrote about this artist once before, but I can't find it right now, very female and iconic. Beautifully detailed hummingbirds on a gold background, lovely.

My favorite thing about the night, aside from the wacky theme food, and getting to see Mary, who looked very Asian 30's chic with a 70's twist, in pale shades of blush, were their dogs Bessie and Hayley, or Hailey, I'm not sure how that's spelled. They were just fun to be with -- these two big beautiful black and gold doggies -- they added this sweet, careless, and loving element to the party.

Oh God, here's Wolfgang Puck showing the appetizers they served to The Academy at the Governor's Ball; smoked salmon Oscars, black truffle risotto (I'm wild for truffle risotto but you can rarely find it, or afford it when you do), apple celery soup with gold leaf leaves on top, and then of course there are the golden chocolate Oscars that everyone loves to take home every year.

I really enjoyed meeting Mary and Steve's friends. They were cool and funny, and just as nuts about the Oscars as I am. I was happy to see that some of Mary and Steve's guests had brought along their Oscar predictions and were as invested in having made the most correct predictions as I was. It's weird how obsessed I get. If anything proves my OCD, it would have to be this. It would have been fun to stick around and compare notes, with the other Oscar addicts, but at least I had fun gossiping and sharing my predictions with them during the show. We cut out early because my back was spasming and Scott, who was such a good sport about everything, looked like he was going to fall out of his chair. After all it was a weeknight for him and he has to get up so early for work, plus he gets overheated so easily.

I was commenting on the beautiful jewelry that one of Mary's friends was wearing when she told me that this was the someone whose book I had read. A woman who played an important and tragic roll in the history of rock culture, although I don't guess she would refer to it as tragic, she's very much alive, full of vibrant youthful energy at sixty. She was fun to talk to, this complex, sexy, and sophisticated woman who seemed so...well, normal. We share some similar passions; it seems we're both addicted to eBay, and I mentioned her jewelry, she has this fabulous collection and makes, or made, charm bracelets. I think she's very cool, and I'm happy to have been able to meet her. I guess if you didn't know her well, it would be hard to put her together with her somewhat famous iconic status.

I liked Jon Stewart, he wasn't pee in your pants funny, but he was good in that kind of cool laid back way of his. He was also pretty reigned in, nothing too wildly political or challenging, though I wouldn't have minded this. I guess that's what they were going for. One of my favorite jokes of his was the reference to Bjork being absent because Cheney had shot her, and there was that great bit about pulling down the Oscar statue for democracy.

How cool was Three Six Mafia? I just loved them so much I wanted to throw my arms around them, although I'm not too sure about their teeth. They kind of reminded me of Cuba Gooding Junior, no, not because they're black, but because of the sheer joy they so honestly expressed when they won. Not a big fan of the song, but I like it when people who don't look like insiders get let in.

I love it when people just let it all hang out like that. I think it's wonderful when people shout or weep and fall apart. I'm one of those rare people who think emotion is really beautiful and shouldn't have to be tucked away for fear of embarrassing oneself socially. Get excited, scream, cry, climb over Steven Spielberg's chair, kiss the person who hands you the Oscar, whatever, I'm all for it.

Speaking of color, there was this really special and super cool moment that happened backstage when Gail, Oprah's BFF, and the only person allowed backstage with a camera, was interviewing Will Smith and Morgan Freeman. They were standing on a small raised platform, chatting amiably, when Jamie Fox stepped up to join them. It was so cool, seeing all of these gifted actors, who are finally, finallllly, getting the rewards they so richly deserve, in one place. Will Smith made a joke about there being a lot of man up there when suddenly Terrence Howard stepped in. Wow, with one or two more actors, they might have had every nominated African American actor in the world together in one place. And then, just when things were getting pretty historic, Queen Latifah, and Jada Pinket Smith squeezed in, and she was soooo funny, (Jada was), she acted as if this was just too much, too many black actors all in one place, as if the ground was shifting beneath her. Then Gail started shouting, "Black actors in Hollywood! Black actors in Hollywood!" It was such a special moment! If you missed it, you really missed out on something.

I'll tell you what really pissed me off though, that damned elevator music they played underneath every single acceptance speech. I couldn't believe it when they did this right off the bat to George Clooney, I thought, "How dare they! They're trying to play him off and he only just opened his mouth to speak!" But no, it turned out that they were going to do it to every single winner. It made it impossible for me to concentrate on what the winners were saying. It reallllly irritated me. Seriously, I was irate, so angry for the winners. I mean these are people who are having this once in a lifetime experience, all they get is a few minutes in the spotlight, and someone makes the horrible, and I mean really horrible decision to force them to keep it shorter than ever before. Thankfully they made a mini amends to the winners by posting all of their thanks on the official Oscar Website, at least there's that.

Am I the only one who couldn't give a damn if the show runs over? The speeches are what I watch the show for. I don't care about the performance numbers, and I sure as hell could do with less pointless, Let's Pat Ourselves On the Back, movie montages. The only two, or three, that I think should stay are the comedy bits, like the one they did at the beginning asking various past hosts to host again, the moving annual tribute to our fellow union members who have died during the past year, and a montage for whichever august person has won the Academy's annual Honorary Oscar. This year it was Robert Altman, what a trip, I love Altman, he was the first film maker I kind of tuned into when I was a teenager. I loved what he said about having won the award under false pretenses because he'd had a total heart transplant ten years ago.

He said, "I'm here, I think, under kind of false pretenses. And I think I have to get -- become straight with you. Ten years ago, 11 years ago, I had a heart transplant. A total heart transplant. I got the heart of I think a young woman who is about in her late 30's. And so by that kind of calculation, you may be giving me this award, too early. Because I think I've got about 40 years left on it. And I intend to use it." I also liked this, "I've always said that making a film is like making a sand castle at the beach. You invite your friends and you get them down there, and you say you build this beautiful structure, several of you. Then you sit back and watch the tide come in. Have a drink, watch the tide come in, and the ocean just takes it away. And that sand castle remains in your mind." If only it were that easy.

Do you think they put Isaac on the other side of that annoying little hedge to prevent him from trying to feel up any of the nominees? Come on, did they think that was going to stop him from at least saying a few wacky unpredictable things? Thank God for a little inappropriate fun, shakes things up a little.

I could go on for pages and pages here, comment on the clothes, how much skinnier the women seemed this year, skinnier then ever before, so much so that even Joan -- Queen of all fat put downs -- remarked on it. There were dresses I loved, a dress or two that I hated. There was a terrific exchange between Gail and Jack that happened backstage where she asked him if he had brought someone, or if he was looking for someone, and he said, "Both! Of course!" He also got a bit sloshed and told Gail to tell Diane Keaton that, and this is a direct quote, "She should invest more in...uh...heavy sexual acts of a kind of not too distorted but at least interesting nature." And I guess I'll just leave it all right there, with a link to Clothes Off Our Backs.