I finally posted everything I wrote about The Oscars, my ballot results, and Mary and Steve's party. Come check it out, it's all sneaky Orwell backdated and everything and stuff. And Mary thought I wouldn't post anything before we got back ; )



How cute was today's Google header? I just love these things.

Oh man, now I'm all bummed out about St. Patrick. I was talking with my Mom on the phone just now and she wanted me to look up Saint Patrick, well, lucky for the world, we have Wikipedia, which although, not always completely accurate, (or totally reliable, because one of the fun things about it is that pretty much anyone can add information to the entries), is a good enough resource, so I was able to fill her in. Apparently he wasn't too fond of the Druids, or bonfires, or snakes.

I'm so mixed up about my Catholicism. I love the people who raised me, love the church, love the sisters, my teachers, and the priests, but I don't love some of the dogma, and being the all-accepting, live-and-let-live kind of gal that I am, I'm not all that happy about our early history -- way too much burning going on -- if you know what I mean, burning of people, burning of books, no, it wasn't pretty. However, in my lifetime, there was so much goodness that I can recall, and it isn't popular to write about it, because I know that there are many people who didn't experience this side of the organized religion coin. I think I just got lucky, and hooked up with the right religious order, because I have nothing but the most profound love and respect for the RSHM, that's Religious of the Sacred Heart of Mary, or my pals and neighbors, the Marymount sisters.

I love Saint Patty's Day, and green is my favourite colour, so I get a pretty big kick out of the fact that everyone runs around pinching each other and dyeing everything green on this one day, green Shamrock Shakes at McDonalds, green cookies and beer. Maybe I just love being of Irish descent, I'm a sucker for the accent, and the culture. I took some Irish Soda Bread to the sisters yesterday. Sister Jean, my Marymount, Jr. School principal, answered the door, and said they'd enjoy eating it. You can break your Lenten fasting for this one day, so if they're not eating any sweets, they'll be able to have some today.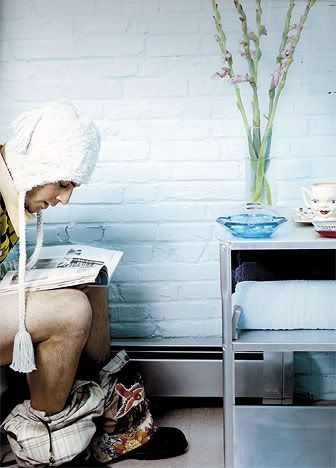 This picture is one of only about eight or nine pictures that Jay has up on his website, but I love it, and it really just says it all about what I like about him and his style, and his attitude towards convention.

I just sent a e-mail to Jay McCarroll, the hysterically funny, super-creative, sardonic winner of Project Runway One, and the star of Project Jay. Who knows if he'll get it, I just found the link and thought I'd write and let him know that I'm on his side. He makes me laugh, and I love his honesty.

Here I was thinking that I liked Project Jay even better than Project Runway, I was looking forward to more episodes, but my damned DVR kept grabbing repeats of this episode I'd already seen -- the one where he moves to New York and gets really screwed over by whoever got too jumpy to hang in there and trust that he would deliver a great dress, right before the Emmys. I couldn't figure it out. I thought there'd certainly be a follow up after his back surgery, but it turns out that the show I saw is the only show, it was a one hour documentary sort of thing, and that's it.

I want to know how he's doing and how things kind of shook out for him after the Emmy dress drama. Heidi Klum bailed on him at the last second, right before The Emmys. I really feel for the guy. It seems pretty clear that he was railroaded into making a publicity tie-in gown for her to wear to the Emmys, when that kind of dress isn't necessarily his thing. But he did it, with everything he had going on, he made it to her exacting specifications, right down to the color, length, shape, and fabric, and then at the last second, she opted for a waaaaay less attractive dress, after he'd bent over backwards, literally, to make the dress she'd wanted.

Don't you agree that his gorgeous red dress would have been sooooo much nicer on her than that pastel floral number she ended up in? Even though whatever she wore was pretty much guaranteed to get a lot of press, (because it was so soon after her pregnancy, and because there's this sick new industry standard where women are supposed to bounce back and look like hot models again, within days, literally, days after giving birth, so everyone was waiting to see how much weight she'd lost and whether she'd be back to her pre pregnancy hot self), I still think that gorgeous red dress would have done so much more for her, generated much more heat and press, than that boring flowery number. Plus, it's not like he's Valentino, yet, and can be treated like any designer with an atelier and a dozen seamstresses. I know that stylists will often select several looks for a client, and I know firsthand how devastating it can be when actresses make promises to designers and change their minds at the last second. Sad and selfish though it may be, it's kind of a common thing, but when it happens to someone who is just getting started, who is operating on a shoestring budget, sewing through the night in a hotel room, well, it just didn't seem fair.

Tomorrow I'm going to a birthday party for my friend's dog Nikita. Yes, she throws parties for her dog. I love her for this. Monday is Norouz which is kind of like Christmas and New Year's rolled into one for my Persian friends, and this means I have to get together a bunch of presents, pronto, yikes.

I'm ashamed to admit that I still haven't finished my collage project. Although I have every intention of sending something wonderful to each and every person who was kind enough to send cards to us. I just can't stop working on them. I keep making new cards and then just when I'm ready to take them to Kinkos, to get them color copied, I run out of money. And now I really am cutting out bunnies and eggs. Oh the mortification of this.




Napili Kai Beach Resort -- Heaven

In a little over a week, we'll be back in Hawaii, on Maui. Oh God do I love Hawaii, and I am so looking forward to it. It was all Beau's idea. He finally wants to get his scuba certification and when I mentioned this to Mom she got on board and decided to pay for everything, well, except for the few days when Scott will be joining us, yeay. We'll be staying at our old favorite haunt, the semi-divey Napili Kai Beach Resort. If you could see this place, the pool is soooo run down, compared to the kind of pools most of the other resorts have, (lagoons, swim up bars, slides, swings, rides, grottos, hidden caves, etc.), but the location is incomparable, and then there's that old Hawaii feeling. It's as close as I think you can get on modern Maui to that old Hawaii vibe, that Aloha Spirit you've probably heard so much about, and I love it. I can't wait.

Here's a link to a panoramic photo of the beach. Ignore the time share thang, that's not our hotel, we're at the opposite end, but it kind of gives you a feel for this beautiful place. Just click on Napili Beach and that's where I'll be for about two weeks, (well, either there, or under the water), thank God, and not a minute too soon. I've really been stressed and overwhelmed and have so needed a break and an infusion of whatever it is that Hawaii does for me. It's kind of like Burning Man, I find myself sort of burnt out and dying, then I go to one of these places, and I come back renewed and ready to start over again.