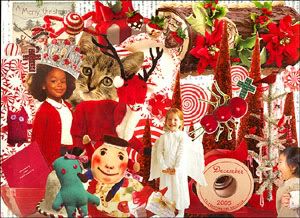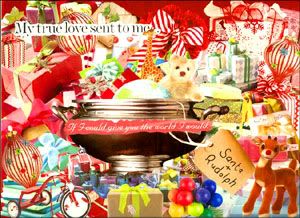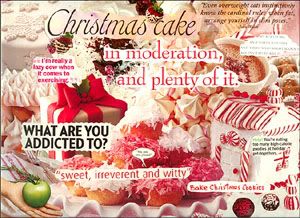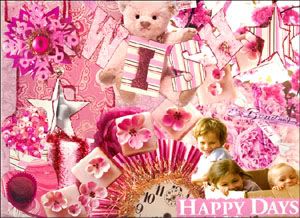 I scanned some of my holiday collage cards so that, after all of this work, I could at least share them with you electronically. Here are little thumb sized versions and there are a few bigger ones behind the cut, in case you're interested. I cut off the edges of most of these because my scanner isn't big enough to get the whole thing.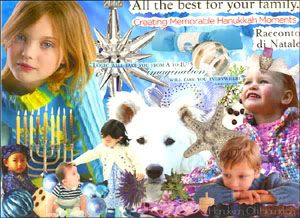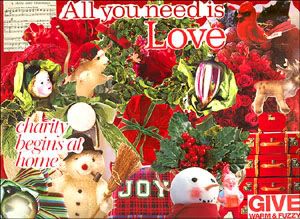 I went to the back doctor today, or well, a back doctor and a chiropractor. I'm so skeptical when it comes to medicine. I think that a lot of the time treatment is this kind of hit or miss guesswork, and I'm especially skeptical in areas of medicine that involve accidental injuries and insurance claims. But my back's been hurting and I'm about to leave so I had to do something. I got some pills, a shot, and an adjustment. I feel a wee bit better, but I'm going to have to take it easy when it comes to carrying luggage at the airport, which will be hard considering how much stuff we always seem to need to lug around with us, especially when we go to Hawaii.

Atra's second Betta that I gave her to replace the first Betta I gave her died today and I'm so depressed about it because I feel responsible. I can't seem to shake this off. They just kind of dropped the news in my lap, and then it was time for tea, but I just couldn't stop thinking about him. I really thought this little guy would live a long time. I bought the best aquarium for him, the best food, all the right chemicals for the water, everything. Atra seemed sad, but not as sad as I am, at least I don't think so. She loved the last one so much and he lived almost two years, I think, but when he died I thought it might have been because they kept him near the kitchen sink without a top on his bowl, and that some soap might have got in the water. That's why I thought it would work out better this time. I think poor Guilan, Atra's daughter, changed the water without dechlorinating it first. She is sooo sensitive, especially when it comes to animals, that it will be super hard on her if she thinks this is her fault.

The idiots at Dell lost Beau's incredibly expensive laptop. They LOST it! This is the laptop that the friend he used to have -- I banned him, seriously, and it takes a lot for me to do something like this -- kicked in a little fit of pique. Of course he broke it, mere weeks after we'd bought it for Beau, and we've spent almost an entire year playing games with Dell's Indian customer service department and their hack service depot. They've promised to send a replacement, which after all of this time would be a relief, but I've learned not to hope for too much from these guys. "I wish to make all your happiness complete to your utter satisfaction. Miss Hyland, will you please restart the computer?"

I'm so excited about going to Hawaii. I've missed it so much. I've been recording and watching everything I can find that's Hawaiianish. I just finished watching a corny old Charlton Heston movie called Diamond Head and am just now finishing up a 1932 King Vidor directed movie with Dolores del Rio and Joel McCrea called Birds of Paradise. I love the set design and the art direction of these old films, but the story lines pretty much suck, and I absolutely hate how they cast light skinned, or non native people to play Hawaiians. Yesterday at the dentist, (I am forever going to the dentist -- this was for two crowns), I watched a DVD I bought in San Francisco when we went to visit our pals -- The Letter with Bette Davis. Wonderful, moody, fab art direction and design, wonderful overdramatic but-who-cares Bette Davis, but the main female Malaysian character was obviously played by a Caucasian woman in heavy weird makeup. It just bugs me is all.

Beau's friend Spencer -- this sweet young man in his carpool, (it's not really a carpool since his Mom does all the morning driving and won't let me drive Spencer home), caught real influenza last Friday and was throwing up blood. When his Mom, (also very, very sweet), who was worried about his escalating fever, decided to take him to the doctor, she discovered that her car battery was dead. I was thrilled to be able to pick her up and loan her my second car, the little convertible, because I've been looking for a way to repay her kindness, but now we're on a kind of virus/flu watch. Spencer was able to get Tamiflu, (I think that's how it's spelled), and got better immediately after taking it. It seems like a miracle drug to me. Beau and I, who have both been feeling pretty rotten, went to the doctor yesterday, and had swabs done for both flu and strep and thankfully both of the initial tests came back negative. I was a wee bit panicked there for a day or two thinking that we were all going to come down with this right before our trip. We have to wait for the lab results on the strep, and those will come back tomorrow.

I'm going through my usual pre-travel panicky neuroses. I worry that I'll forget something important that I'll want to have with me, and at the same time, I worry that I'll take too much and have too much to manage. I worry that something will happen to one or more of our animals while I'm gone and Esther won't be able to handle it. I worry about money. I worry about the flight and the hassles of getting to and from airports with a ninety year old, Mom's creepy scheming housekeeper, and a teenager. Basically I worry. I always worry. I hate that I worry.

My birthday is next week, the 29th. I wait all year for birthdays because I love them so. It's the one day out of the year when I can eat cake guilt free. Although probably not with Mom around. I think being in Hawaii, on Maui, in the one place on earth I love so much that this is where I'd like to have my ashes scattered when I die, on my birthday, is a pretty good thing. If I can scuba dive, pet a giraffe, find a cat, catch a frog, see a sea turtle, have a massage, (because Scott won't be with me so I'll be missing his touch, sniff), wear a lei, watch the sunset, have a fun dinner somewhere, and eat cake, I'm set, heh. It'd be really nice to get a present or a card, but my Mom's too old now to pull this off, and Beau is too teenagery and spaced out to know how much it would mean to me if he got something for me. He usually relies on Scott to do this for him. Oh well. I'm not complaining, honestly, I know how lucky I am. Any day I'm not having chemo, or picking through the flood soaked remains of my home, is a good day for me. Any day I get to pet a cat is a good day for me. Any day I have access to electricity, food and clean water is a...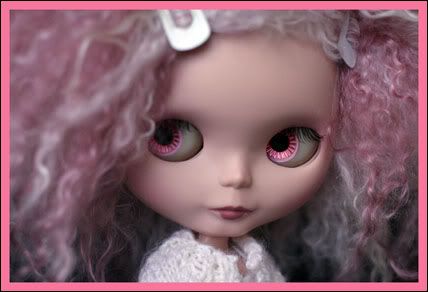 I haven't had a lot of time lately, but when I can, I've been drooling over Blythe dollies. I can't believe how much they go for, look at this eight hundred dollar eBay auction. Wow! Makes me want to scrounge around swap meets and garage sales looking for one. I wonder if everyone knows how much they're going for these days. I'd be happy with a repo as long as she had pink and fuschia hair and a little black felt kitty.

Here's a fun little mix and match dress up your dolly game thingie.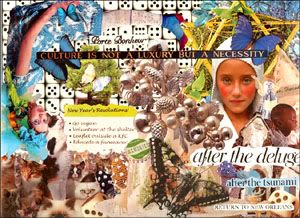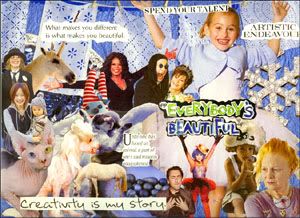 Here's my address in Hawaii just in case any one of you kind souls would like to send a birthday card. Lord knows I'll be spending a lot of time making out postcards, lol. Although after the holiday card exchange debacle, I wouldn't blame you if you never sent anything my way again.

Jacqui Hyland
Napili Kai Beach Resort
5900 Honoapiilani (try saying that without a smile) Rd.
Lahaina, Hawaii, 96761

Okay, I should go, I'm super tired, and I've got to get up early and get a lot done tomorrow. I have to say here that I'm not missing Miss Crazy Ana too darned much. It's been nice not having to mediate between Ana and the rest of the world, for a little while here. I was terribly spoiled by her running errands for us and being around all the time, but I'm starting to feel like it may not have been worth the trade off in terms of the stress. Only time will tell if the current help configuration will work out better for all of us.

Big hugs,
Wacqui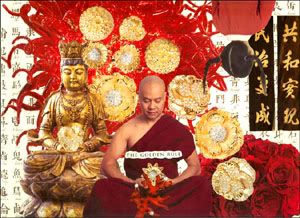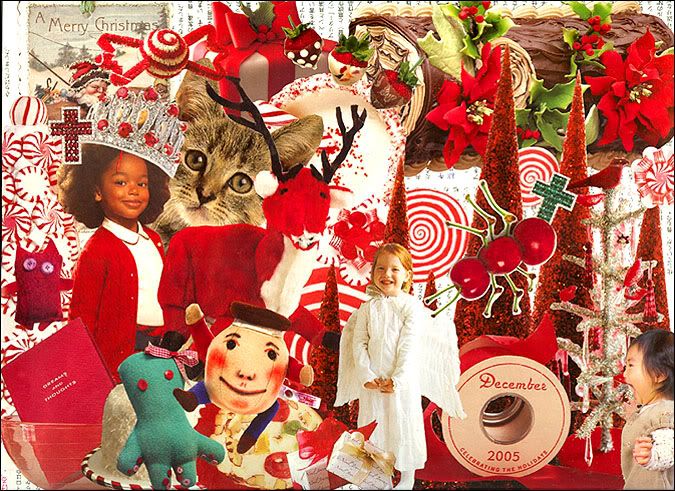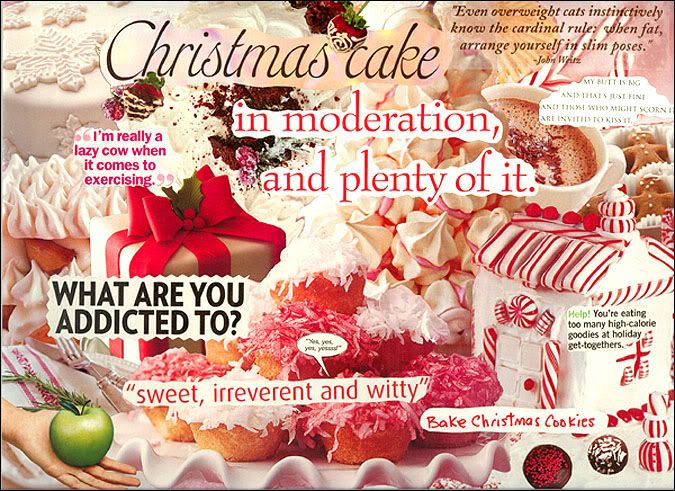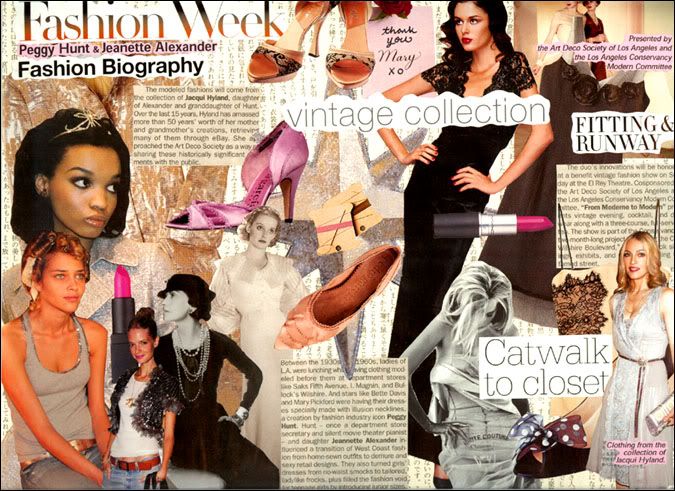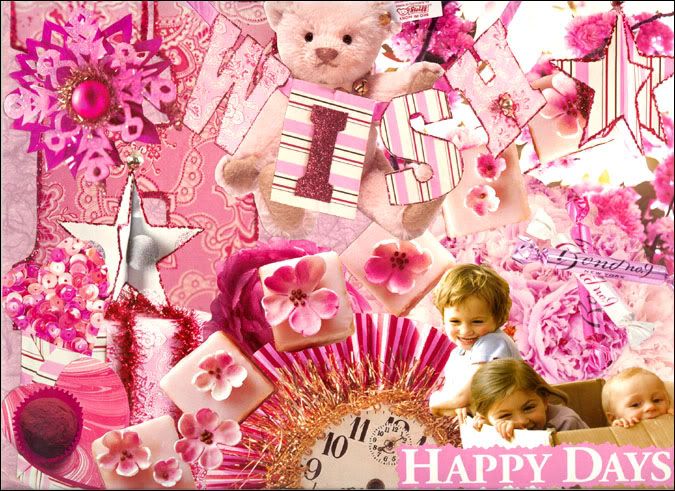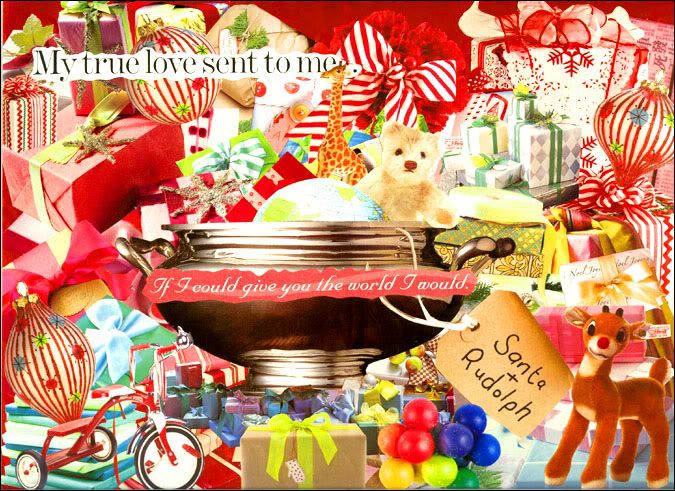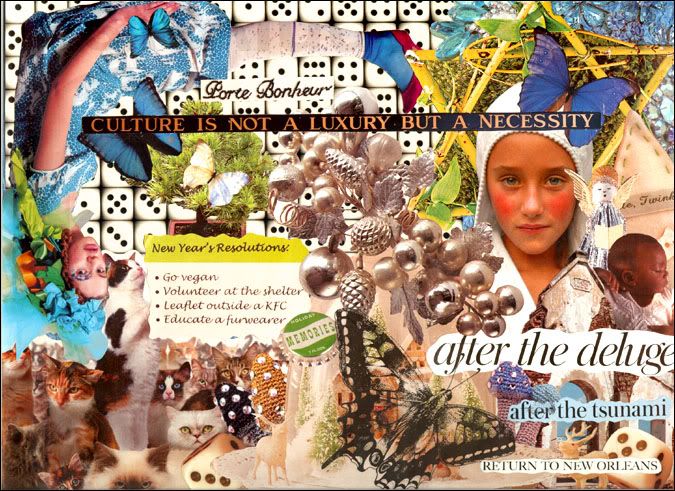 ...and this doesn't even include the Valentine or Easter cards.