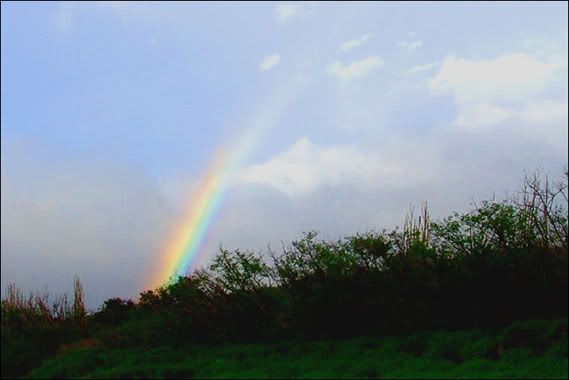 I'm behind in posting as usual. This is from last Wednesday night, I think. Things have changed since then. The weather has improved a bit -- at least the heavy rains have stopped -- the muddy waters are beginning to clear. If we're lucky we'll be able to go diving tomorrow. Scott's here now and Beau and I even had a surf lesson yesterday which was SOOO much fun, but I'm going to post this in order, when I can get online.

Thank you all so much for the kind birthday wishes, I so appreciate them. You're the best pals a gal could ask for! I had a really nice birthday. The best thing about it was, of course, being here with my little family, but I missed Scott, and my animal friends. Scott sent me a big arrangement of flowers that arrived in the morning and that cheered me so much, but the best part of the gift was the fact that he'd had them write Happy Birthday Darling on the card. I loved that. Darling. It's so sweet and old fashioned. I don't think anyone but my Mother and Scott have ever called me that.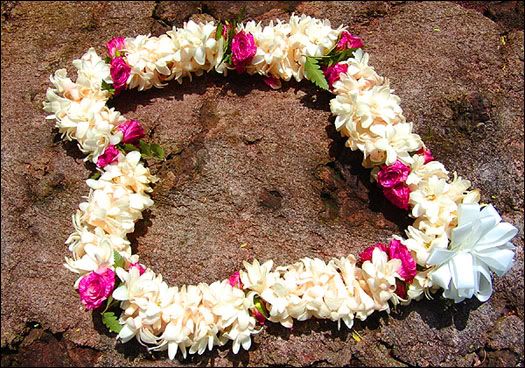 Here is the gorgeous lei I ended up buying for myself for my birthday, tuberose and roses, it smelled sooo good.

I loved the little hand made crayon drawing of Hawaii that Beau drew for me, and the big yellow, pink, and orange hibiscus that he picked for me. He also snuck some birthday cake candles into the market basket, which was so sweet of him, considering how teenagery he can be, although we didn't have any matches to light them with so he put all of them into the little slice of cake I bought for myself at Safeway, and I pretended to blow them out.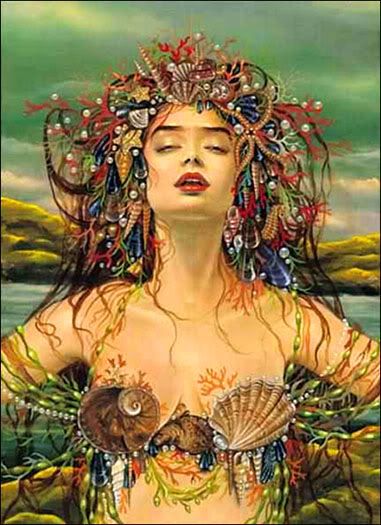 My friend Ana wished me a Happy Birthday on her journal, said the sweetest things, and posted this gorgeous sea nymph card. Made me sooo happy. Then so many of my wonderful Live Journal friends came by and wished me a Happy Birthday, which really lifted my spirits. I felt completely spoiled and loved up, which was nice : )I think what touched me the most about Ana's card was that I could tell she gets me, she knows what I like and picked out a beautiful image that typified the kind of beauty that I embrace. That meant a lot to me. People don't always listen to me or take the time to learn what I like or don't like and that hurts. I thought Mom picked out my birthday card, I was so touched because it had a picture of sweet peas on the cover and I thought, "Oh my God she knows I love sweet peas!", but then I realized that no, she probably just grabbed it because it was pretty, then later I learned that she had sent Rosa to get it because she lost the one she bought for me. It's fine I understand how hard it is for her to get around and do things, and honestly she's never been too great in the card and gift department, I'm used to this, and am just really grateful for all of the wonderful things she does for us.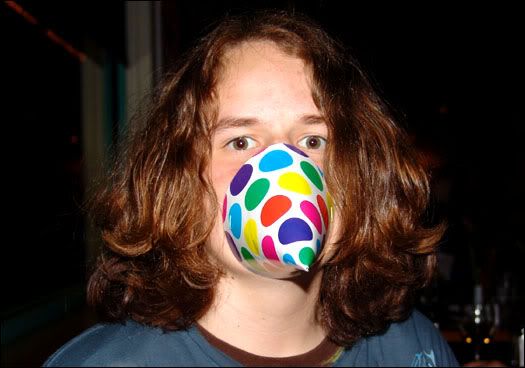 Beau at Roy's wearing my party hat.

We had dinner at Roy's and they had decorated the table with a silly paper party hat and some streamers. Beau had the Keiki (kids) menu and I had their nightly risotto, which was an amazing truffle soybean concoction, yum. For desert, because how could I not describe the desert, we had chocolate souffle, which is actually a little too rich for me, and they brought us a complimentary dish of banana or coconut pudding, which was seriously awful, but I appreciated the sentiment.

They must get people with birthdays every single night so they could hardly afford to give out souffles and cakes. I imagine there must have been some Roy's board meeting where everyone sat around and tried to come up with the most affordable desert, "I know, we can buy one dem big vat dat bannana/coconut wateveh pudding from Walmart in Kahului," "Yeah, good tinking bruddah, les do dat."

Mom was so sweet, until she had too much to drink, (she ordered two vodka tonics and made them bring them both to her at the same time -- the waiter made jokes about taking her out afterwards because with the way she was drinking she'd probably make a fun date), and then had a stomach attack. But up until then she was pretty game. She and Beau were playing drums on the table. She was trying so hard to copy his rhythm. She gave me a piece of hotel stationery with a note on it, that Rosa had put into a card with a thousand dollars in it. I need the money, badly, but it was the card that made me cry.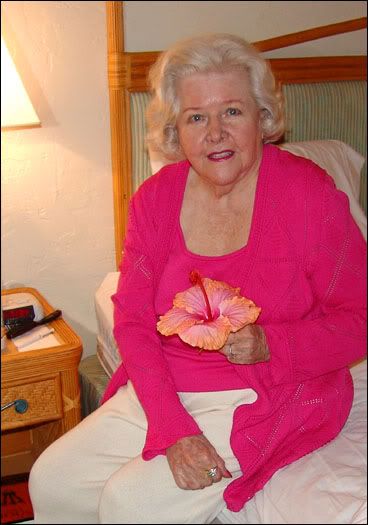 Mom in our room just before dinner. Pretty good looking for someone who is about to turn ninety in July. I mean would you think ninety could look like this?

March 29, 06

My Darling Jacqui

Couldn't find the birthday card, and the bank couldn't send me the special credit card I ordered. Again, no special lei! No birthday cake! No surprise! Know I'm remiss but please chalk it up to age. Hope you live as long and if you do you will understand. Your mind will only function 99%. Maybe more! Nevertheless I love you and am so thankful that 44 years ago God gave you to us.

Again love and many many wishes for a happy happy life.

Sincerely,
Mom

Okay I didn't really get the 99% thing because well, it just didn't make complete sense. If you were trying to make the point that you're having a hard time remembering things, wouldn't you give yourself a slightly lower average than that, and how can you do much better than 99%? I think I'm probably operating at around 60%, but that's Mom, hey, that one percent admission is a big deal for her, and signing it sincerely, instead of love, was a bit weird, but the important thing is that she said she loves me and is thankful that God gave me to her. That was the part that made me cry. I know I'm going to save this note forever because she's a tad masculine when it comes to expressing sentiment, she doesn't exactly gush feelings, and this is a big deal for her.

After dinner we came home to our hotel, watched TV, and Beau and I took turns playing the ukulele. Even though I've been trying to learn for years, I really can't play it at all. It must have been pretty bad because the neighbors complained and the hotel called to tell us that we had to be quiet. I hate that feeling, the "Oh no we've been naughty and are going to get in trouble," feeling, especially on your birthday, plus it was only ten, and it's not like we'd hired a DJ and strippers. Luckily, however, our neighbors were also upset with the people above us, who have been clomping around for days, I don't care, it's Hawaii man, but they did, so I think the hotel moved them, yeay.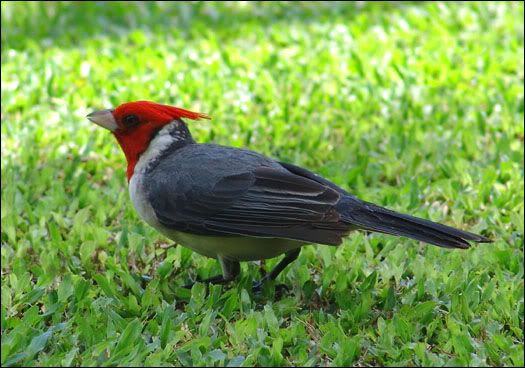 Here is a picture of one of the many sweet little birdies who come and snack outside our bedroom. They are all soooo cute and tame. We save all of our extra bready foods for them.

I've been gathering stories here like I always do. I've also been having massages, a facial, and a bikini wax. The weather has been too rainy and dark to do anything beach oriented so it was a good time to do indoor things, and my back was out. It's better now. The first woman I met was in her sixties, I think, but looked forty. She raised four children pretty much all by herself, her husband ran off and never sent anything to help, then after she'd been paying the mortgage on their house, all by herself for years and years, he came along and forced her to give her half of it's appreciated value.

She told me about all of the shark attacks they've had here since December. I've been asking around about this and it's funny how stories change, like playing telephone, first it was five ATTACKS, then eventually it came out that one tiger shark swam up to a fifteen year old girl who was standing in shallow water at Big Beach in Makena, and took a bite out of her calf, (not that that's not awful and frightening but it's not exactly Jaws), the other bites consisted of a man who was out paddling and "thinks" a shark bumped his kayak, another man who was diving into shallow water, may have had a heart attack or a head injury and was later eaten by sharks, and a guy who was swimming three hundred yards out, (What kind of an idiot does that?), tried to hitch a ride on a poor sea turtle, (they are so protected here, you are not supposed to come within fifteen feet or more of them), and got his finger bitten off. I'm sorry but he deserved it. Poor turtle. So there are the shark attacks we've all been so afraid of. There was one in Oahu as well, I think the likelihood of our getting attacked or even getting to see a shark is very, very slim. but I'm still not going to take Beau out in murky water. If I can't see my feet, I sure won't be able to see a shark, and I don't feel like being shark chum for a hungry tiger shark.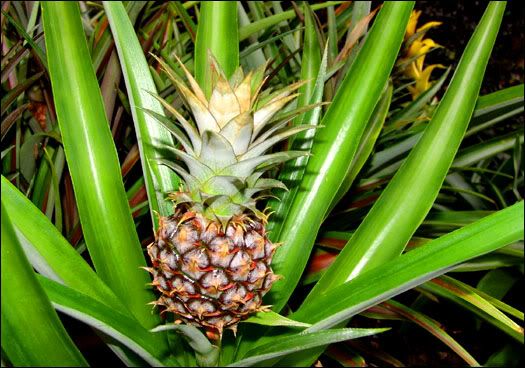 I had to go to Doctor's On Call at the Hyatt Hotel because I ended up with a pretty bad sinus infection. I had fun though, got to see the penguins and birds, hopefully we'll be back soon and will swim in their super elaborate pool. This is a pineapple they had growing in a planter in the lobby.

There were more stories that she told me, but I'm going to sign off now and I'll tell you the rest later. I'm getting tired. I'll respond to your kind comments soon. I'm having to fight Beau for computer access since we only have one DSL cord here in the room and the hotel doesn't have a splitter.

I've been working feverishly on postcards.

Great big happy Hawaiian hugs,
Jacqui
XOXO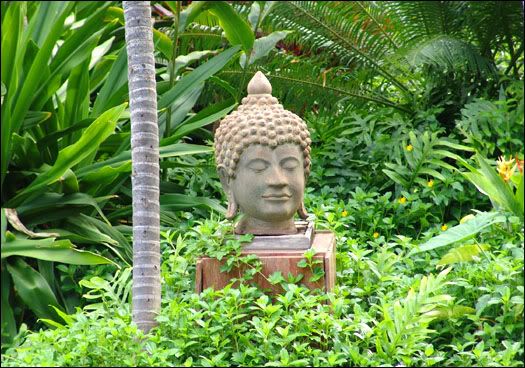 Here's a picture of a Buddha at the Hyatt. I think his birthday is right around now.