Here's another entry from our trip to Hawaii (Maui) over spring break. I have about three more entries left, and am determined to get these edited and posted. I'm home taking it easy today, catching up on stuff I recorded on this time-consuming DVR, (Movies about abandonment, adoption, and orphans, what else, oh, well, actually there are a few others, there's a movie about wounded soldiers in Iraq, The Sopranos, Big Love and my favorite; Slings and Arrows), so I thought I could spare some time to work on these.

Yesterday I went skateboarding with Beau and his friend Eric. I'm so stiff and rusty, but at least I'm getting out and moving around. Beau and Eric, especially Eric, want to teach me to do the kinds of skateboarding tricks that they're doing, yeah right. Can you see me doing an Ollie or flying down a vert ramp? I can barely find the balance and strength to skate down the street, silly, sweet, unrealistically hopeful kidlings. All I want to do is get out there and do anything that keeps me moving, anything that is interesting enough to keep me motivated to keep doing this.

Scott came by later and picked me up to see Mission Impossible. We had dinner afterwards at Jerry's.

Tomorrow, hopefully, we'll have some more information about my Mother's ovarian cyst or tumor. We had an appointment to meet with her primary physician at ten. They've made us wait more than two weeks now for these results. But Mom just found a message on her answering service referring her to another doctor, an oncologist who specializes in ovarian cancer. I won't know anything until tomorrow, except that I hate my Mother's doctor who seems to be long on greed and short on compassion.

Last night I dreamt that I fell in love with a man with an enormous penis who was not only a marine biologist but an architect and a polygamist as well. I was looking forward to marrying into his family and becoming a sister wife. He had a beautiful pregnant wife and lots of little children. I was so happy to have found this family who were going to take me in and let me love them. Do you think I've been watching too much TV?

Here's my Hawaii entry: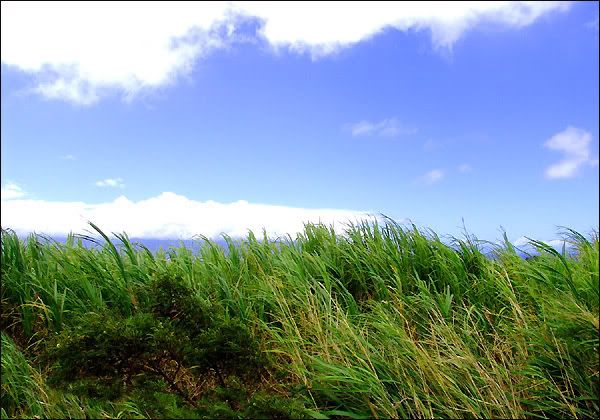 Ahhh sugarcane, what would a story about a trip to Hawaii, without a shot of sugarcane fields be? I've ridden around them on the Sugar Cane train, flown over them in a helicopter, stood beside them and taken pictures, but I've never really walked in them. I'm afraid of the cane spiders.

MONDAY

We stayed up really late last night because Beau finally got his Dell computer and all he wants to do is go on missions in Star Wars Galaxies -- one of his favorite online games. This drives my Mother crazy, at least when she notices, and I'm frustrated because I want him to come out and play, but he's happy and as long as he's having a good time, and spends a little time with my Mom, really that's all that matters. I sure didn't want to hang out with my Mother and Grandmother when I was fifteen.

I've had the weirdest reaction to these dresses I bought. At least I think its the dresses. Whenever I come here all I want to do is wear comfortable loose cotton dresses. It gets kind of hot and sticky and loose and light is the way to go. If I had the body for it, I'd dress in vintage Hawaiian, or short shorts and bikini tops, but that isn't liable to happen this lifetime around, so in the meantime my favorite dresses to wear here are made by this company called Fresh Produce. I bought a couple of short skirts off of good ol' eBay before I left, and have been looking for some of the loose nightgowny shorty dresses, while I've been here, but they're hard to find in the larger sizes, even here in Hawaii, where thankfully there are still a few larger people who haven't been liposucked off the planet, yet.

I wore one of these skirts with a cotton tank top yesterday because it's cool, resorty and short, and seemed right for the climate, but I failed to see the warning label on the skirt that says, "Wash before wearing, or you will break out in welts, catch on fire and die," or something like that. Since I am sooo sensitive to everything, it would figure that I would be one of those people who would end up with one of these rare case reactions. My belly started itching while I was out doing errands and by the time I got home it was definitely on fire. I ripped off the skirt and looked at myself in the full length mirror in our bathroom and saw dozens and dozens of weirdly shaped welts. They were pink and raised and hurt like hell. It looked like I had been frying bananas in oil, in the nude and turned the flame up to high. What kind of chemical would they use in their fabric that would do this, and why? Remind me never to wear anything without washing it first?

I went for another snorkel yesterday, because I'm here and I'm determined, but the water is still full of run off; yucky brown sediment that fills the water with particulate, and makes it so hard to see. I swam around the edges of the bay where the water is shallow and clearer and I'd have a better shot at seeing something living. There are lots of lava rocks there and when the weather is rough the fish tend to get kind of washed up among them. You have to be a pretty good swimmer to be able to negotiate this when the surf is this rough; getting in close enough to see anything, while at the same time, remaining alert and a strong enough swimmer to know when you need to pull back. I've had enough coral and lava cuts in my day to keep me pretty mindful of what can happen if you end up getting tumbled around on a bunch of sharp rocks. These cuts can get really infected especially when there's a lot of crap in the water, crap, literally.




I watched a family of four snorkelers, a mother and father, their teenage daughter and young son, who thought they were pretty expert, getting washed up and down in the rough surge. They were way too close to the rocks and liable to get hurt. I would have swum in and pulled them out but they had one of those macho Dads who might have resented my help.

Just before I saw them I had swum up on the Dad, who was just a few yards behind them, and tried to chat him up, looking to befriend someone new like I usually do. It didn't take too long to recognize his type, the macho family vacation dad type, the kind with the outsize ego, the type who know everything? I'm sure you've met some. I was planning a polite escape when I heard the son call out, "Hey Dad, we found a sea snake! Check it out." A sea snake? A freaked out, churned up, lost it's way, probably can't see too well in the run off, SEA SNAKE? Are they nuts? You don't mess with sea snakes, they're venomous, eels maybe, because all they can do is rip you up with their teeth, but not sea snakes. Hoping this was just an eel, I left it to the Dad, because after all, he knew everything.

Later I took Rosa out and we went to Hilo Hatties so she could buy some touristy stuff to take home to her family. She wanted towels and tee-shirts. I bought a few little things for Atra's family and Esther, oh and I picked up some plumeria shoots to take home for Tom's (my gardener) wife who collects and grows them, for Esther, for her new home and garden, for my friend Aleida who helped me design my garden, and for Atra.

We spend a lot of time at Safeway, and honestly, I have some of the best times just doing ordinary things here, things you would do if you lived here. I like it here so much that I'm actually flattered when people at the market talk to me as if I'm anything but the tourist I really am. At Longs I met people from Indio, which is where I own some property, and I ran into a nice man who works at Kapalua who gave me the bad news that they're closing this Friday.

They had to lay off hundreds of employees and not everyone has found another job yet. So sad -- we spent almost two months there when I got my scuba certification and we had such a good time. It's the most beautiful hotel, but they can't make a go of it, no one wants to pay that much without all the mega-resort frills, like a super-pool with a water slide for the kids. Their major attraction is the beautiful location, and the golf. I guess the land is worth more than the hotel can bring in so they've sold out, and like so many of the other resorts, are going to build super expensive multimillion dollar condos, (I've read that the basic units will go for FIVE million), and they've already presold a few dozen of these to some timeshare company.

Luckily, the man I spoke with at Long's has found work here at Napili Kai, so at least he'll be okay. He's so sad though because he worked there for twenty-eight years. I feel sorry for the people who own shops and restaurants there, and especially Kapalua Dive Company who own the little dive shack operation on the beach. They depend heavily on the resort for their business. One of the dive instructors I spoke with, when we were arranging our upcoming dives, told me that they're going to try to hang in there. I hope they'll be okay. I'm going to try to get in touch with Kevin and Eden, the owners, and catch up. Eden went to Marymount and her litter sister was friends with my little sister. It's a very small world if you went to Marymount.

We'll be heading over there later today for a snorkel and hopefully by tomorrow Beau and I will feel well enough, and the water will be clear enough, for us to dive.

There was the cutest little girl with a balloon standing outside of Safeway this afternoon. The balloon was this big 3D mylar dragon fly and you know I had to get one of those, so now we have this big shiny dragon fly balloon floating around our room. Of course Beau likes to tease me by moving it around and threatening to punch it -- mean teenage boy.

I actually finished all of the postcards last night. It's only taken me a week, heh. But after a week of writing postcards every single night while the scent of sweet flowers, walks on the beach, the ocean by moonlight, the light pattering of warm rain on the leaves, and the sounds of laughter, drums, and children playing beckon me to come outside, I am relieved to have finally reached my goal. They're not the collage booklets I set out to create, but they'll be better than nothing, and at least my kind journal friends who took the time to write to me, will know that I care enough to at least send something back. Now I just have to write out some postcards for my friends who didn't send Christmas or holiday cards to us, and then I'll send the whole lot of them out together, maybe tomorrow or the next day.

Today we're going to go over to the Hyatt so Mom can have lunch by the pool and Beau and I will try to sneak in. They have a cool water slide and grottos. You can't swim in any of the resort pool unless you're staying at the resort, they've had too many lawsuits, so everyone walks around with these little colored bracelets to help the employees identify who belongs and who doesn't. Our hotel has the teeniest funkiest pool because there is a kind of unusual group ownership situation here, and none of the owners ever want to pay for an upgrade. It doesn't really matter though, because it's so perfect here that no one really cares that much, so we go elsewhere for slides and fun.

Looks like I spoke too soon -- can't get Beau away from the computer -- Mom and Rosa are going to go to the Hyatt, and I'm going to stay behind to relax and write, then I'll try to drag his sorry teenager ass over to Kapalua for a snorkel.

Talk to you soon,
Jacqui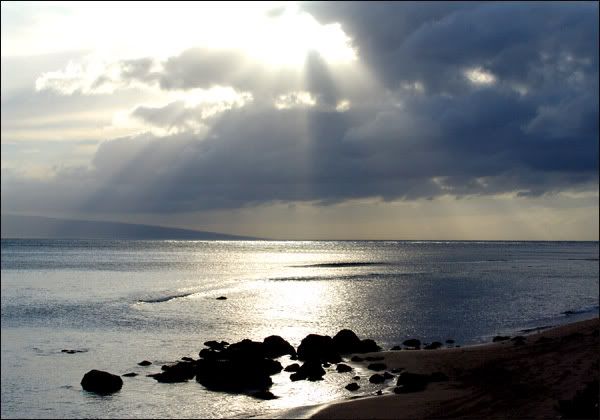 I love this picture, something about the rays of sunlight coming through the clouds and the stark colors...