I finally made a little time to take some pictures of the cats and upload them for you. The natural light in my room isn't really bright enough but at least you can see some of our pals. I made thumbnails of all of the pictures so you can see them without having to deal with a mass of slow loading pictures, but if your connection is up for it, you can come see all of these pictures in a larger format behind the cut.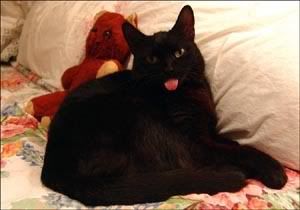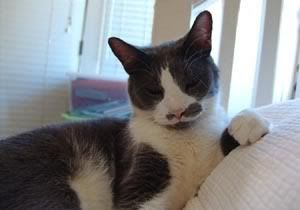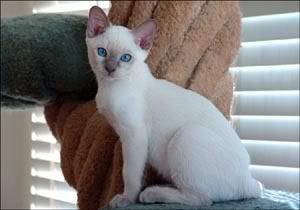 The kitty on the left is our little old Halloween lady Spooky. Spooky is one of those people who can't ever bear to be on the other side of any door from me, and will scratch and scratch and try to jump up and jiggle the door knob. The next picture is our dear Kit Kat, he's Spooky's brother, is super friendly, and is one of Beau's favorite cats. The picture on the right is Yoda on the cat tree in our bedroom. Yoda is a Tonkinese which is a cross between a Burmese and a Siamese. I think Yoda and his sister SoBoba are the friendliest kitten people we've ever had. Their personalities are so balanced and wonderful. I can't rave enough about them.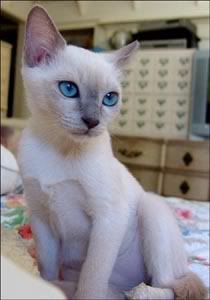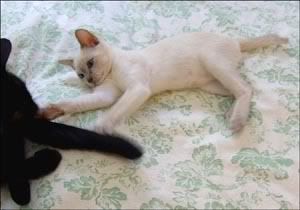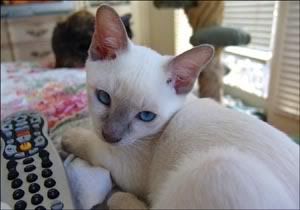 The first picture in this group is of Yoda's sister SoBoba, we lucked out and got her because her previous owner had accidentally shut her tail in the bathroom door and cut it so badly there was no repairing it. We spent hours and hours and a whole lot of money at two different vets before finally having to have the last quarter of her tail amputated, but she's fine now, in fact I just reached over and touched the stubby end of her tail and she didn't even wake up. In the middle picture she's playing with Swanky, you can see what her tail looks like with the bandage removed, and in the last picture she's sneaking up on the remote, damned remote hogging cat people, they're like men, always having to have the remote.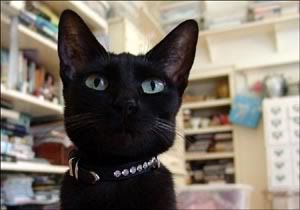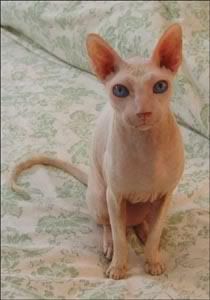 The first picture on the left is Ruby, who I have been asking for prayers and positive thoughts for. It's definitely been working because about two months ago, when her sister Lili died, (we're still not certain what's going on with them), I was almost sure we were going to have to have Ruby put to sleep. In fact I had made up my mind to let her go, but as luck would have it, our vet was off that day, we waited one more day, and she made this miraculous rebound, which is kind of scary, considering. I don't know how long she's going to hang in there, but for now she's reasonably stable. That's Niki on the right, this time without pearls. After Jake, Niki was my best friend cat, so he's moved up into the top slot, and has become the Holly to my Hef -- for those of you who watch The Girl's Next Door.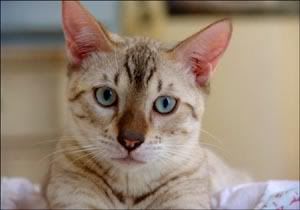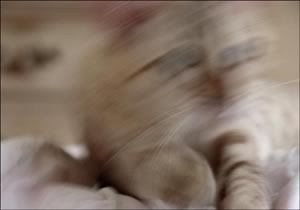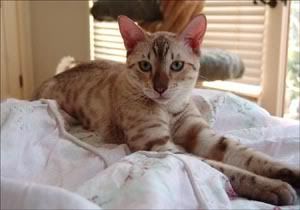 This is wonderful Nosferatu who I call Tutu. Tutu is a Bengal and is a tad wild and woolly. His fur is the softest cat fur I've ever felt, and he makes some really adorable wild cat sounds. So far he hasn't displayed the love of water I've heard about. Woah, strike that, he just walked by me and his chest was dripping wet, hmmm... It is really hard to get a good shot of Tutu because he is all motion all the time. This is what most of my pictures of Tutu look like. And here he is finally taking a break, laying out on my bed.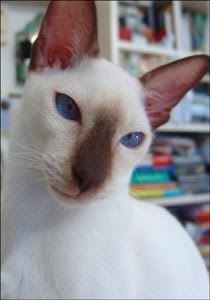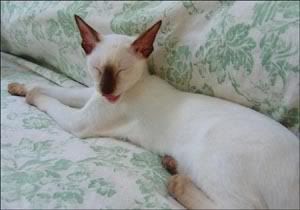 This is Iggy Ziggy Stardust Kitty in a fuzzy portrait, and here he is about to fall asleep. Ziggy is a funny, wiry, quirky, adorably love-bug of a person. He likes to knead on my with his paws, while sucking on whatever skin he can put his mouth on, which makes me think he was taken away from his Mama cat way too early. And that's about it. The larger pictures are here.