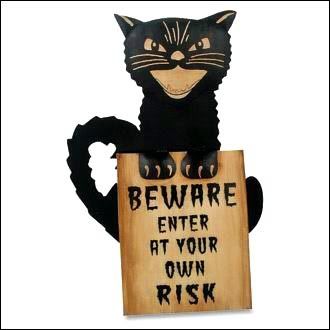 There are so many wonderful Halloween things for sale on eBay; Beistle, vintage jack o' lanterns, great old costumes, vintage party horns and noise makers, and all kinds of amazing new art, but I have to curb my shopping because I need to save what little money I've got for candy and bales of hay, oh well, that pet and human food.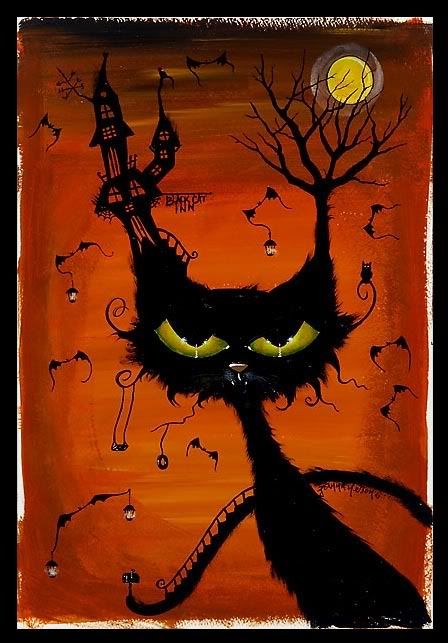 I was the lucky winner of the original of this great cat painting on eBay by Joanna Nelson, she's gr8shapes on eBay. She's selling prints of it though if you'd like one, and she has some really cute tiny 4x4 kitty paintings. I love her work, particularly the cat and tiki paintings. I always try to add a few extra pieces each year to our Happy Halloweenynessness, just to keep things exciting.

I worked all day yesterday and today and am finally feeling like we're getting going on our decorations. Although for some weird reason after three really good days, that had left me feeling super hopeful, today was my dizziest day since my car accident in July. I felt pretty defeated for a while there, had a wee cry on the porch, and then shook it off. I finally got my second car hauled out of our driveway by one of the grumpiest tow truck drivers I've ever met. When I practically fell into him I said, "Oh I'm sorry I'm not doing too well today, I'm really dizzy." He abruptly cut me off with a, "We're all tired lady!" He did everything he could to weasel out of having to tow my car, because we don't have the keys, but he had to do it, so eventually he did. I don't remember the last time I was that happy to see someone leave.

I brought alllll of our many black and orange plastic storage boxes back from Mom's house, plus our big, wood, death, sculpture man, and our black baby carriage, it took four trips, and I've have begun making a dent in opening and distributing their goods. I got a pal to use a machete to hack off two big branches from a neighbor's fallen tree, (remind me never to get into a fight with this guy, machete wielding people are scary,) limb that we are going to use as spooky graveyard trees to give our driveway cemetery a bit more dimension, I bought the pots, quick set cement, and black spray paint I need to do this with. I went to the hardware store and the pharmacy and bought hundreds of batteries, staples for the staple gun, twine and fishing wire, pushpins, and other missing tools we'll need for our set up. I even went to Ahhhs and am proud of myself for not having bought anything.

It's been so daunting, having so many of my neighbors already done with their decorating, and with all of these parents and their children coming by asking if we're going to, "Do it," this year. One of my neighbors, who has never been particularly warm or friendly, but who has cute kids and dogs, actually gave me a wee bit of attitude about it. She coldly tossed a disdainful glance over our garden and said, "You'd better get a move on if you plan on getting it done, the kids are really bothering me about this." I wanted to say, "Sure, I'll get a move on, as soon as you come on over and lend a hand, you could donate to the annual five-hundred-dollar candy fund, or perhaps you could stop my head from spinning and help me stand on this unsteady ground long enough for me to work faster for you." Sheesh, people.

I don't mean to sound bitter, really, because I love doing this, but it's a gift, and it's meant to be fun, and when people make you feel bad for not doing it to their schedule, it's frustrating. But it's so much fun and I LOVE making so many kids happy. It's really a blast, I just wish people would understand how much goes into it, how limited my energy is, and trust that we'll get it done like we always do, on our time frame. Sure there are people out there with a few skeletons, witches, and blow up pumpkin snow globes, but they don't have to haul twenty bales of hay from the valley, bring it back here, unload and rake them all over their yard and driveway, then assemble three graveyards, dress several spooky mannequin trick or treaters, staple giant ants to the wall, and two twelve foot hoary monsters, hang a ghostly figure twelve feet in the air, light him, and set up wind beneath his skirt, decorate the Halloween tree, set up all the electrical and lighting, hang spiders, bats, ghosts, witches, blacklight everything, and make a couple of black Halloween trees in buckets with quick set cement, to say nothing of the massive amount of cleaning that goes into making what is basically a cat house, ready for company on this one day a year. The rest of the time it's a pretty private place, just Beau, a few of his friends, our two housekeepers, and Scott. We had to clean out the entire hall closet, (We had a leak,) and porch and that took three days. which reminds me I need to get a glass man over here. Suffice it to say, it's a lot of work.

I was working on another enormous entry to share, I had so many stories to tell you, but I'm just beat. I'll update soon.

Ya think I should sleep?

Big Happy Halloween Hugs,
Jac

PS: If Malibu poops under my bed one more time, I swear I am banning him from my bedroom. Will someone please explain this to him for me?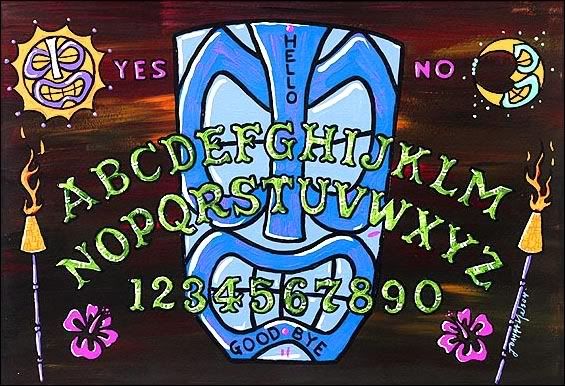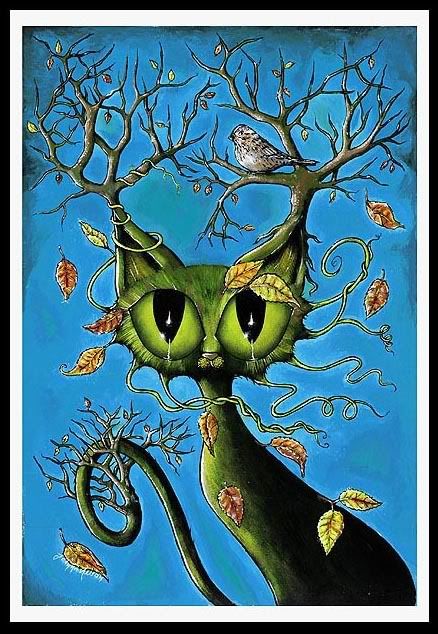 I didn't buy this one but I really, realllly like it. I just her cat's big eyes and twirly fur bits, that and the fact that they have branches and houses growing out of their ears like antlers.